The Top 10 Shows Of 2017, According To Mick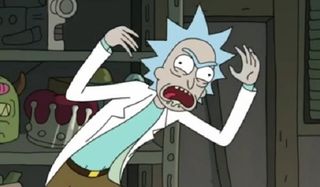 2017 was a wild year, marked by some tremendous television along the way. While there were certainly many shows that warranted recognition in 2017, only a few stood out amongst the rest to get the crowning achievement of the top ten shows of the year on my list. While there are some glaring omissions that won't be found here, there's also some choices that deserve far more credit than they've gotten elsewhere in 2017. So without further ado, here are my top 10 picks for television in 2017:
Stranger Things, Netflix
Topping the hype and acclaim of Season 1 was never going to be easy for Stranger Things, and while not every fan was thrilled with Season 2, it feels as though it made enough folks happy in the end. Season 2 gave us new and memorable characters like Bob and Billy and did a lot of world building to introduce storylines that will likely come into play in Season 3. For me, the best part of Stranger Things 2 was how it set things up for Season 3, as it'll be nearly impossible for anyone to guess what the Duffer brothers have in store for us next. A close second is Dustin's sweet mullet he rocks at the school dance. And we can only hope that whatever changes for these kids going forward, that hairdo does not.
Crazy Ex-Girlfriend, The CW
With a dramatic end to Season 2 in February, Crazy Ex-Girlfriend came roaring back for Season 3 in October with answers behind Josh's wild decision and the crazy way it impacted Rebecca. Those who have followed the series know the show has been consistently captivating and hilarious from start to finish, and while it's only seven episodes in, Season 3 feels as though it has been the best season the show has done to date. The story has officially flipped from Rebecca's quest for Josh to Rebecca's past and future without him, and the series is better for it. The reveals are just as big as the musical numbers, and top of all that, the show has done a great job tackling some very serious subjects that most comedies wouldn't touch with a ten-foot pole. Crazy Ex-Girlfriend does not get nearly as much love as it should, and if this rant gets at least one more person to watch it, I've done my job.
Desus & Mero, Viceland
Ever since it popped onto the scene in 2016, Viceland has gotten a bit of a reputation for being the channel where shows about marijuana run wild. While there are quite a few shows that deal with drug use and whatever rapper Action Bronson feels like doing that day, there's also Desus & Mero which very quickly became my go-to late-night program in 2017. Hosted by Desus Nice and The Kid Mero, these two New Yorkers give a NSFW and hilarious take on the trending news topics of the day with topics ranging from politics, to sports, to that that lady who had sex with ghosts. It's somewhat like The Soup was back in the Joel McHale days, but only if McHale could've dropped f-bombs and interviewed guys like rap duo Run The Jewels or Seth Rogen. 2017 was a great year for "The Bodega Boys," with the two winning Time Out New York's New Yorkers of the Year, and at the rate they're going, 2018 will be just as great.
Rick & Morty, Adult Swim
Quick question: how many show fandoms in 2017 forced a corporate fast food chain to issue a public apology? The answer is just one, and that alone should speak for the cultural impact Rick & Morty has had on television viewers in 2017. The anticipation for Season 3 of Rick & Morty was so high that it almost felt impossible for the series to deliver on everything fans could possibly want-- but they did a good job nonetheless. Before anyone knew it, 10 episodes went by in a flash. Now fans are already wanting to know when Season 4 of the series is due to arrive. Let's just hope the wait is nowhere near as long as the eventual widespread release of McDonald's Szechuan sauce, as it feels like that is never going to happen at this point.
Riverdale, The CW
After a ton of curious viewers binged Season 1 on Netflix, Riverdale quickly became The CW's second most-watched series in 2017 as it began Season 2. It's hard to explain why this over-the-top drama detailing the harrowing life of Archie Andrews and his friends in Riverdale is so addictive, because a lot of the time it's flat-out unbelievable. How are all these 16-year-old kids getting into such insanely illegal situations on a week-by-week basis, and still managing to avoid any sort of repercussions? Let's not forget there was a serial killer on the loose and somehow the teens managed to not get killed in their never-ending search for him. In short, it's peak CW drama programming, and with actors teasing the Black Hood mystery isn't over just yet, it's only going to get better as Season 2 continues in 2018.
The Handmaid's Tale, Hulu
As someone who was late to the party in watching The Handmaid's Tale, yes, it's totally worth the hype. Hulu (opens in new tab) proved they could beat out Netflix in regards to captivating original programming by winning at the Emmy's, although one could argue that was already evident to anyone who watched the drama. Elisabeth Moss absolutely stole the show with her leading role as Offred, and her strong performance is complemented by an equally powerful supporting cast. As far as shows one can binge without wishing to take a break, this series is near the top of the list. Season 2 is on the way and already teasing great developments, so anyone who hasn't watched this series yet definitely should.
Legion, FX
Legion is one of the best things the X-Men franchise has done in a while, and those that don't agree didn't follow the series all the way through. Whether Noah Hawley is showing us David Haller's life in what we're led to believe is the 70's (although there's a chance it's not), or tripping everyone out with a trip through Haller's mind orchestrated by Pink Floyd, it's captivating every step of the way. Nearly every performance in this series is worth mentioning, but Aubrey Plaza really showed some range with her comic book canon-breaking portrayal of Lenny Busker. Plus, let's not forget that wild cliffhanger that sets the stage for Season 2. Will we see Professor X pop up in future episodes? We can only hope!
Vice Principals, HBO
Danny McBride's latest HBO drama didn't last as long as his previous series Eastbound & Down, but Vice Principals was just as good, if not a little better than the former series in its final Season 2 stretch. Danny McBride crafts a story where the plot is so absurd and hilarious it makes for some great drama and keeps fans hooked to see what happens to these characters stuck in impossible situations. Vice Principals had near-perfect execution in deeply investing the audience in both Neal Gamby and Lee Russell's lives towards the end of Season 2, and hidden between the laughs were some surprisingly deep and sometimes sad moments. Unfortunately, the series reached a conclusive end with only 18 episodes total for the series, although the bright side is there's no lull in this gripping and gut-busting series from start to finish.
The Good Place, NBC
Out of all the shows set to return with a new season in 2017, I was all but 100% certain The Good Place would not get better in Season 2. The series delivered one of the best twist endings of Season 1, and returned later in the year to follow up in a way few were expecting. The best part about The Good Place is its ability to consistently and effectively offer the audience twists and turns in every episode, which makes it nearly impossible to guess where things are headed next. Sadly, The Good Place got an abrupt and much earlier break than most shows due to Thursday Night Football, which really forkin' sucked and cut the story of Season 2 in an odd place. But fans won't have to wait too long into 2018 before the series returns for what should be another exciting adventure with Eleanor and the gang.
This Is Us, NBC
Without question, This Is Us will be one of those shows that's remembered and watched by audiences for years to come. It's rare that television viewers are treated to a series so heart-warming, so tear-inducing, and so relevant to everyday life, that it will be a shame when it finally leaves television. Sterling K. Brown, Justin Hartley, Chrissy Metz and everyone who appears on this show are national treasures, to the point that they all need a statue dedicated to them outside of Heinz Field, and maybe a few more Emmys as well. This is a show everyone should watch, especially as Season 2 sets up to finally reveal the full details of Jack's death. Hopefully, everyone will tune in given that the series is set to air a special episode following the Super Bowl in 2018.
2018 is already off to a great start with many of these mentioned shows set to continue throughout the year. For more shows to follow, visit our fall premiere guide and midseason premiere guide. Those wishing to see which shows were canceled in 2017 can find out at our cancellation guide.
Your Daily Blend of Entertainment News
Mick likes good television, but also reality television. He grew up on Star Wars, DC, Marvel, and pro wrestling and loves to discuss and dissect most of it. He's been writing online for over a decade and never dreamed he'd be in the position he is today.
Your Daily Blend of Entertainment News
Thank you for signing up to CinemaBlend. You will receive a verification email shortly.
There was a problem. Please refresh the page and try again.