Woman On Morning Show Claims She's Had Sex With More Than A Dozen Ghosts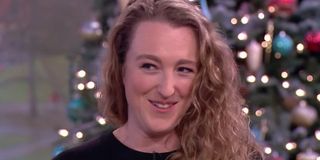 Gone is the era when you'd only get weather reports and a rundown of the top news of the day on morning shows. Stories that really delve into people's day-to-day lives are what we tune in for, and one morning show guest had a super wild story to tell about having sex with ghosts to help the good people of Britain start their day off right. Take a look:
Alright, there is a lot to unpack here, so I suppose we should just get down to business. First of all, though, I feel I must give mad props to This Morning hosts Phillip Schofield and Holly Willoughby for a) fighting the urge they must have had to not be cheeky at all during this interview, lest they crack up completely and b) managing to treat their guest with complete respect while still bringing up important questions everyone will have. Now, as you saw, Amethyst Realm appeared on the ITV show recently to talk about having crazy sexy times with ghosts. And, she had a lot to say about the experiences.
Apparently, about 12 years ago, Realm and her then fiancé had moved into a new home, and she was alone there most of the time because he went out of town for work a lot. She began to notice a "comforting" presence in the house and, at some point, Realm decided to "take it to the next level," as Schofield puts it, by dressing in sexy lingerie and hanging out in the extra bedroom for her ghost friend to ravage her...I mean, appear and, like, just sorta see what might happen. I guess Hot Ghost wanted to make sure she meant it, because he made her wait for quite a while, but as she was starting to fall asleep H.G. decided it was time to do the do.
As Willoughby is so kind as to remind everyone, you can't actually touch a ghost, but Realm was there to assure everyone that you can still completely feel that you're having sex, because there's a feeling that's "a weight but at the same time weightless" and that there is also an "energy" you can feel. And, thank the heavens above, Realm is also keen to let viewers know that you can, indeed, orgasm from ghost sex, so, no worries there, friends.
One of the (many, many) surprising bits in this interview is the revelation that Realm's fiancé actually thought he'd caught her having sex with a living dude when he came home early to her and H.G. enjoying themselves, since he'd seen an actual outline of a man's body in the window when he first pulled up to the house. It sounds like being caught killed some of the buzz for H.G., because their relationship fizzled not long after that. Luckily for Realm, though, it sounds like H. G. liked to run his ghost mouth in whatever passes for a locker room/pub/workplace break room in the afterlife, because she has since had sex with more than 15 ghosts; enough to prompt her to give up having sex with living men, apparently, for good.
After hearing that, the hosts asked my first question, which was, how would you know that your invisible lover is not the same invisible lover from last time? Realm had a reasonable enough answer, explaining that it's much like having sex with living people in that each one simply feels different and they all have separate energies. Again, so good to know, right?
After some talk of potential ghost babies, Willoughby mentions that they consulted one of the experts they frequently have on the show about Realm's experiences, and ask her if it's possible that what she's been going through is actually a condition known as sleep paralysis, where you're still awake but your subconscious has taken over, since many people with the condition describe having sexual feelings during that time. Realm says that, since H.G. would sometimes follow her around and "lure" her in, she believes she's actually having sex with ghosts.
Well, I guess this doesn't just happen to Bobby Brown. I do appreciate that Realm has a sense of humor about her story, and is willing to answer questions that might seem ridiculous to her in order to help people understand what she's going through. If someone hasn't already written a romance novel with this premise, I'm sure it's happening right now. You can watch more of This Morning on the show's YouTube page.
Your Daily Blend of Entertainment News
Yennefer's apprentice, Gilmore Girl; will Vulcan nerve pinch pretty much anyone if prompted with cheese...Yes, even Jamie Fraser.