9 Craziest Live TV Moments In 2017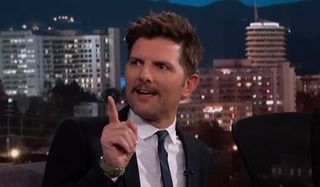 As if it really needed to be said, 2017 was loaded with some crazy moments. While there are many moments worth mentioning throughout the year, only a handful of them had cameras rolling during and aired without editing. In total, there are 9 moments from 2017 that deserve to be relived if only as proof that no one can ever predict what will happen when TV is live. Some of these moments are funny and heartwarming, others sad and shocking, and some manage to be all of these things at once. Here are the top 9 craziest moments of live television in 2017:
Kid Busts In On Weather Report And Talks About Farts, NBC WLBT 3
If kids weren't banned from the newsroom at the WLBT studios, one would think they are now. When weatherman Patrick Ellis had a child run onto the set smack dab in the middle of his forecast, he figured he'd play off the moment and allow his new friend to help him deliver the news. That turned out to be a huge mistake as his little co-host proceeded to tell the good people of Jackson, Mississippi that the area was covered in "toots and farts" before being whisked off camera by another adult. Ultimately the moment was laughed off, and Ellis went viral as the man who allowed flatulence to be part of an official weather forecast.
Winona Ryder Makes Bizarre Faces During Award Speech, 2017 Screen Actors Guild Awards
A lot of unexplainable things happened in 2017, so it's easy to forget one of the first that kicked things off this crazy year. In a moment that still doesn't have a clear explanation, Winona Ryder took the stage with the Stranger Things cast and proceeded to make bug eyes and confused looks while David Harbour attempted to give an uplifting speech. Co-star Gaten Matarazzo later would say he believed Ryder wasn't able to hear Harbour's speech and that may have been what was going on, and the world was left to wonder as one of 2017's earliest memes faded into obscurity.
Adam Scott Meets Mark Hamill, Jimmy Kimmel Live!
While plenty of amazing things happen when Jimmy Kimmel is on and hosting Jimmy Kimmel Live! (as evidenced by this list later on), the show is always good for a great viral moment when they bring on a celebrity to guest-host on the series. One of the best moments to happen on the show this year was when Adam Scott came on the show to discuss his role in Big Little Lies and his love of Star Wars. Scott told guest host Kristen Bell about when he invited Mark Hamill to his birthday party as a child and was disappointed that he didn't show up. Bell flipped the script by having a lightsaber-swinging Hamill come out and meet Scott for the first time, and his shocked reaction really put a smile on our faces.
Woman Gives Up Men To Have Sex With Ghosts, This Morning
In one of the weirder moments of 2017, a woman went on This Morning and declared she has been in sexual relationships with ghosts for over a decade. In one of the weirder paranormal experiences ever reported, Amethyst Realm was forced to share the revelation with another when her ex-fiance saw her with what looked like another man through the silhouette of a window. The skeptics may think Realm may have just been trying to cover up some infidelity with an outrageous lie, and if that's the case she's done a good job sticking to that story for close to a decade! Mark this one down on the list of things that go bump and grind in the night.
BBC Reporter's Family Invades Live Segment, BBC World News
When South Korean President Park Geun-hye became the center of a huge scandal in the country, The BBC knew just who to call. Robert E. Kelly had his time to shine in the national spotlight as BBC World News called upon his knowledge of Korean politics, and in a twist no one saw coming, it was his family that shot him to worldwide stardom. During his segment, Kelly's daughter comes parading into the room, followed by their second child, and the two seem there for good until his wife comes darting in the room to pull them all out. The segment ended up making Kelly a celebrity of sorts, and his family even got a follow-up interview after the clip went viral, so all's well that ends well.
Jimmy Kimmel Gives An Emotional Tribute To Don Rickles, Jimmy Kimmel Live!
Don Rickles was one of the many great celebrities lost in 2017, and while many paid tribute to the legendary comedian, few were as heartfelt as the one given by Jimmy Kimmel. During his monologue on Jimmy Kimmel Live!, Kimmel shared the details of his personal relationship with Don as a friend, and how one of his childhood heroes ended up becoming someone special in his life. Kimmel has always been someone who's not afraid to wear his emotions on his sleeve while the camera is rolling, and his ability to do that ended up being a very great moment for live television.
Warning! This one contains a pretty hefty spoiler in a video involving Star Wars: The Last Jedi. Read at your own risk or skip ahead!
John Boyega Freaks When Talk Show Reveals Star Wars Spoiler, This Morning
In perhaps the biggest unspoken rule of 2017, no one should reveal any spoilers regarding Star Wars: The Last Jedi unless they have permission. Apparently, no one gave that memo to This Morning's Holly Willoughby as she casually blurts out a major spoiler of the film to kick off the interview. John Boyega eventually takes control, but his initial reaction to hearing the spoiler via delay says it all. Disney does not play games when it comes to their films, and in his moment of shock, it's as though Boyega is recalling every possible bad thing that could happen.
Sean Spicer Makes An Appearance During Stephen Colbert's Monologue, The 2017 Emmys
Award shows are always good for a few surprise guests, and the 2017 Emmys got just about the most surprising cameo in a long time when former White House press secretary Sean Spicer appeared onstage during Stephen Colbert's opening monologue. Considering his former employer was not a big fan of Colbert (nor quite a few of the celebrities in attendance), it was a shock to all when Spicer came out and casually poked fun at himself all for an opening monologue joke. The moment was tweeted about and commented on by celebrities, politicians, and the general public en masse, and while it doesn't seem like a huge deal now, it certainly felt like it back when it happened.
The Wrong Winner Is Announced At The Oscars, 2017 Oscars
Out of all the crazy live moments that happened on television in 2017, few can dispute any were crazier than this. In a truly unbelievable moment, the Oscars fell into disarray when Warren Beatty incorrectly declared La La Land the winner of Best Picture. Unfortunately, the moment wasn't revealed until the cast was onstage and a few minutes into their acceptance speeches. As opposed to casually ending the show and announcing the real winner after, things came to an abrupt halt so that the real winner Moonlight could be awarded. Even months after the fact, it's still cringe-inducing just how bad of a trainwreck this whole situation devolved into, which obviously made it television's best live moment in 2017.
Any live moments of 2017 we missed? List them below or check out what shows still have yet to air in 2017 at our fall premiere guide. To see what's ahead for television in 2018, visit our midseason premiere guide. For a look at which shows got the boot in 2017, visit our cancellation guide.
Your Daily Blend of Entertainment News
Mick likes good television, but also reality television. He grew up on Star Wars, DC, Marvel, and pro wrestling and loves to discuss and dissect most of it. He's been writing online for over a decade and never dreamed he'd be in the position he is today.
Your Daily Blend of Entertainment News
Thank you for signing up to CinemaBlend. You will receive a verification email shortly.
There was a problem. Please refresh the page and try again.