2 Broke Girls Creator Defends Against Accusations Of Stereotyping And Lowbrow Humor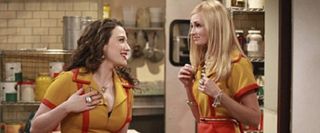 The TCA panel for new CBS series 2 Broke Girls didn't go quite as expected today. Show creator and executive producer Michael Patrick King was surprised by the criticism thrown at him during the session, including accusations of stereotyping and inappropriate humor, but stood his ground and defended the series, according to The Hollywood Reporter.
It's been brought up before – the question of whether Matthew Moy's Asian character Han Lee is a racial stereotype given little in the way of dimension. King was quick to point out that most of the jokes thrown at Moy's character were more to do with height than race. He also defended the show against the question of requests from CBS to "dimensionalize" the characters, requesting that critics give the show some time to add dimension to characters only "seen in segments of 21 minutes."
King also called on comic license to defend stereotyping and pointed out that as a gay man, he isn't offended by gay jokes. He added that such jokes are "about being a comedy writer" as well as the ability to "poke fun at what people think about other people". He bristled at the suggesting that he was using his sexual preference as a license to make jokes about other marginalized groups.
Ethnic stereotypes were not the only issue thrown at King, who was joined on the panel by the show's stars Kat Denning and Beth Behrs. Up next he was asked to defend the show's somewhat lowbrow humor and free use of the word "vagina". King stepped up to respond that:
King stated leaving the discussion that he was disappointed in the results, having expected it to be "a blast". Instead it seems he just got blasted. Stereotypes on TV are nothing new and show up in comedy frequently; the use of satire is a big part of getting laughs. Can a show be funny without making fun of anyone? Possibly - but I can't think of a single sitcom that hasn't done it at some point. Crass lowbrow comedies count among some of the best in history: Married With Children and Roseanne just to name two. The question really comes down to whether King's characters really do have heart and dimension - and time will tell.
Your Daily Blend of Entertainment News
Thank you for signing up to CinemaBlend. You will receive a verification email shortly.
There was a problem. Please refresh the page and try again.