The Harley Quinn TV Show Will Probably Feature The Joker And More Awesome DC Villains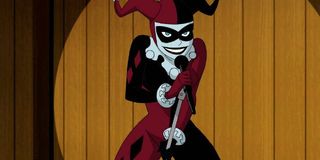 A DC Comics-centric streaming service is coming, and there are several DC shows worth looking forward to when it finally debuts. Chief among these shows is the Harley Quinn animated series, which will allow everyone's favorite psychiatrist-turned-psychopath to take center stage like never before. The project has remained under wraps since it was initially announced, but now it looks like the supporting cast will include The Joker and many more legendary DC villains.
This leak comes courtesy of That Hashtag Show, and it seems to suggest an extensive array of characters showing up as series regulars, with classics and deep cuts aplenty. With that in mind, let's dive into the first leaked character: none other than the Clown Prince of Crime.
Right off the bat (pun intended), it's worth saying that The Joker was a likely choice to include among the supporting cast of the Harley Quinn series, as the character is arguably the most iconic villain of all time -- having been portrayed by icons like Mark Hamill, Jack Nicholson, and Heath Ledger. As the source of her insanity and the former object of her affection, he's a central part of her arc, even though the show will focus on Harley after leaving Mr. J. This version of the character sounds like he will be a villain who goes after Harley following their rocky breakup.
Then there's another key DC villain from Harley's supporting cast: Poison Ivy. A longtime friend, ally, and sometimes lover of Harley, Ivy will be Harley's roommate in the upcoming series and provide a more level-headed sense of reason as they engage in their heists and crimes. Notable versions of Poison Ivy from other media include Uma Thurman's portrayal of the villainess in Batman & Robin, as well as the incarnation of the character seen in the Arkham games.
Next up on the list of possible DC villains to appear in the Harley Quinn animated series is a somewhat more obscure DC baddie by the name of Sy Borgman. An elderly gentleman in his 90s, Sy is a former spy and current curmudgeon who serves as Harley and Ivy's landlord who insists on being brought along for their criminal exploits.
If you're looking for more information on the rest of the possible DC villains that will appear in Harley Quinn, then hop over to the next page!
From there, the list of DC villains to possibly show up as series regulars on the Harley Quinn series includes Wonder Woman bad guy Dr. Psycho. A "misogynist dwarf" with telekinetic powers, Psycho is a disgraced villain who essentially became persona non grata for using the C-word during a fight against Diana Prince.
Another obscure member of Harley Quinn's supporting cast is Malice Vundabar. An eager young woman with a penchant for evil, Malice is a wealthy, humanoid alien who interns for Harley and Ivy in an attempt to gain college credit. In the comics, she's often seen as a member of a group called the Female Furies.
Moving on from Malice, things get a little more recognizable with King Shark. As his name would suggest, King Shark is part man and part shark, with a gentle and misunderstood soul. He has immense strength and fury in combat, as well as the ability to smell blood. King Shark has experienced a surge in popularity recently due to his appearances on The CW's The Flash.
Finally, we come to iconic Batman villain Clayface. An actor who turned into a sentient mound of clay in an accident, Clayface is a master of disguise and physical powerhouse who can only get work as a member of Harley's crew. Despite his disgusting appearance and lack of acting skill, he still hopes to become a renowned thespian. Some of the most iconic versions of Clayface include the one introduced on Batman: The Animated Series, as well as the more recent version seen on Fox's Gotham.
CinemaBlend will bring you more information related to the Harley Quinn series as new details are made available to us. For now, check out our midseason premiere guide, and if you want more of our thoughts on the world of streaming content in general, then you can listen to our most recent episode of The Cord Cutter Podcast.
Your Daily Blend of Entertainment News
Originally from Connecticut, Conner grew up in San Diego and graduated from Chapman University in 2014. He now lives in Los Angeles working in and around the entertainment industry and can mostly be found binging horror movies and chugging coffee.