Why DC's New Streaming Service Could Be A Gamechanger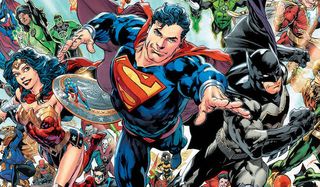 It's a brave (and bold) new world out there for fans of the DC Comics universe. Not only has it been confirmed we'll soon receive a highly-anticipated third season to the beloved Young Justice cartoon, but the younger Justice League team will also live on through a newly ordered live-action Teen Titans series as well -- aptly titled Titans. Rather than shop around for networks to take these projects, DC decided to go all in and invest in a new exclusive streaming service to bring these series straight to audiences, and we think it could be a major gamechanger.
Such a creative decision represents a bold endeavor for Detective Comics, and there are several different reasons why it has immense potential as a gamechanging service. And, dear reader, you can join us in breaking those reasons down -- starting with Titans and Young Justice themselves.
Titans And Young Justice, Baby!
First and foremost, if no other series were to ever premiere on the new DC streaming service, it would still be considered groundbreaking by fans because it will serve as a platform to finally get Young Justice Season 3 and live-action Titans off of the ground. Both of these projects have remained in development hell for years, and DC seems to have finally come to the realization that the simplest way to bring these long-awaited shows to audiences is to cut out all the middle men. In doing so, DC sets something of a new precedent for non-TV companies, which could ultimately lead to other dead-on-arrival comic book pilots and projects getting rejuvenated through this platform in the near future.
Lesser-known Characters Can Get Their Own Shows
The fact that Black Lightning will soon get his series on The CW seems nothing short of meta-miraculous, but the innovation of a DC-centric streaming platform makes it possible for even more lower-tier DC characters to show up. Rather than gamble on enormous films populated by obscure characters, DC will soon have a new platform to test out the viability of lesser-known heroes with its dedicated streaming service. Marvel has seen great success using this method to introduce characters like Jessica Jones to mainstream audiences, and DC could carry that torch even further by establishing a streaming platform designed to audition B and C-list characters for a wider fanbase.
DC Can Experiment More With Genre Content
One of the most obvious advantages of moving to a streaming platform instead of a traditional broadcast network is being less bogged down by genre constrictions or ratings. This is something we have seen Netflix perfect in recent years, and not just with its Marvel shows. With fewer restrictions holding it back, DC should use this streaming service as an opportunity to move into areas like horror (Constantine, anyone?), hard sci-fi and comedy (that isn't Powerless). Beyond that, characters like Red Hood or Lobo could receive far more room to be their usual, brutal selves. We may never get a silver screen version of The Killing Joke in live-action, but this new streaming service could represent the perfect home for such a story.
No Network Problems To Worry About
Despite its immense small screen success, DC has still faced a few distinct problems by keeping its TV adaptations on traditional broadcast networks. The emotionally forlorn Arrow-verse shows feel like they belong on The CW, and Gotham's lunacy very much seems like a FOX series. Instead of being tailored to the characters, much of DC's creative output adheres to the specific branding and style of their respective network. Through the process of creating a dedicated DC streaming platform, the comic book giant can sidestep such issues and bring its characters directly to its audiences in a way that suits them. That will go a long way towards satisfying people who complain that shows like Arrow and The Flash feel too much like The Vampire Diaries or Gossip Girl.
It'll Be Easier To Tie Projects Together
Up until now, DC has managed to keep its TV and movie properties completely sovereign from one another, but the implementation of a streaming service adds an entirely new dimension to the concept of a cinematic universe. With this new tool at its disposal, DC now can tell smaller scale stories that supplement its big screen projects -- such as the Gotham Knight animated anthology that accompanied the release of The Dark Knight. Beyond that, this new streaming service can also serve as a way to promote DC's bigger projects; rather than carving out hard-to-market timeslots on TV networks, DC and WB can now bring behind-the-scenes promotional projects like Dawn of the Justice League special straight to its audience with a few keystrokes.
What are your thoughts on DC's new streaming service? Do you think it's a good idea for the comic book giant? Let us know what you think in the comments below! Titans and Young Justice will premiere on the new service next year! And in the meantime, head to our midseason premiere schedule and our summer TV schedule to see what you can find coming sooner.
Your Daily Blend of Entertainment News
Originally from Connecticut, Conner grew up in San Diego and graduated from Chapman University in 2014. He now lives in Los Angeles working in and around the entertainment industry and can mostly be found binging horror movies and chugging coffee.