Roseanne: Everything We Know About The Revival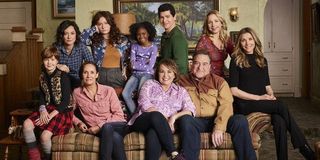 Much to the surprise of everyone, comedy classic Roseanne is headed back to the small screen soon, to the delight of fans everywhere. The show has been off the air since the 1996-1997 TV season ended, but with revival fever taking over and giving us new seasons of shows like Twin Peaks, Murphy Brown, Prison Break, The X-Files and Will & Grace (to great ratings and lots of fan love), going back to Lanford, Illinois must have seemed like a good idea. The original run of the sitcom is still well-loved (minus that slightly bonkers final season) and known for putting the scripted TV spotlight on blue-collar America in a way that hadn't been done before and, many would argue, hasn't been done since.
Lucky for us, information about the revival has been trickling out over the past few months, and now is a good time to go over what we know so far about the show! Let's start with when, exactly, we can feast our eyes on the revival.
When Will Roseanne Premiere?
Luckily, unless you've been looking forward to new Roseanne episodes since 1997, the wait until you can meet back up with the Conner clan in the present day has been quite bearable. The show will premiere on ABC Tuesday, March 27 at 8 p.m. EST, with what is said to be an hour long installment.
How Many Episodes Will Roseanne Have?
As with many revivals, not to mention shows that debut at midseason like Roseanne will, when the comedy comes back to the small screen it won't be for a full 22 or 23 episode season. When the revival was originally announced, eight episodes were ordered by ABC. But, after the powers-that-be at the network saw how things were developing on the new episodes, they decided, in November 2017, to order an additional episode of the new show. So, this means that we'll get nine new episodes full of that crazy cackle to feast our eyes and ears on.
What Have We Seen From Roseanne?
Since the debut of the revival is coming up fast and furious, the production has finally given us a good look at what we can expect when Roseanne returns to the small screen in the form of the above trailer. It starts with some views of the old days, but launches into clips from upcoming episodes that show off how little will have really changed for the Conners, including kids asking their parents for money and lots of that iconic laugh. Oh, and, for some reason, there will be a cake eating contest, so there's no reason to fear that things in Lanford won't be as wacky as usual.
Where Did The Original Run Of Roseanne Leave Off?
This is where things get slightly tricky. The ninth season of the original run of Roseanne is widely believed to be one of the worst final seasons of any beloved TV show. Why? Well, almost the entire season revolved around Roseanne winning $108 million from a lottery ticket and the family's myriad adventures they were then allowed because of that wild influx of cash, completely undoing a large part of what people loved about the series. Then, in the series finale, it was revealed that not only had the entire show actually been Roseanne telling her story in a novel but that Dan had died of the heart attack he suffered in the previous season, and it's possible everything we saw in the final season was just Roseanne trying to cope with Dan's death. Also, some well-established details of the show were said to be Roseanne simply changing things about her real life to fit what she actually wanted for her family. This meant that, in reality, Jackie was gay instead of their mom Bev, and that Darlene and Mark were a couple, while Becky and David were really the other couple.
Where Will Roseanne Pick Up?
As you can see from the photo that tops this section, Dan will be alive and well when the revival kicks off. The show has simply decided to ignore that finale reveal, and pretend that it was never established that Dan was dead, which has led to some humorous moments in a few of the revival's ad campaigns. While we know that the Season 9 reveal that Dan died of his heart attack will no longer be accurate, we don't yet know how much of the rest of that season also didn't happen. Did Roseanne actually win the lottery? Seeing as how the Conner house looks to be unchanged since 1997, and the season is said to be dealing with the family living from check to check, I'm guessing no, but we'll have to wait for the revival to know for sure. From the trailers and photos released, though, it looks like everything else will pretty much be status quo when the show picks up.
Roseanne
Since the family will still be trying to make ends meet when we pick back up with them, it's probably a safe bet that Roseanne will be worrying about money once again, though, with all her kids grown, at least she's not actively trying to support them anymore. As many of us know, having enough to live off of when you're older is also no easy task, so it's possible Roseanne will have some kind of job to help keep her and Dan afloat, but we don't know that for sure yet. We do know that the show will tackle current politics by having at least some of the Conners being supporters of Donald Trump, so you can probably bet that Roseanne will be front and center in family disagreements about that.
Dan
The big news for Dan is, of course, that the revival has decided to just ignore the original finale which told viewers that Dan was deader than dead because of his Season 8 heart attack. But, while Dan will be back among the living (with plenty of the show's trailers and promotional material poking fun at his revival), we don't know much else about what the character will be up to. One of the trailers acknowledged the fact that Roseanne and Dan used to be "fatter," so maybe one focus will be how the character had to clean up his life a bit in order to survive that heart attack and not end up having another one.
Darlene And David
Well, despite some ups and downs over the course of the original run of Roseanne, Darlene and David remained together long enough to have two children by the time the revival picks up. Their daughter Harris (who was born during Season 9, but will still be a teenager in the revival) and a nearly 10-year-old son named Mark will be around for the new episodes, and while we'll see plenty of Darlene as a mom, David will only appear in one episode since actor Johnny Galecki could only take a small bit of time out of his filming schedule for The Big Bang Theory to return to the show. We don't know just yet if the show will explain why David won't be around more, though.
The Beckys
If you watched the original run of Roseanne you'll know that the situation with eldest Conner daughter Becky was a bit confusing. During Seasons 1-5 the character was only played by Lecy Goranson, but when she left for college, actress Sarah Chalke took over during Seasons 6 and 7. Both actresses play the part in Season 8, depending on Goranson's availability, and Chalke took the role over full time once again in the finale season. In order to have both actresses involved in the revival, the folks behind Roseanne came up with an ingenious situation: Goranson will appear as Becky, while Chalke will show up as the married and middle-class Andrea, who wants Becky to act as her surrogate so she can have a baby. Aside from that, we have no idea what Becky will be up to, though when the show ended in 1997, it was revealed that she and Mark, whom she'd married during Season 5, were going to have a baby. Right now, though, we don't know if her kid will show up or how the show will deal with the real life death of actor Glenn Quinn, who played Mark, though we do know that his role will not be recast.
DJ
This one is a bit of a mystery. While we know that Michael Fishman will reprise his role as DJ during the revival, and we've seen him in the trailer, we don't know anything about what his character will be up to in the new set of episodes. However, a look at the new cast photo might give us a hint. DJ is pictured next to a young African American girl (who also makes several appearances in the trailer), and seeing as how Darlene is flanked by her son and daughter, it's quite possible that DJ is father to the girl, who's named Mary Conner, according to the show's website. We'll have to wait for the show to debut to see for sure, though.
Jackie
Everyone's favorite neurotic and loving aunt will be back in the fold for Roseanne's revival, but, much like DJ, we don't actually know much about what the character will be up to when we see her again. When we left Jackie, she had been divorced from Dan's co-worker Fred and become a happily single mom to their son, Andy. While we do know that we won't be seeing Andy (or his cousin Jerry, for that matter) since there just wasn't enough time to deal with those characters, who would each be in their twenties now, we don't know what he's up to or what he and Jackie's relationship is like at this point. It was revealed in the finale that Jackie had actually come out in real life, as opposed to Roseanne and Jackie's mom Bev, but with the finale's memoir twist, we don't know if that will still be true or not. So, we can be sure that Jackie's life will hold some surprises for us when the revival finally hits the small screen.
Other Returning Characters
The original run of Roseanne featured a lot of characters who either recurred throughout the run or those who were around for a few seasons and then disappeared as those in the Conner family changed jobs or grew up, and we know that some of the more recognizable among the secondary characters will be back for the revival. Roseanne and Jackie's nagging mother Bev, played by Estelle Parsons, will be back for two episodes this time around. When we left Bev she'd come out as gay, but that reveal was quickly retconned by the memoir finale twist, so we don't know if that will still be the case.
The new episodes will also see appearances from some friends of the Conner family. First up is Sandra Bernhard's super self-confident Nancy, who was either a regular or recurring character the first time around as she was needed. Nancy was always a loyal friend to both Jackie and Roseanne, but she was also known to call them on their crap, especially when she thought they weren't treating their mother fairly. Nancy will show up in one revival episode. We can also, somewhat surprisingly, expect James Pickens Jr., now of Grey's Anatomy fame, to reprise his role as Dan's friend Chuck in two episodes. During the original run, Chuck was usually seen playing poker in the Conner family kitchen along with Dan and his other friends, so it would be a nice nod to the show's history if that's how he shows up this time around.
Yennefer's apprentice, Gilmore Girl; will Vulcan nerve pinch pretty much anyone if prompted with cheese...Yes, even Jamie Fraser.
Your Daily Blend of Entertainment News
Thank you for signing up to CinemaBlend. You will receive a verification email shortly.
There was a problem. Please refresh the page and try again.