Rick And Morty Season 4: What We Know So Far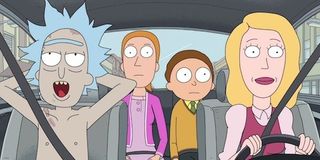 Rick and Morty is one of the hottest animated shows on television, and its impact on mainstream media is approaching levels seen by animated classics like The Simpsons, South Park, and Family Guy. Season 3 resulted in big ratings for Adult Swim, widespread protests at McDonald's restaurants across the nation, and a lot of loudly repeated quotes about pickle people. Season 4 would surely only bring more hilarity and craziness to fans, right? You bet your portal gun it will. Here, we're running down the list of everything we know so far about Rick and Morty's fourth season and more!
Is Rick And Morty Season 4 Even Happening, Morty?
Adult Swim has officially granted Rick and Morty a Season 4 renewal and then some. The renewal came after a long period of uncertainty, as creators Dan Harmon and Justin Roiland and the rest of the Rick and Morty staff have been sitting on their hands waiting for the go-ahead to make more episodes of the series. Now that Harmon and Roiland have struck a deal with Turner and secured a ridiculously sizable 70-episode future for the animated series, this will hopefully be the last time in a long time that fans will have to worry about the future of the show.
When Would Rick And Morty Season 4 Premiere, Morty?
Season 4 of Rick and Morty is officially a go, but it's hard to say exactly when Rick and Morty could return. We do have some general speculation to go off of, based on the past and quotes from the show's staff, assuming that work on the new episodes is only just beginning. Writer Ryan Ridley previously stated he would expect the series to air sometime in early 2019 at the earliest, but possibly even later than that. Ridley based his timeline around how long it took to write and animate Season 3, and said at the time that with no one currently working on the series, fans may not even see the series until late 2019 or beyond. Now that things are officially underway that timeline may be limited to just 2019, but with Adult Swim giving no timeline for Season 4, we can't say for certain. But still, 70 episodes, right?
Fans possibly shouldn't take Ryan Ridley's estimation as absolute gospel, although his guess does fall in line with the average production time of a Rick and Morty season, assuming the renewal would come before June 2018. There was around a 15-month hiatus between Season 1 and Season 2 of Rick and Morty, and an 18-month gap between the end of Season 2 and the start of Season 3. The most recent installments took longer to produce, but that was mainly due to quality control, according to Dan Harmon, who said the staff took extra care to make sure they were satisfied with each episode.
Given that, there's really no telling when the series will be fully produced enough to go to air, considering work on Season 4 has only just begun. Although one would assume by the way things are currently progressing, any new episodes in 2018 are almost certainly off the table. But the wait hopefully won't be as long as Mr. Poopybutthole predicted, since the amount of time it would take for him to have grandchildren and grow a Santa Claus beard would indicate Season 4 may be a constant decoration on the horizon.
Wait, How Many Other Rick And Morty Seasons Are Happening, Morty?
The interesting thing about Rick and Morty's renewal is that Adult Swim didn't technically just renew the series for Season 4. Instead, the series was renewed for 70 episodes, and given the average number of episodes for past seasons, the show could foreseeably not need an additional renewal until years from now, after Season 10 wraps. That's assuming the creators and writers stick to their usual episode count, however, and there have already been whisperings that Season 4 may feature the most episodes the series has seen in a single season to date.
The Rick and Morty creative team initially had a goal of producing 14 episodes for Season 3, and while that obviously didn't happen due to delays, Dan Harmon has said he thinks the team could feasibly do 14 episodes in Season 4. If 14 episodes would prove to be too lofty of an ambition, though, Harmon also mentioned at the time that ten episodes has been the minimum, which means fans shouldn't expect any fewer episodes than that from the team if when Season 4 does finally premiere. Should more episodes come from the season, obviously that will impact the amount of seasons the series will need before restructuring another renewal with Adult Swim.
What Was Stopping Season 4 Of Rick And Morty From Happening, Morty?
Rick and Morty Season 4 was not always guaranteed, although general delays are nothing new to the show's fanbase. The show experienced several delays in production on the road to Season 3, and as it was previously mentioned, those delays were due to the extra care being taken by the crew to make the episodes as full and fun as possible. Unfortunately, Dan Harmon and Justin Roiland weren't even able to reach a point where quality control can become an issue, since the lack of an official renewal up until recently meant no work was getting done on the series.
While most probably assumed more Rick and Morty was inevitable, Season 4's renewal issues were first revealed by creator Dan Harmon, and not long after, he claimed the issue with the show's renewal was not about the studio not wanting more seasons of the series, but that all parties involved were having trouble reaching an agreement regarding Harmon and co-creator Justin Roiland's contract negotiations. Both men were unwilling to move forward on Rick and Morty until certain contract demands are met. The details between the two parties' disagreement has not been made public, although with the increased episode order eventually bringing the total episode count to 101, one could speculate future syndication rights played into some of the negotiations.
Before the renewal, some good news had finally surfaced with Dan Harmon stating that negotiations were progressing on the road to Season 4, and that he was optimistic they'd go well. Harmon revealed that both sides were being "real cool" about the situation, and that ultimately all parties still wanted Season 4 of Rick and Morty to happen. The show's massive renewal shows that Harmon wasn't just blowing smoke in regards to Turner's commitment to the series, and while the terms of his and Justin Roiland's deal were not revealed, the two men seemed pleased enough to jump in the shower together for a silly skit to celebrate:
What Could Rick And Morty Season 4 Be About, Morty?
Rick and Morty is a bit loose in its storytelling, to understate things, so Season 4's story arcs are certainly up in the air, and it's anyone's guess what relevant plots introduced in Season 3 might return for more exploration. That said, one would imagine that the new season of the series would at least address Evil Morty taking control of the Council of Ricks, which will surely have an impact on Rick and Morty themselves at some point. Another big return that could shake up Rick and Morty would be the return of what remains of The Vindicators, as well as Rick looking to regain his control as the dominant member of the family.
As for the more minor characters, and particularly one who will never be the dominant member of this show's household, Jerry moved back in with the family in the Season 3 finale, so his life will presumably be back to what it was before he and Beth got divorced. As for Beth, she was presented with the option to switch roles with a clone version of herself, so that she could go out and live her own life, with Rick and Morty fans left guessing which life she eventually chose. Nothing too life-changing happened with Morty's sister Summer, although her presence in Season 3 was felt a lot more than in past seasons, so it's possible fans might see more Summer-centric storylines in Season 4.
Where Can Rick And Morty Seasons 1-3 Be Watched?
Fans wishing to binge older episodes of Rick and Morty are in luck, since all three seasons can be found at various places around the Internet. Hulu subscribers (opens in new tab) have access to Rick and Morty Season 1 and Season 2, which nets them a lion's share of the episodes that are out there. Those wishing to watch Season 3 can catch the first 4 episodes on Adult Swim's website without a cable subscription, although the rest of the season will require just such a subscription to stream the other six episodes.
Cord-cutters can also watch Season 3 on Blu-ray and DVD, once those sets are released on Tuesday, May 15. Customers will also be treated to some additional Game of Thrones bonus features that those who stream won't have access to. And finally, all three seasons of the series are currently available to purchase digitally via Amazon and iTunes.
Fans waiting for Rick and Morty Season 4 can binge past seasons, or get a look at what's coming in 2018 with our summer premiere guide. For more on the series, check out how My Little Pony: Friendship Is Magic paid its respects to the series via an easter egg.
Your Daily Blend of Entertainment News
Mick likes good television, but also reality television. He grew up on Star Wars, DC, Marvel, and pro wrestling and loves to discuss and dissect most of it. He's been writing online for over a decade and never dreamed he'd be in the position he is today.
Your Daily Blend of Entertainment News
Thank you for signing up to CinemaBlend. You will receive a verification email shortly.
There was a problem. Please refresh the page and try again.