How Riverdale Set The Stage For An Explosive Season 3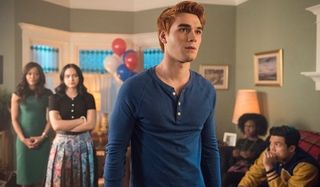 Warning! The following contains spoilers for the Season 2 finale of Riverdale. Read at your own risk!
Riverdale closed out a wild Season 2 with an even wilder ending that has us clueless as to where things are headed come Season 3. Obviously, we know what happened, and of course what could happen, but how do these major events all play into Season 3? Here's our breakdown of the season finale's biggest moments and how they set the stage for what could be an explosive next season of Riverdale:
Archie Was Arrested For Murder
While Archie Andrews is guilty of a lot of things, murder is not one of them. Unfortunately, Hiram Lodge now effectively runs Riverdale and was able to frame Archie for killing one of those home invaders his own goon took care of at the cabin in Shadowlake. Hiram's play was, of course, a response to Archie's veiled threat he made about taking him down earlier in the episode, which Archie was probably regretting as he was being escorted out of the school gymnasium. Can a class president still hold office from a jail cell?
Archie's arrest is certainly relevant, although perhaps not in the way Riverdale fans may expect. Hiram can frame Archie for murder all he wants, but with no evidence to directly tie him to the crime, even the crooked Sheriff Minetta can't make a charge like that stick. Archie's friends and attorney Sierra McCoy will undoubtedly make sure the show's leading character walks free before too long, and get him back out on the streets to find a way to take Hiram down for good. After all, now that Veronica is against her dad, Archie doesn't have much reason to play nice.
Veronica Cut Ties With Her Father
Veronica cut ties with her father Hiram, and while her breaking away wasn't quite as extreme as Cheryl's emancipation from her mother earlier in the episode, it was a pretty big move. Veronica gave up her share of the company, her trust, future inheritance, and essentially her relationship with her father all to gain control of Pop's Chocklit Shop. It was a bold move by Archie's better half, but Riverdale hinted things might be looking better for Veronica than they appear.
Veronica's exchange of the Whyte Wyrm for Pop's Chocklit Shop cost a lot for Veronica. Still, it might just be the key to keeping Hiram's plan to turn Riverdale into an underground crime hub at bay for the time being. It'll also provide the cast with another place to hang out, as we have a feeling that speakeasy she's planning to open in the basement will be present in a lot of scenes next season. Veronica specifically mentioned musical acts in her description of what this new place will be to the gang, so don't be surprised if a few famous musical groups drop by in Season 3 to perform for the teens of the town.
Jughead Proposed To Betty
Jughead Jones became head of the Serpents in the Season 2 finale of Riverdale, and it wasn't long after until he asked Betty to be his "Serpent Queen." Granted, we don't 100% know if that means he's proposing to Betty, but they're already dating and she's already technically a serpent, so what else would he be asking? Betty's response appeared to be yes, and the two teens engaged in a warm embrace that appeared to indicate something good was going to happen in this town for once. Could Riverdale have a wedding happening in Season 3?
Bughead fans currently decorating fake wedding invitations should pump the brakes because these two have a long way to go before walking down the aisle. There's no way in hell Alice Cooper is allowing her daughter to get married so young. Of course, she'd be a hypocrite in saying no considering she married her high school sweetheart, but given how that ultimately turned out, we can understand why she may be against this whole thing happening. Furthermore, teen romances rarely last, and seeing as how Betty and Jughead have been on the rocks before, can we really expect them not to call it quits yet again? We'd love to see the Riverdale couple beat the odds, but it just doesn't feel like things are going to work out the way they want.
Hiram Lodge Has A Dark Inner Circle
The Black Hood may have ended up locked away at the conclusion of Riverdale Season 2, but it's safe to say the show's villain ended up winning in the end. Hiram Lodge won the election, got his prison plans pushed through, and has his daughter's boyfriend locked up for murder. With his newly revealed dark inner circle comprised of Penny Peabody, The Ghoulies, Penelope and Claudius Blossom, and Sheriff Minetta it's going to take a lot to bring down the empire he's created ahead of Season 3.
Riverdale would be screwed in any other scenario. Unfortunately for Hiram, however, he pissed off the four teens in town more than capable of bringing his drug trafficking plans to an end. Archie, Veronica, Betty and Jughead have a good track record of overcoming obstacles, and with each and every one of them against Hiram Lodge, not even that inner circle will be able to protect him for too long. Of course, the teens will almost certainly need the help of people like Cheryl, former Sheriff Keller, Fred Andrews, and others to help bring him down, which means Season 3 could lead to an all-out war for the town. Does anyone else have goosebumps?
Riverdale has been renewed for Season 3, but we're still waiting on The CW to give it a release date. For a list of shows to binge in the meantime, visit our summer premiere guide.
Your Daily Blend of Entertainment News
Mick likes good television, but also reality television. He grew up on Star Wars, DC, Marvel, and pro wrestling and loves to discuss and dissect most of it. He's been writing online for over a decade and never dreamed he'd be in the position he is today.
Your Daily Blend of Entertainment News
Thank you for signing up to CinemaBlend. You will receive a verification email shortly.
There was a problem. Please refresh the page and try again.