Arrow's Emily Bett Rickards Explains How The Finale Cliffhanger Impacts Felicity In Season 7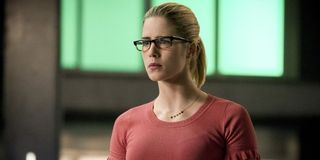 (Image credit: Image courtesy of The CW)
Warning: major spoilers ahead for the Season 6 finale of Arrow, called "Life Sentence."
Arrow's Season 6 finale was an intense hour of television that ended on a twist that will undoubtedly change the series forever. The battle against Ricardo Diaz had finally escalated to the point that Oliver went to Samanda Watson and the FBI for help, and he promised Felicity and the rest of the Star City vigilantes that they were all guaranteed immunity from prosecution. Unfortunately, by the end of the episode, it became clear that Oliver had a terrible price to pay for that immunity: he would out himself as the Green Arrow and go to federal prison for the foreseeable future. Oliver is currently behind bars with a whole bunch of bad guys that he presumably had a hand in locking up.
Felicity was understandably devastated that her husband was going to prison after making a deal that she didn't know about, and she's left facing the prospect of raising young William alone. Actress Emily Bett Rickards turned in a heartbreaking performance in the finale, and she spoke with CinemaBlend how the end will impact her character in Season 7:
Felicity won't be able to rely on Oliver's presence at least in the beginning of Season 7, which will understandably be difficult given that they relatively recently got married. She doesn't have the option of shutting down or closing herself off, however, as Oliver's imprisonment means that she's young William's last remaining parental figure.
Sure, the poor boy has Raisa, but he's quickly running out of available parents, and Felicity will need to step up as a hero and a mom in the seventh season. As Emily Bett Rickards says, Felicity has grown into a woman who can tackle these new challenges. Still, it won't be easy, especially since she thought until almost the very end of the episode that Oliver was just as immune from prosecution as the rest of them.
It's much too soon to say what some of those new things she'll have to try are, but hopefully she'll be able to rely on her friends in Star City. Diggle has always been a dear friend to her, and he has a son of his own with Lyla. That little family unit could be a refuge for Felicity and William. The finale healed some of the rift between Oliver and New Team Arrow, so they may be back as dependable friends to Felicity in Season 7. We'll have to wait and see. Emily Bett Rickards went on in our chat to explain how parenthood will influence Felicity moving forward:
If any fans were holding out hope that Felicity would reveal a pregnancy at the end of the Season 6 finale or turn up 5+ months pregnant in the Season 7 premiere, they may want to resign themselves to no buns in any ovens when Arrow returns in the fall. All things considered, this might not have been a great time for Felicity to become pregnant anyway. She'll have her hands full raising William, setting up her work, and likely finding new ways to help the people of Star City without worrying about a pregnancy with Oliver in the clink. Besides, does the show really need a baby at this point? There are plenty of stories left to tell with William.
Of course, given that this show is called Arrow and Oliver Queen is the Green Arrow, we can probably be pretty confident that he won't stay in prison forever. Whenever he does get out, he may return to a very different Star City. The death of Quentin Lance meant that Team Arrow lost a valuable ally (and Star City lost another mayor), and Ricardo Diaz is still out there thanks to Black Siren's decision to blast him off of a rooftop into water. A whole new era of Arrow is on the way with a brand new showrunner, and it should be interesting to see where the show goes after the Season 6 finale ending.
When Arrow does return in the fall, it will be on a new night. You can learn when new episodes of Arrow and the other Arrow-verse shows will air on The CW's 2018-2019 fall TV schedule. The Arrow-verse is expanding to include a certain character from Gotham City -- no, not that Gotham -- and we can only guess at this point what damage to Earth-1 may be done by the end of The Flash finale. For what you can watch once the superhero series are totally done for the season, swing by our summer TV premiere guide.
Resident of One Chicago, Bachelor Nation, and Cleveland. Has opinions about crossovers, Star Wars, and superheroes. Will not time travel.
Your Daily Blend of Entertainment News
Thank you for signing up to CinemaBlend. You will receive a verification email shortly.
There was a problem. Please refresh the page and try again.