What We Learned About Nat Geo's Secrets Of The Zoo At Columbus Zoo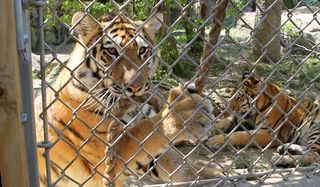 Nat Geo WILD is on the verge of taking viewers on a wild ride with new series Secrets of the Zoo, set at the breathtaking Columbus Zoo. With over 10,000 animals in their care, and more than 2.4 million guests coming through the gates every year, The Columbus Zoo and Aquarium goes above and beyond when it comes to taking care of their own species, and species around the world. They're restoring the lemur populations in Madagascar, rehabilitating and releasing manatees in Florida, and saving coral in the reefs in the Atlantic ocean, just to name a few. I knew I had to see this wonderful place for myself. And let me tell you, what they do is paws-itively incredible.
I traveled to Columbus, Ohio with Nat Geo WILD to get a taste of what their new series Secrets of the Zoo will show viewers. For over a year, Nat Geo and the amazing staff at the Columbus Zoo and Aquarium have been working together to tell some incredible stories about the relationships between these animals and their caretakers. Based on what I saw, the show is not going to disappoint.
Surfin' Safari Show
When you think of zoos, you probably think of lions and tigers and bears (oh my!). That's about what I expected when I sat down for the Columbus Zoo's Surfin' Safari show. I was not prepared for the cuteness. This fast-paced show featured pigs, kangaroos, dogs, cats, birds and even a porcupine. There were cats jumping off of diving boards, dogs playing jump rope, and I didn't know where to look next! The best part? All of the animals are rescued. Most of the dogs and cats in the show came from local animal shelters around the Ohio area. I'm not even kitten, The Surfin' Safari show is definitely a zoo highlight.
Tiger Tug of War
Yes, this is a real thing that exists. As if I wasn't already having the best day of my life, I played tug of war with an actual tiger. Apparently, it's enriching for them to yank on the rope, and it's equal parts demoralizing and fun for human beings. For me, it did not go well. With the slightest jerk of his head, the tiger had me lunging forward, nearly falling on the ground. That's not to say I didn't have a blast. The whole thing was a hoot, but if you go into it thinking you'll win, you're going to be disappointed. For more of what you can expect when Nat Geo WILD brings Secrets of the Zoo to the small screen, head on over to the next page!
Cheetah Run
Cheetahs might nap for a majority of their day, but man will they chase after some yarn. The Columbus zoo has set up a big ball of string on a lure that runs around one of the cheetah enclosures, and zoo guests can watch these amazing animals reach top speeds trying to catch this ball of yarn as it whips around the yard. So basically, cheetahs are giant, more dangerous house cats.
The Wilds
In addition to their 588-acre zoo facility, The Columbus Zoo and Aquarium has a massive 10,000-acre conservation area called The Wilds, about 90 miles east of Columbus. This gorgeous stretch of land is home to over 500 endangered animals from around the world. Just standing at the top of this land, I saw wide open areas and roaming herds of animals far beyond the horizon. For a second, I truly forgot I was in Ohio, and not on an African safari. During our tour of the property, we were able to drive right up to some pretty awesome species like white rhinos, ostriches, zebras and giraffes. I was even lucky enough to witness with my own eyes The Wild's newest resident, a 2-day old baby giraffe! Did I tear up? You bet I did! The Wilds is a must-see for those looking for a getaway. You can even stay right on the property in one of their yurts. That's a fancy word for a big tent with a bathroom. Just prepare yourself to hear some pretty crazy animal noises throughout the night.
When it comes to caring for their animals, The Columbus Zoo and Aquarium does absolutely incredible work. Just in 2017 alone, the zoo donated more than $4 million to conservation projects around the globe. In fact, a portion of every single admission ticket goes toward the park's field conservation efforts. And it's not just their own zoo that's feeling the impact of these funds. The animals are these caretakers' lives, and they're truly in the best hands. They continue to do amazing work, and I can't wait to learn more about it all when Secrets of the Zoo premieres Sunday July 29th, only on Nat Geo WILD.
If you need some other TV options, check out our summer schedule. Our 2018 Netflix guide and 2018 Amazon Prime guide are worth a look at well.
Your Daily Blend of Entertainment News
Thank you for signing up to CinemaBlend. You will receive a verification email shortly.
There was a problem. Please refresh the page and try again.