NCIS' Brian Dietzen Talks Crossovers With NCIS: Los Angeles And NCIS: New Orleans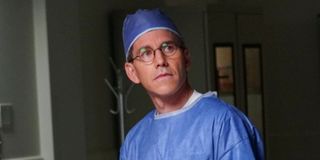 (Image credit: Image courtesy of CBS)
NCIS is unique on the small screen for both how long it has lasted and how successful its spinoffs have been. Aside from the one spinoff that never got past the backdoor pilot stage, the shows that branched off of the original NCIS have been hits. Surprisingly, crossovers between NCIS and NCIS: Los Angeles and NCIS: New Orleans have been relatively rare, especially compared with the frequency of crossovers in other TV franchises. Brian Dietzen, who has been on board NCIS as Palmer since its very first season and will be back in the upcoming Season 16, talked about the NCIS crossovers in a recent chat with CinemaBlend's own Adam Holmes, and he said this:
For Brian Dietzen, the NCIS crossovers with Los Angeles and New Orleans are fun both due to the chance to hang out with the casts of the other shows and because of how they serve fans who have tuned in to all three shows. None of the NCIS shows would be on the air -- and certainly not for as long as they have -- if not for the devoted fans. Between the three shows as of the end of the 2017-2018 season, the NCIS franchise has run for 28 TV seasons, and it's still going strong! NCIS, LA, and NOLA are all set to premiere new seasons this month.
No crossovers between any of the NCIS shows in the next TV season have been announced at this point, but it sounds like Brian Dietzen at least would be on board! Besides, it wouldn't really make sense if the NCIS universe opened with a multi-show crossover the way the Chicago universe is over on NBC. All three shows will need to deal with their respective cliffhangers. NCIS' Season 15 finale concluded with NCIS Director Leon Vance getting kidnapped by terrorists and heading to parts unknown on an airplane.
As for the other two series, NCIS: LA ended Season 9 with the four main characters in an SUV that was blown up by a rocket while they were on a mission in Mexico, and the newly-released trailer reveals some serious injuries to a couple of them. NCIS: NOLA didn't end with the majority of its major characters in mortal danger, but it did conclude with Pride being shot just when it seemed like the dangerous case of the episode had been wrapped up. It's been a long hiatus for NCIS franchise fans waiting to find out what happens in any/all of the shows.
Interestingly, it's possible that the NCIS cliffhanger could impact Los Angeles and New Orleans, depending on how long Vance is missing. He's part of the NCIS brass as a whole, so his absence could be felt within the entire franchise, even if he's most connected to the original NCIS. We'll have to wait and see. You can catch Brian Dietzen and the rest of the NCIS crew back in action when Season 16 premieres on Tuesday, September 25 at 8 p.m. ET on CBS. Season 16 will apparently see Palmer and another member of the team behind bars, so it'll definitely be worth tuning in. For the premiere dates of the other two NCIS shows (as well as a bunch of other shows), check out our fall TV premiere schedule.
Resident of One Chicago, Bachelor Nation, and Cleveland. Has opinions about crossovers, Star Wars, and superheroes. Will not time travel.
Your Daily Blend of Entertainment News
Thank you for signing up to CinemaBlend. You will receive a verification email shortly.
There was a problem. Please refresh the page and try again.