The Flash's Cicada Will Get A Major Twist When His Backstory Is Revealed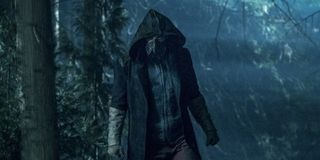 (Image credit: Image courtesy of The CW)
Warning: spoilers ahead for the November 20 episode of The Flash Season 5.
The Flash went in a fresh new direction for its fifth season supervillain, with Cicada as a kind of baddie that Barry and Team Flash have never faced before. By this point, fans have seen much more of Cicada than the heroes, and they're still working on figuring out his identity. The latest episode saw them get closer than ever to the truth, and the next episode will reveal even more about why he is the way that he is.
Chris Klein, who plays Cicada, chatted with CinemaBlend at the recent red carpet celebration for the upcoming 100th episode of The Flash, and he teased the reveal of a major twist when some of the blanks in Cicada's backstory are filled in next week's 99th episode. Klein had this to say:
So far, what we know about Cicada as a person is basically that he wants to kill metahumans and has some kind of attachment to a little girl in a hospital. In the latest episode of The Flash, Cecile and Ralph managed to get info from a FEMA official, revealing that a little girl by the name of Grace Gibbons was injured by shrapnel when the STAR Labs satellite came down courtesy of The Thinker.
This development led Team Flash to the perfectly reasonable conclusion that Cicada must be Grace's father. Now, fans might not want to be too hasty to accept this as the absolute truth. We know (and Chris Klein reaffirmed) that Cicada's civilian name is Orlin Dwyer, and Grace has a different last name. This doesn't mean that we can rule out Orlin as Grace's dad, and we can probably count on some answers about their dynamic when the 99th episode packed full of backstory hits the airwaves.
Whatever is revealed in next week's 99th episode, Chris Klein's comments indicate that we should expect at least one big twist on what we know about Cicada at this point in Season 5. For Team Flash's sake, we have to hope that the episode reveals some kind of weakness for the bad guy.
The metas who can usually use their powers individually or as a group to take down villains can't do much against a baddie who can sap metas of their powers. Maybe Barry will be able to retain some of his hand-to-hand combat skills from the "Elseworlds" crossover when he goes full Green Arrow, or maybe Team Flash will gain an edge in some other way.
We'll have to wait and see. We'll get next week's backstory episode to hopefully set up some of the action in the 100th episode, which will be followed by the first installment of the crossover, airing as an episode of The Flash on a special night. The latest episode may have actually revealed why the crossover baddie targets Barry and Oliver for the switcheroo, so I think it's safe to say that we're in for an exciting few weeks of Arrow-verse action.
Tune in to The CW on Tuesday, November 27 at 8 p.m. ET to catch Cicada's backstory episode of The Flash, and swing by our midseason TV premiere schedule for viewing options during the Arrow-verse's winter hiatus.
Resident of One Chicago, Bachelor Nation, and Cleveland. Has opinions about crossovers, Star Wars, and superheroes. Will not time travel.