How One Outlander Character's Absence Will Change Things From The Book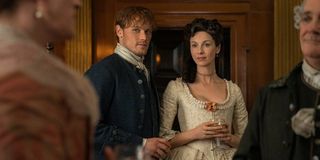 Spoilers ahead for the Drums of Autumn book by Diana Gabaldon and light spoilers for Outlander Season 4.
A number of key Outlander plot lines are beginning to converge now that Brianna made her move to travel to the past and warn her parents of their looming deaths. Based on the events of the Drums of Autumn novel, Brianna will likely encounter people she would only know from her mother's stories. As it happens, however, there will be at least one notable departure from the books with regard to Brianna's journey. Laura Donnelly won't be around as Jenny Murray in Season 4.
Yes, Laura Donnelly will be absent from the fourth season of Outlander on Starz, but not for any troubling reason. The Irish actress was busy with work on a Broadway play, then giving birth to her second child, and then back to her Broadway play once more, according to W Magazine. Unfortunately for fans of Donnelly as Jamie's formidable older sister, Donnelly also stated that given the events of the next couple of books following Drums of Autumn, her time on Outlander may be done.
Now, let's dig into how Season 4 will be changed by the absence of Jenny, based on how the story unfolds on the pages of Drums of Autumn.
Most of Outlander Season 4 will presumably be set in America, but Brianna won't exactly pop into the 18th century conveniently on the outskirts of Fraser's Ridge. Instead, she'll travel back in time the same way her mother did: the standing stones at Craigh na Dun, which means that she'll emerge in the 18th century in Scotland. The good news is that she'll have more to go on than her mom did when she first arrived in the past all those years ago, and she'll likely know some names of people to seek out for help.
One of those names would undoubtedly be Jenny Murray. As Brianna's aunt and somebody Claire considered a friend, Jenny would be a natural person for Bree to seek out, and the two do have some memorable interactions on the pages of Drums of Autumn. Jenny is accustomed to dealing with weirdness and mysterious circumstances thanks to getting to know Claire, but immediately believing that a young woman is her brother's daughter that nobody thought to mention to her wouldn't be easy. Brianna's American accent probably wouldn't help.
That said, Brianna has Jamie's red hair in both the show and the books, and the resemblance is notable enough that Jenny can come to accept that Brianna is indeed her niece... but not until Brianna shows Jenny the pearls Claire had given her. The pearls had belonged to Jamie and Jenny's mother, been given to Claire and then passed on to Brianna. The pearls as an identifier may be one of the aspects of Brianna's trip to the past that needs to change for the show.
The pearls are very meaningful to characters like Jenny, Jamie, Claire, and Murtagh, but the folks at Lallybroch other than Jenny might not understand their significance. Jenny and Ian's kids never knew their grandmother, and even Ian may not feel such a connection to the pearls to accept that only Jamie's daughter could be carrying them. However Brianna is presumably recognized in the show, it may not be via the pearls, although Bree does have the pearls.
The arrival of Brianna also raises a sticky issue for Jenny (and Ian). Although Jenny is Jamie's older sister, he was heir to Lallybroch as a man, and the only reason the Fraser/Murray family held on to Lallybroch after Culloden is that Jamie signed the estate over to Young Jamie, knowing that it would be seized from him as a traitor. If Bree encounters just Ian, would he think to consider that Lallybroch maybe should be Bree's eventually?
Sadly, we have to consider the question of how Outlander will explain Jenny's absence. My money is on the show still sending Bree to Lallybroch, as there aren't many other places I can think of that Bree would feel comfortable checking out upon visiting the past. Jenny won't be there, and Laura Donnelly has opined that she might be done on Outlander. Could Outlander really kill Jenny off?
It's true that Jenny has more to do beyond Drums of Autumn in the books, but the show could tweak things enough moving down the line that it could get away with Jenny being in the great beyond. As much as I don't want Jenny to die, it would be a straightforward way to explain Laura Donnelly's absence.
Where would Jenny be, if not with her family at Lallybroch? It's not inconceivable that she would be called upon to help out a neighbor, and my fingers are crossed that the show finds a way to write out Jenny temporarily without killing her off. Surely we didn't get Murtagh spared just so Jenny could be killed!
Of course, we shouldn't start mourning Jenny yet, as anything can happen, and some of Outlander's necessary changes to the books have enhanced the series. I am going to mourn the absence of any Jenny/Brianna scenes, though. Bree's arrival in Lallybroch is fun in the book, and it can't possibly be the same without Jenny.
Interestingly, the trailer for the next episode seems to show Brianna openly telling somebody in the past about her knowledge of the future and the fire that will kill her parents unless somebody gives them notice. It's not clear who she's speaking to, but her clothes and surroundings certainly point toward the conversation happening after she's already in the 18th century. Take a look!
Stay away from Stephen Bonnet, Brianna! If only yelling at trailers could make it so and allow Bree to escape what awaits her courtesy of Bonnet. The trailer does also make it clear that Roger will follow Brianna to the past, in case any were left with any doubts about his intentions. He may come to regret his decision at least somewhat, but I think it's safe to say that we're all in for a wild ride.
To experience that ride, tune in to Starz on Sunday nights at 8 p.m. ET to catch new episodes of Outlander. If you need some viewing options for other nights of the week in the not-too-distant future, swing by our midseason TV schedule for some ideas.
Resident of One Chicago, Bachelor Nation, and Cleveland. Has opinions about crossovers, Star Wars, and superheroes. Will not time travel.
Your Daily Blend of Entertainment News
Thank you for signing up to CinemaBlend. You will receive a verification email shortly.
There was a problem. Please refresh the page and try again.