Outlander Just Revealed Two Big Deaths, But Are They Going To Stick?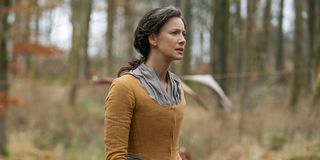 Warning: major spoilers ahead for the fourth episode of Outlander Season 4, called "Common Ground."
Outlander rarely holds back at doling out the devastating twists, and the latest episode revealed two big deaths to viewers. Yes, according to "Common Ground," Jamie and Claire are destined to die in the not-terribly-distant future. Now, the good news is that Outlander's nature as a time travel show means that the characters dead in one timeline aren't necessarily dead yet in the other, but the bad news is that there's no predicting where the show will go. Though history has proved that Outlander doesn't often change history, does that hold true for the two main characters' lives?
The terrible truth was discovered by an unlikely person: Fiona. Thanks to her deceased grandmother's habit of helping Roger's adoptive father with his research, she stumbled across a copy of an obituary from way back in the 18th century. When Roger dropped by Inverness to pick up some boxes and chat about his relationship with Brianna, he was initially pleased to be able to tell Fiona that he'd located the Frasers via a historical document that placed them in North Carolina in the late 1760s.
That pleasure was ruined when Fiona produced a document from the 1770s that gave away the Fraser's unfortunate fates. It was an obituary reporting the deaths of Jamie and Claire. Here's the important bit of info from the obituary:
The obituary date listed January 21 quite clearly, but the year was smudged to the point that Roger and Fiona could only make out "177," meaning that Claire and Jamie could have died in the fire on Fraser's Ridge at any point between January 1, 1770 and January 20, 1779. The Frasers had received their land grand in 1768, which means that they may not have gotten much time at all in their new home before their untimely deaths by fire.
Needless to say, this was not the kind of news that Roger was anxious to deliver to Bree as soon as possible! In fact, he came to the conclusion that he needed to keep the deaths a secret from Brianna, arguing that she knew they were dead anyway and she would be happier believing in their happily-ever-after lasting a bit longer. Roger clearly believes that there's nothing to be done from the 20th century. Was this Outlander's way of revealing how many more years we'll see in the past?
Well, Outlander still has a potentially long future ahead of it, so we can rule out Jamie and Claire dying any time soon. It's possible that the show could simply slow down how quickly it has been tearing through the timeline and spend the rest of the series following the Frasers in the years ahead of January 21 in the year they die. It's also -- and arguably more -- possible that Outlander is finally going to allow the characters to change history.
As fans know, Jamie and Claire's attempts to change history and the outcome of the Battle of Culloden failed miserably, and it seemed that Outlander would handle time as something that couldn't be changed in a huge way. Couldn't the deaths of two people be small enough to be changed without altering the grand scheme of things? There's a variable on their way that could impact their original fates in the 18th century.
Yes, all signs point toward Brianna making her trip to the past as soon as next week's episode. Her relationship with Roger seemed to be going well, and she attempted to seduce him after they had a great date at a Scottish festival in North Carolina, and he seemed all for it... until he revealed that he wanted to be engaged before any further shenanigans, even going so far as to start planning their future with a handful of kids.
Understandably for those of us watching from our couches in the 21st century, Brianna considered his proposal to be way too much way too fast, and even went on to say that she's not sure she believes in marriage. The upside of the disaster is that it didn't happen until after Brianna gave Roger a book about Scottish settlers in Colonial America, which gave him the clue he needed to figure out that the Frasers had made it to North Carolina.
By the end of the episode, Roger called Brianna's apartment in Boston, but he received a bombshell of a revelation from Bree's roommate. Brianna had taken off for Scotland weeks ago, and she'd told her roommate that she was going to see her mother. Given that we've seen in trailers that Brianna gets set for a journey to the past, we know that a big meeting between Bree and another character is on the way, and something awful is going to happen to Bree, it makes sense that she's heading back in time in the next episode.
She'll undoubtedly have quite a journey ahead of her, especially if she travels via the standing stones at Inverness, which would presumably see her pop out into the 18th century in Scotland rather than conveniently in North Carolina. We'll have to wait and see if she could be a factor that changes her parents' fates. Perhaps Roger will be able to contact her before she goes back in time, therefore passing on a message for the Frasers to try and stop their deaths from coming to pass!
Alternately, perhaps Brianna traveling to the past will cause the fire that kills her parents. Outlander hasn't allowed history to be changed in the first three seasons, and perhaps the show isn't looking to change that in Season 4 and beyond. What a perfectly tragic twist it would be if Brianna's attempt to meet her father and reunite with her mother result in their deaths down the road!
We'll have to wait and see. New episodes of Outlander air Sunday nights at 8 p.m. ET on Starz. For some new viewing options in the not-too-distant future, swing by our midseason TV premiere guide.
Your Daily Blend of Entertainment News
Laura turned a lifelong love of television into a valid reason to write and think about TV on a daily basis. She's not a doctor, lawyer, or detective, but watches a lot of them in primetime. Resident of One Chicago, the galaxy far, far away, and Northeast Ohio. Will not time travel, but will sneak references to The X-Files into daily conversation.