Who Won The Late Night Talk Show Ratings War In 2018?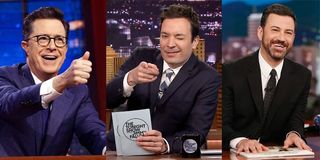 When you play the game of late night, you win or you -- oh wait, wrong show. When it comes to TV competition, the "winner" is usually declared through whoever nabs the most viewers in the advertiser-loving 18-49 demographic. So even though The Late Show With Stephen Colbert on CBS was the most-watched late night show of 2018, it still lost out to The Tonight Show Starring Jimmy Fallon on NBC when it comes to the key ratings.
But it's too simplistic to just raise Jimmy Fallon's hand as the winner, since he lost more in 2018 than Stephen Colbert gained.
There are more than two players in this game, but the Late Show vs. Tonight Show battle has a history, and all of the numbers are getting closer.
The Tonight Show, The Late Show, and Jimmy Kimmel Live! on ABC all lost viewers from this time last year, but Stephen Colbert's Late Show lost the fewest.
Stephen Colbert's The Late Show is averaging 3.67 million nightly viewers, according to THR's figures through December 15. That tops The Tonight Show's 2.46 million, giving The Late Show a lead of 1.21 million. That marks an increase over the lead of 980,000 viewers that Colbert held at the same time last year. Jimmy Kimmel Live! is at 2.08 million for 2018 so far.
In overall viewers, The Late Show is off only 1 percent from last year, while The Tonight Show and Jimmy Kimmel Live dropped, respectively, 10 and 11 percent.
When it comes to the 18-49 ratings, The Late Show managed to catch up to The Tonight Show in November, but then Jimmy Fallon retook his lead. The Tonight Show has the overall lead in that demo for 2018, with a 0.54 rating vs. 0.52 for Colbert and 0.4 for Kimmel. As THR noted, all of them were off significantly from this time last year -- 13 percent for Colbert, 18 percent for Kimmel, and a whopping 21 percent for Fallon.
So it's hard to see The Tonight Show having "won" 2018 when it lost that many viewers in the key demo. Jimmy Fallon's lead over Stephen Colbert has shrunk from 0.08 at this time last year to 0.02 right now.
That said, network TV is a youth-obsessed market, and The Late Show has the oldest average viewer at 63.3; Jimmy Kimmel Live follows with 59.4, and Tonight at 57.5. So they are all skewing older when it comes to watching the shows on TV.
What about watching digitally? That's where Jimmy Fallon shows a larger lead. The Tonight Show clips earned 1.73 billion views on YouTube through November 30, vs. 1.5 million for Stephen Colbert's show and 1.49 billion for Jimmy Kimmel.
What about the later late-night guys? When it comes to the 12:35 a.m. crowd, NBC's Late Night With Seth Meyers is still topping The Late Late Show With James Corden in both viewers and ratings. Late Night averaged 1.48 million viewers with a 0.32 rating, and CBS's Late Late Show earned 1.35 million with a 0.26 rating.
The data didn't go into digital views for the late late hosts, but that's where you could certainly expect James Corden to take the lead with his viral Carpool Karaoke sketches. His most recent edition, with Cardi B, got more than 10 million views in one day. Is that potentially taking away from episode viewers? Are people just going straight to the clips without watching the show? And does that even matter when it comes to making money moves for CBS?
Back to the 11:35 network crowd. (As opposed to Conan on TBS, which is an entirely different ball of wax.) The Late Show vs. Tonight Show battle is still fascinating to watch. David Letterman started The Late Show on CBS after NBC gave The Tonight Show gig to Jay Leno when Johnny Carson retired. That launched a Jay vs. Dave, Tonight Show vs. Late Show rivalry.
Jay Leno hosted The Tonight Show for years before NBC gave Conan O'Brien a very brief run; Jay Leno took the show back until Jimmy Fallon took over in 2014. Meanwhile, David Letterman retired from The Late Show in 2015, passing the torch to Stephen Colbert.
Stephen Colbert had a rough start on The Late Show, but eventually found his niche, especially on the political front after the 2016 presidential election. His show started passing The Tonight Show in overall viewers, took a step back for a bit, and now consistently beats Jimmy Fallon's show on that front.
The Tonight Show used to be the king of late night overall, but now it can just claim its slight edge in the 18-49 demo. If that edge keeps slipping, and The Late Show manages to overtake it in the ratings on a consistent basis in 2019, then we will officially have a new king of late night. That said, a lot can happen in a year.
It's not a great sign that all of the late night hosts are losing viewers, even if The Late Show is losing them at the slowest rate. But that's an overall trend on television, thanks to so many other ways of viewing programs -- or just clips from those programs -- and so many other alternatives in streaming. They call this Peak TV, but it's also Content Overload. (SNL recently poked fun at Netflix on that front.)
Stephen Colbert seems to be finding his place on the political front -- vs. Jimmy Fallon, who likes to keep things light instead of controversial -- but what happens if Donald Trump does not continue as president after 2020? That's not a factor for 2019, but it has to be something The Late Show brass are thinking about.
Then again, it's not like politics is Stephen Colbert's only angle. Just this week, he got some solid shots in at CBS itself and his former boss Les Moonves. Colbert is earning a reputation as a very bold satirical voice on late night, and that may help him no matter the future political situation.
This coming year should be very interesting on the TV front, with so much going on. Here's what's on the primetime docket for midseason 2019.
Your Daily Blend of Entertainment News
Gina grew up in Massachusetts and California in her own version of The Parent Trap. She went to three different middle schools, four high schools, and three universities -- including half a year in Perth, Western Australia. She currently lives in a small town in Maine, the kind Stephen King regularly sets terrible things in, so this may be the last you hear from her.