George Clooney And Hugh Laurie Don't Look Happy In First Look At Hulu's Catch-22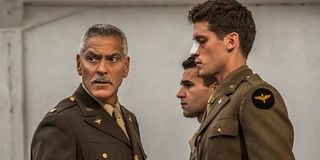 George Clooney's adaptation of Catch-22 is headed to Hulu, and after news that famed actor Hugh Laurie would be joining in, we're getting our first look at the miniseries. To start things off, here's a look at Clooney's Scheisskopf who is rocking a mustache and a perturbed look.
Even with a mustache, George Clooney is looking as magnificent as ever as he suits up as Scheisskopf in Catch-22. For those who never learned the joke behind the character's name after reading the book this series is based on in school, his name is the German language equivalent of calling someone "shit head" in English. Knowing that justifies the look on his face even more, although stereotypical military types on film and television are often more surly than they are friendly, anyway.
George Clooney's mini-series, which he is also executive producing, is based on the iconic novel by Joseph Heller, Catch-22. Set in 1944, it primarily chronicles the experience of Captain John Yossarian and the grim realities of World War II. The book's title has been used to describe tricky situations in which the means of escaping those situations are impossible. This is introduced in the book via a rule that soldiers who are crazy can't fly, but admitting that you're crazy means you're sane enough to recognize it and keep flying dangerous missions.
A second picture, presumably from the same scene, shows us that the people Scheisskopf is directing his anger towards are indeed John Yossarian and Milo, who's a mess officer and shameless war profiteer. George Clooney's character is giving both men the business, while a stenographer appears to be hard at work recording the tongue-lashing in the background.
John Yossarian is the man closest to the camera, and is played by the talented Christopher Abbott (Girls, The Sinner). Next to him is Daniel David Stewart, who is a bit more of a newcomer to Hollywood with only a few character roles in Hollywood to this point. Catch-22 could be a chance for him to really break out in Hollywood, and his role as Milo, in particular, seems to be setting him up for that.
As promised, Hugh Laurie is along for the ride in Catch-22 as well, and we have a photo of him in character as Major de Coverley. Laurie can be seen below, giving a stern look to a soldier as he holds what appears to be a wilted flower in his hand.
Hugh Laurie's character looks a bit menacing in this photo, or at the very least, displeased with that tray of flowers. His character is seen as a peculiar fellow in Catch 22, as he's admired by many of the men for his laid-back duties like playing horseshoes and renting apartments for soldiers on leave. There's also a bit of mystery behind his Major de Coverley, but I'll spare the spoilers for those who haven't read the story.
Last, but certainly not least, we have Kyle Chandler in the picture as Colonel Cathcart. Unsurprisingly, he looks every bit the part of a man in charge as he's dressed in full uniform and an expression that feels like he's thinking with "clear eyes" and a "full heart."
George Clooney was originally announced for the role of Colonel Cathcart but ended up giving up the role to play the smaller character of Scheisskopf. Apparently, Kyle Chandler had a quality Clooney liked better in the role, although it isn't hard to imagine that after seeing him in character. Out of all the photos released from Catch-22, Chandler is the one, above all else, who looks like he's straight out of the era.
Catch-22 is coming to Hulu (opens in new tab) sometime in the spring. For a look at other things happening on television in 2019, be sure to visit our midseason premiere guide. For a look at what's still coming in 2018, hit up our fall premiere guide.
Mick likes good television, but also reality television. He grew up on Star Wars, DC, Marvel, and pro wrestling and loves to discuss and dissect most of it. He's been writing online for over a decade and never dreamed he'd be in the position he is today.
Your Daily Blend of Entertainment News
Thank you for signing up to CinemaBlend. You will receive a verification email shortly.
There was a problem. Please refresh the page and try again.