Who Are The Masked Singer's Celebrity Contestants? Here Are Our Best Guesses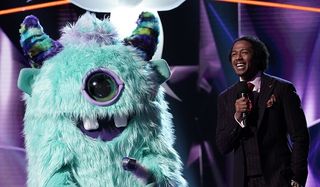 This article is frequently updated as The Masked Singer Season 1 continues! Be sure to check in as more clues and the identities of these contestants are revealed!
The Masked Singer has captivated America, and it isn't hard to see why. The elaborate costumes, the performances, and the big mystery behind the identities of its celebrity competitors have America invested and committed to finding out who each contestant really is. With that said, here are some of our best guesses as to who each performer from the first show may be, the clues they've given, and some alternate options for their identities that the internet should certainly consider.
The Monster
The Monster made his debut on The Masked Singer with a spirited performance of Queen's "Don't Stop Me Now." No one wanted him to stop, either, as the solid singing performance made the character a quick favorite of judge Ken Jeong and had others guessing he was actually Chris Brown. We wouldn't go quite that far, but it does sound as though this contestant is good enough to be a professional singer. (Week 1)
The Monster's next performance was far better, as he had the crowd going wild with his take on Gavin DeGraw's "I Don't Wanna Be." His high pitch at the end had every one of the judges impressed, and there's little doubt now that he could be the last one unmasked when this season reaches its finale. (Week 2)
Week 3 featured perhaps The Monster's best performance yet as he tore down the house with Lenny Kravitz's version of "American Woman." The judges and audiences went wild for it, and there was little doubt The Monster would survive the night. (Week 3)
The Monster took a big risk this week, and decided to use his booming and very masculine voice to do Joan Jett's "I Love Rock n' Roll." The audience and judges ate it up all the same, but it certainly felt like the weakest performance he's done to date. (Week 4)
The Clues: The Monster is, apparently, someone whom people would actually label a monster, most likely due to some well-publicized controversy. He was also "at the top of his game," but has since gone into reclusion when "the game" turned on him. That said, the monster is hoping to reinvent himself with The Masked Singer and get back to doing what he loves. (Week 1)
The next time he appeared, the Monster revealed he's from the south and that he owns a Cadillac. Viewers also latched onto his key statements of getting back into the "swing of things" and "getting his head in the game". (Week 2)
Even more video game references popped up in the new video, and The Monster brought a headset with a microphone as his physical clue for the judges. It might point to his singing career, or maybe video gaming again? (Week 3)
It was another week of vague golf clues, hip hop references, and talk about gaming. He also brought up he's from the South, oh wait we covered that in week 1. Isn't there more Monster can tell us about himself?(Week 4)
Our Best Guess: My opinion is in line with many others, but I think The Monster is none other than T-Pain. His Tiny Desk Concert showed the typically auto-tuned singer can hold a note without the electronic device, and with autotune going out of style he's been less of a hot commodity in recent years. That said, T-Pain has a pretty solid reputation with little controversy in his career, so the monster persona part doesn't really make sense.
It May Also Be: Bobby Brown, who still has a solid set of pipes in 2018 and a checkered past that could maybe justify the monster persona. The monster also sounds a lot like Kenan Thompson, but none of the clues really support that theory in the slightest. Whoever The Monster may be, it feels as though he was a singer that was once more famous than he is now, and he's looking to revive his career.
The Deer - UNMASKED
The Deer gave a spirited performance of Imagine Dragons' "Thunder," which is a nice way of saying he tried to do justice to the song. The performance wasn't awful, but it's fair to say this person probably didn't contribute to the 65 Grammy nominations the contestants have amassed in total. (Week 1)
The next time he was on stage, The Deer did better with a rendition of Florida Georgia Line's "Get Your Shine On". The judges pointed out the Deer looked rigid and slow moving, which may mean he's an older contestant. While the performance was better than his last attempt, it was fair to say it was one of the weakest of the evening. (Week 2)
The Clues: The deer revealed he's been knocked down a lot, and people wouldn't think of him as a singer based on what he's known for in real life. He also gave a bizarre call out to ravens during the bit, which immediately had judge Robin Thicke guess he was a player for the Pittsburgh Steelers. (Week 1)
The Deer returned the next week to say he was a good thrower, and that losing isn't typically his style. He also did a fake used car commercial, which may have implied that's something he's done in his actual career. (Week 2)
Our Best Guess: The Deer's limited movement and hulking persona do make it appear as though he was an athlete of some sort. The initial choice of a deer made me wonder if he was a Milwaukee Bucks player like Giannis Antetokounmpo, but the raven reference definitely feels more like an NFL player. Peyton Manning feels like as good a guess as any, but there's probably a long list of former and current NFL players who can't sing.
It May Also Be: Terry Bradshaw. There's no denying the pitched up voice of the Deer definitely sounds like the NFL legend, but the Ravens callout doesn't make much sense. The Baltimore Ravens didn't exist until 1996, a full 13 years after Bradshaw would play his last NFL game. Still, Bradshaw's working relationship with the Fox network make him an easy get for the program, which make the odds of him being the Deer all the more likely.
Revealed To Be: As the internet predicted, it was Terry Bradshaw. For many, the pitched up voice wasn't enough to mask the NFL analyst's accent, and as mentioned before, him working for the Fox network made it seem probable he was under the mask.
The Peacock
The Masked Singer's Peacock tapped into the world of musicals and opted to do a song from The Greatest Showman as his performance. The judges all noted that he had a solid stage presence, and that his voice was booming and certainly resembled that of someone with professional experience. (Week 1)
The Peacock stepped away from show tunes the next week, but his rendition of One Republic's "Counting Stars" didn't convince the judges he wasn't a Broadway-type performer. As was the case before his stage presence was electric, and the crowd was thoroughly impressed with his performance. (Week 2)
Few performers would feel confident enough in their singing abilities to tackle a John Legend song, but not The Peacock. The performer did his typical commanding stage show while performing "All Of Me" to near perfection. Perhaps a bit too perfect, as some of the judges felt relatively confident on who he is. (Week 3)
The Peacock put on a show yet again this week, although his performance of The Weeknd's "Can't Feel My Face," wasn't his best. His showmanship seemed to mask that all the same and the audiences and judges liked what they heard nonetheless. Perhaps it wasn't bad, but it certainly wasn't anything like how The Weeknd sings it. (Week 4)
The Clues: The Peacock first stepped on stage at 5-years-old, and has been in the spotlight ever since. He's someone a mother would've had a poster of when they were growing up, although one would think that depends on the age of the person watching him perform. There was also a big clue that this person was good friends with Michael Jackson, which could reduce the list of potential candidates quite dramatically. (Week 1)
Peacock wasn't as forthcoming in his next clue roundup, and more or less hit on the highlights of his stuff from Week 1. He referred to himself as a "teeny bopper" and revealed he's been cast in "dramatic roles". He also mentioned he's afraid of heights, although that probably won't tip too many off to his identity. (Week 2)
Peacock didn't reveal much during his video round, but threw the judges and the audience completely with a weird wig. What's even crazier, is he said this wig led to him going to jail. How does that even happen? (Week 3)
This week's clues didn't bring much new, although he did reveal a person has his face tattooed on their body. Ken Jeong wasn't all that impressed, but that's probably because there's a handful of people that got his face on their body after watching The Hangover. (Week 4)
Our Best Guess: It's really hard to go against the grain of popular speculation on this one, as Donny Osmond fits the bill for a lot of stuff on the clue category. The deck of cards implied The Peacock is a Las Vegas performer, and he and Michael Jackson both came up in the music world around the same time. Plus, that wig he showed resembles the one he wore in Joseph and the Amazing Technicolor Dreamcoat.
It May Also Be: Macaulay Culkin. As crazy as it sounds given how many of the clues link to Donny Osmond, he's not the only person who was good friends with Michael Jackson. Also, Macaulay Culkin's singing skills aren't that well documented, but YouTube footage of the former child actor singing show that he can hold a tune better than the average person.
The Lion
The Masked Singer contestants were put on notice, as The Lion's take on Fergie's "A Little Party Never Hurt Nobody" made it clear she was a contestant in it to win it. Her performance was so good the judges speculated she must be the most famous of the contestants and noted that her voice was on par with Lady Gaga's. (Week 1)
While she may not be Gaga, The Lion certainly showed she had a voice the following week with Nina Simone's "Feeling Good." The judges were thoroughly impressed, as was the audience as they were on their feet applauding The Lion and her latest performance. (Week 2)
The Lion brought her smooth and sultry voice back for a phenomenal performance of Sia's "California Dreamin." That's a song that requires some substantial vocal range, and Lion rose to the occasion with a show-stopping performance. (Week 3)
If someone were to guess The Lion were Lady Gaga this week, it wouldn't have been surprising. The contestant commanded the stage with the artist's song "Diamond Heart," and it was nothing short of incredible. (Week 4)
The Clues: The Lion revealed she hails from Hollywood royalty, which means she's got a famous family. Her wish is to debut her voice to the world but without the preconceived notion of who she is to get in the way of what folks think of her voice. The Lion is stepping away from her "pride" which, in addition to being a clever big-cat pun, could imply she has quite a few famous family members. (Week 1)
Imagery from The Lion's clue section the following week implied she's an activist, which she confirmed by saying she enjoys using her voice to help others. She was also reading a newspaper that read "Gold Found In Hailey" which guest judge Joel McHale believed to be a reference to Hailey, Idaho. That last clue seemed particularly revealing and may have revealed who this mystery singer actually is. (Week 2)
It was a weird week for clues with The Lion, as very few of them made sense. There was a Wizard of Oz reference, which I guess played into the Lion part of her character? Her physical clue was a scrunchie, which again, didn't reveal much of anything. It's a good thing the prior week's clues basically gave her identity away! (Week 3)
Apparently The Lion likes to frequent Chicago, and says it's a lot different than the Bluegrass state she grew up in. That's what Kentucky is known as, so we're guessing the celebrity who has ties to both of those places is our gal. (Week 4)
Our Best Guess: I originally thought this was the iconic Kylie Jenner, mostly because of her impromptu Snapchat singing skills, but I can't deny the writing on the wall. This is most likely Rumer Willis, and I may have been a fool to believe a Kardashian was ever involved in the program to begin with.
It May Also Be: As mentioned above people seem to be committed to the idea that The Lion is the daughter of Bruce Willis and Demi Moore, Rumer Willis. The winner of Season 20 of Dancing With The Stars had a show-stopping singing performance on Season 4 of Empire that has some convinced.. With that said, the newspaper potentially referencing Hailey, Idaho, may have confirmed that this really is her, as well as the reference to Kentucky, where she was born.
The Unicorn- REVEALED
The Unicorn took to the stage with "Fight Song" in what was a quieter, less-spirited version of the original. Her version wasn't bad per-say, but it definitely didn't sound like it was being performed by someone with professional singing experience. That was confirmed via her clues, which showed that performing on stage may be a point of anxiety for this contestant, especially when it comes to singing. (Week 1)
Week 2 for The Unicorn was met with some controversy from viewers, who criticized The Masked Singer for allowing her performance of "Oops I Did It Again" to be autotuned. We're not for sure if that's the case, but there's no denying the voice did sound strange and have a somewhat odd tone to it. The judges and audience didn't seem to acknowledge it, however, and congratulated her on her performance. (Week 2)
Unicorn found a song more akin to her singing abilities this week, as the tune of Icona Pop's "I Don't Care" masked the rough notes she delivers during a typical performance. It wasn't great, but could be enough for her to stay off the elimination radar another week (Week 3)
The Clues: The Unicorn revealed she grew up in one of America's richest neighborhoods, which the context clues seemed to indicate was Beverly Hills. She wanted to be singer from a very young age, but her dreams were dashed when someone she admired called her tone deaf. The Unicorn is tired of letting that hold her back and is hoping to prove to the world she can do whatever she wants if she tries. (Week 1)
At one point in her new clue video, The Unicorn is holding five little plush unicorns. This, paired with her confession of being a gymnast "in the bedroom" has led some to think that represents her number of children. The Unicorn revealed she's lost her "sheen," which sounds like a connection to someone famous. Are we talking about Charlie Sheen? (Week 2)
The Unicorn revealed she came from "Hills" during her clue package, which appears to be a reference to Beverly Hills. There was also a vague reference to heaven, which seemed to mean something religious? Her physical clue was a typewriter, which seemed to mean she's written something or enjoys writing. (Week 3)
Our Best Guess: Paris Hilton tried and failed in her past attempts to break into music, and like Donny Osmond, was friends with Michael Jackson growing up. The King of Pop was, by many accounts, a kind person, but it wouldn't be surprising to hear he dissuaded the girl from pursuing a career in music at a young age if he thought it was a waste of time. Perhaps this stint on The Masked Singer is her planned musical comeback?
It May Also Be: Many people seem to think Tori Spelling is the person behind the mask. Much like Hilton, she too could have had someone she admired who told her she couldn't sing, but, like Paris, she tried anyway. The latest "sheen" clue has led some to believe this is Denise Richards, as she's the most notorious ex of Charlie Sheen. This one still feels like it could be anyone!
Revealed To Be: The internet did it again, and sniffed out Tori Spelling as the person behind the Unicorn mask. The typewriter was a reference to her father Aaron, who used the typewriter in his development of several television shows.
The Rabbit
The Rabbit took the stage with one of the eeriest performances that The Masked Singer has put on to date. With a straightjacket attached to his torso, Rabbit performed Ricky Martin's "Livin' La Vida Loca" with a dark opening that had judges convinced the celeb is a seasoned performer. Outside of the performance, the additional twitches he used to sell his "deranged" personality were impressive, and they definitely showed he's quite the showman, if nothing else. (Week 1)
Rabbit turned down the crazy a bit with his performance of "Wake Me Up" Avicii ft. Aloe Blacc, but the singing was still very high quality. The judges are more or less convinced at this point he's a professional singer, and it's simply a matter of finding out what group he rolled with back in the day. (Week 2)
Rabbit set out to throw the judges off track with his latest performance in the competition, and performed Bel Biv Devoe's "Poison" with an elaborate dance routine. The judges didn't seem any more thrown than they've been so far, so I'm not sure if he succeeded. (Week 3)
This wild Rabbit keeps coming to the stage each week with a wildly different song, and he continued that trend with "Isn't She Lovely?" Everyone loved it, and Rabbit's typical stage presence impressed guest judge J.B. Smooth. (Week 4)
The Clues: The Rabbit's been on stage most of his life, but was never alone. These days, he "pops up" at various places, although he admitted that synchronized singing is his forte. Rabbit finished by saying his whole life feels like it was in preparation for The Masked Singer, as he's sung on stage, performed in a mask, and has a killer voice. (Probably not a killer one, despite how creepy he is.) (Week 1)
The Rabbit kicked things off by mentioning he once worked at an amusement park in his youth. There was also a hint that he works with cooking in some way, either in the restaurant business or on television. Rabbit side-stepped Nicole Scherzinger's question on whether or not he's toured with her group Eden's Crush, which seemed extra shady. (Week 2)
This week's clues had a bit of randomness, as Rabbit gave mixed clues like he has a "southern twang" but was also hanging out in a food truck with a note that said "Brooklyn." At the end of his performance he unveiled a magic set as his physical clue. Ken Jeong thought it was a red herring, as do we. (Week 3)
Apparently, The Rabbit has 17 tattoos on his body? They must be well hidden because all those No Strings Attached references didn't throw us off the Fatone train one bit. (Week 4)
Our Best Guess: This one is looking like it's definitely Joey Fatone. The sidestepping of the question of whether he toured with her Nicole Scherzinger is certainly fishy, and Joey owns a hot-dog business called "Fat One's." Take that alongside all the NSYNC references and Brooklyn background and we'll be far from surprised when that mask comes off and he finally says "bye bye bye" to The Masked Singer.
It Could Also Be: Donnie Wahlberg. Good Housekeeping noted The Rabbit's episode was titled "New Masks On The Block," which is a nod to Wahlberg's group New Kids On The Block. Wahlberg is married to judge Jenny McCarthy, and while she didn't guess the Rabbit to be her husband, she might be feigning ignorance there. Finally, Wahlberg has been tweeting about The Masked Singer, so it could definitely be him.
The Poodle - UNMASKED
The Poodle, who was dressed to the nines in white and pink fur, had the crowd and judges on their feet with her take on Pat Benatar's "Heartbreaker." Nicole Scherzinger said Poodle had a hot body, and Jenny McCarthy noted her performance showed she was comfortable on stage. Her voice wasn't bad, but it didn't sound like that of a professional singer. (Week 1)
In one of the strongest performances of the night, The Poodle swung around on stage while singing "Time After Time" by Cyndi Lauper. The judges don't think Poodle is a professional singer, but do think she's a talented performer and brings a certain swagger to the stage. (Week 2)
The Clues: The Poodle has loved performing on stage and playing characters ever since she was a little girl. The Poodle is self-described as sassy, smart, and is presumably from San Francisco. She's from a singing family, but is known for a different type of performance. That lively artform is said to be centered around free speech, and additional imagery showed she was into fitness. (Week 1)
This week the Poodle further confirmed she hails from the world of stand up comedy, but then also threw out some weird clues in that she has a background in law? She told the judges she's been fired multiple times, so she may be someone controversial or difficult to work with. (Week 2)
Our Best Guess: This one is really tough, as it feels like any guess doesn't really match all the way. Jodie Sweetin is my shot in the dark, but that's mostly because she has the Fuller House connection and a documented singing ability. Whoever it is isn't predominantly known to be a singer, so there's a good chance this guess is wrong.
It Could Also Be: Comedian Margaret Cho, who checks off a lot of the boxes, although not so much for fitness and having a singing family. Maya Rudolph is another popular suggestion, but she's not from San Francisco; and again, the whole fitness part doesn't make sense. Whoever this person is, we're guessing there might even be a few people who aren't sure who the celeb is even when the mask is taken off.
Revealed To Be: Margaret Cho, as the internet is on a hot streak when it comes to making predictions on contestants. I'm still not entirely sure where all the "judge" stuff comes into play, but the rest of the clues put many on her trail from the jump. I may never doubt the masses again.
Bee
The Bee buzzed up on stage recently, and while she wasn't all that physical with her performance, she sang with the energy of an entire hive. The voice was professional, but not one belonging to someone in their 20s, or seemingly even a middle-aged pro. This was the voice of a veteran, and one who knew how to transform Sia's "Chandelier" to her current vocal strengths with awesome results. (Week 1)
For what she lacks in movement, The Bee proved she's one of the most talented singers in this competition with her performance of "Locked Out Of Heaven". All the judges were impressed, and for once, one of them gave a guess that didn't sound stupid! (Week 2)
Bee keeps managing to stun the judges and audience on The Masked Singer, as the older contestant once again picked a song from a younger generation to showcase her voice. Who would've thought this series would've featured a singer that was active in the 1950's singing Miley Cyrus' "Wrecking Ball"? (Week 3)
Things got old school when Bee took the stage again, and this time she tapped into Tina Turner's "What's Love Got To Do With It." She killed it, and while the contemporary song performances have been great, it was great to hear Bee go old school! (Week 4)
The Clues: The Bee has accomplished a lot in her long career, and has never once stopped loving what she does. She's been called the "queen bee," but added the name "Empress" also suits her. Finally, the Bee was eager to sing for a new generation, which more or less confirmed she's from a time older than the current wave of popular singers. (Week 1)
The clues for The Bee were a little more guarded this week, with very little revealed about her that wasn't known the last time she performed. There was a giant peach seen falling in the background, which one of the judges believed was a subtle nod to the state of Georgia. (Week 2)
It was a lot of the same old same old with Bees clues this week, although that bakeware reveal was a bit of a surprise. That said, we're still feeling confident about our pick, as Gladys Knight does have her own cookbook available for purchase. (Week 3)
The big clue this week worth remembering is that The Bee has won 10 Grammys in her career. There aren't many female singers who have won that many, and that specific number definitely knocks a couple possibilities out. (Week 4)
Our Best Guess: It's absolutely Gladys Knight. A simple search of her recent performances will confirm the voices match up, and her nickname is indeed the "Empress of Soul". The 74-year-old singer is certainly from a different generation, and her age may be why she wasn't dancing around the stage as much as other competitors.
It Could Also Be: It's hard to even humor another guess in this specific instance, especially when the judges originally guessed Beyonce and Cardi B. With that said, otherrs seem to think Tina Turner is an option, so perhaps we should keep this one open just for that 1% chance it isn't Gladys Knight.
Raven-UNMASKED
Kesha's "Rainbows" was the perfect compliment to Raven's voice, and the judges agreed the celeb inside the mask sounded like an experienced stage performer. The crowd was thoroughly impressed as the Raven spread her wings and made it clear she was a force to be reckoned with in the competition. (Week 1)
The next outing was a strong performance from The Raven, who really went off on Lady Gaga's "Bad Romance." The performance wasn't great due to her singing ability necessarily, but the passion she put into the performance and the energy it brought. The judges appreciated how she's using The Masked Singer to grieve and work her way through a sad time in her life. (Week 2)
The Raven gave it her best once again with her take on Sara Bareilles "Brave," but it was clearly a step below the rest of the competitors of the evening. To be frank, a performance that's just ok isn't going to be enough to survive from here on out. (Week 3)
The Clues: Raven spent her life listening to other people's stories, and now it's time to tell her own. Audiences aren't a problem for this person, who said talking is one of her strong suits. She's in the competition after suffering a recent loss, although it wasn't made clear who Raven lost, nor how. (Week 1)
Raven once again brought up the loss of someone dear to her the next time around, and brief mentions were made regarding the year 1968 and the Hudson River. Whoever The Raven lost, it was someone who took her away from a place near there. (Week 2)
Raven whipped out a pretty big clue for the judges following her performance, and revealed she is an Emmy winner. The award confirms she's won something for her work in television, and all the judges seem convinced she's a talk show host. (Week 3)
Our Best Guess: Raven revealed she once had a show but lost it, which has me thinking it's star of stage and screen Ricki Lake. YouTube has a video of her singing 9 years ago, which sounds like a pretty good match. The former talk show host Lake also has memorialized the loss of her ex-husband Christian Evans, who passed away just a couple years ago. Also Lake was born in 1968, and grew up in Hastings-on-Hudson, New York.
It Could Also Be: Ken Jeong guessed Sally Jessy Raphael, which doesn't seem likely, but the talk show host angle does seem to be the key here. Megyn Kelly lost a show recently, but that wound feels a little too fresh for The Masked Singer to have referenced it. This is another entry where the evidence seems in favor of one person so far, and it's hard to see it being anyone else.
Revealed To Be: It turns out our instincts were on the money, this one was indeed Ricki Lake. There was little chance it was anyone else with the clues she had given, so the victory does seem a bit more shallow than guessing one of the other contestants.
Alien-UNMASKED
The Alien strutted out on stage looking like a seductive E.T. from Invader Zim hell-bent on bringing the world to its knees, all to the tune of Portugal The Man's "Feel It Still". The performance was middling, but Ken Jeong was a big fan of the costume, and Jenny McCarthy theorized the Alien is a model. Robin Thicke agreed and specifically guessed that the person under the mask was Bella Hadid. (Week 1)
The next week featured The Alien giving an honest attempt to sing The Cardigans "Love Fool," but her singing abilities failed to fully impress the judges. Robin Thicke is convinced Alien is a model, while Nicole Scherzinger thought she could be a member of the Jackson family. (Week 2)
Alien took the stage with her strongest performance to date in what was a show-stopping performance of Pharrell's "Happy." It's now clear The Alien is definitely a professional singer at this point, and probably someone the general public knows rather well. (Week 3)
There's been some up and down performances for The Alien in The Masked Singer, and her latest was one of her best. She rocked Elle King's "Ex's & Oh's," and had the audience on its feet as she shook her hips and strutted around stage. (Week 4)
The Clues: The Alien said it's impossible to be anonymous in her family, which is why she's excited to be on The Masked Singer. Her life was never her own due to constant scrutiny of the masses. Now she's hiding behind a mask, and is psyched to be showing off her voice to the public without them having any clue who she is. (Week 1)
While she may be "out of fashion," the Alien thinks she's going to rise above all that. After the performance, Alien revealed she's a quadruple threat, and that she's recorded many things. Unfortunately, that's about as detailed as she got, and she remains one of the most mysterious contestants. (Week 2)
Most of Alien's clues this week were made to convince the audience she may be Nicole Ritchie or Paris Hilton, but her physical clue at the end solidified who she is. A police badge from Muncie, Indiana? C'mon, we know neither of those people are law enforcement in the Midwest. (Week 3)
Apparently, Alien's been on the New York Times best-seller list twice? Interesting, although without knowing what kind of book it was it doesn't really help a ton. (Week 4)
Our Best Guess: I'm willing to admit I was wrong about Alien being a Kardashian, and that this is 100% LaToya Jackson. Jackson was a reserve police officer in Muncie, Indiana on Armed & Famous, which really made that police badge a dead giveaway.
It Could Also Be: A lot of viewers have been sure this was La Toya Jackson from the jump, and say that the voice very obviously gives it away. The way The Alien speaks definitely does sound similar, and of course, the Jackson family legacy would make any normal life problematic. Is Ms. Jackson the mystery singer, are these folks for real?
Revealed To Be: The internet's streak continues, and La Toya Jackson was the mysterious Alien all this time. Man, how are people so good at crowd sourcing their guesses?
The Masked Singer airs on Fox Wednesdays at 9:00 p.m. ET. Keep up with all things on television coming in 2019 by visiting our midseason premiere guide.
Your Daily Blend of Entertainment News
Mick likes good television, but also reality television. He grew up on Star Wars, DC, Marvel, and pro wrestling and loves to discuss and dissect most of it. He's been writing online for over a decade and never dreamed he'd be in the position he is today.
Your Daily Blend of Entertainment News
Thank you for signing up to CinemaBlend. You will receive a verification email shortly.
There was a problem. Please refresh the page and try again.