Why The Blacklist's Big Betrayal Could Have Deadly Consequences For Liz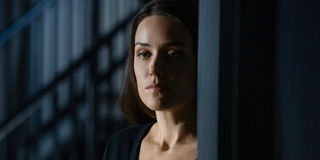 (Image credit: Virginia Sherwood/NBC)
Warning: The following story contains spoilers for Part 2 of The Blacklist's Season 6 premiere, "The Corsican (#20)" below.
The Blacklist confirmed something strongly hinted at in the promos for the new season. Liz was the one behind Red's arrest, making the reveal all the more surprising was that Liz seemed to be wavering on whether to move forward on bringing Red down. She even appeared to be on the path to reconciliation with him.
It all turned out to be too good to be true. In the end, she made the call that tipped off the police to Red's location. Was it catching some of Red's disconcerting pro-LSD rant that proved to be the tipping point?
If it was, the second half of The Blacklist's Season 6 premiere did not tip its cards. What it did tip viewers towards was that Liz is now living in tremendous fear after her post-incarceration chat with Red.
Instead of worrying about a trial and his trip through the criminal justice system, Red's focus remained elsewhere. Namely, finding the person who betrayed his location and him. Based on how Red handled Mr. Kaplan's betrayal, you can see why the hairs on the back of Liz's neck may be standing slightly at attention.
Traitors are not long for Red's world. The Blacklist wants us to share in Liz's concern for her safety. However, it remains next to impossible to imagine Red trying to kill Liz. He adores her, and even though he left her near a ticking time bomb in Episode 2, he seemed never to doubt her safety.
Still, there is Mr. Kaplan. One of The Blacklist's most shocking moments had also been hinted at unfolding long before it did. Nevertheless, the shock of Red shooting one of his closest confidantes still resonated with a mighty sting. Making matters all the more complicated, Liz knew all about that before she made her call to the cops.
If she was truly terrified of Red, why make that decision? Perhaps she (like this viewer) does not believe he would go through with punishing her like he does everyone else. Speaking of people who are not Liz, Raymond Reddington's definitive daughter, Jennifer, is growing increasingly frustrating to watch.
She keeps whispering in Liz's ear about things she knows next to nothing about. Whoever this Red is, he remains an enigma. Not as hard to figure out is Jennifer's hero, Ian Garvey, a.k.a. the man that ordered the murders of Liz and Tom, with Tom being brutally murdered as a result. Due to her injuries, Liz ended up in a coma for nearly a year.
How Liz can work with Jennifer when she continues to speak so softly about him is pretty hard to handle. In related news, Jennifer's vendetta against Red is veering past the norm. Her rapidly growing determination seems a bit out of place.
Could there be more to what Jennifer is saying and who she is? It seems possible. It is also plausible The Blacklist could be building towards one of its darkest twists yet. If you also thought that Jennifer might have been the one who tipped the NYPD off to Red, you might not be alone.
Theoretically, Red may come to suspect Raymond Reddington's daughter too. What if Red, suspecting Jennifer, kills her? There are two ways in which that would seem likely to go down. The first option being that Jennifer says it was Liz, but Red doesn't believe her and just kills her.
Another option is that Jennifer could remain quiet about Liz and secretly take the blame to keep their overall agenda in play. Jennifer could also tell Liz she's taking the fall for her beforehand, and Liz could go along with it to spare Agnes from growing up without a mother, her conscience forever weighed down by guilt for her part in Jennifer's death.
That would make reconciliation between Liz and Red next to impossible. Plus, if the twin theory is correct, Jennifer is his niece. That could spare her and lead Red to shoot near her to give her a fright and nothing more.
Find out if there are deadly consequences for Liz when new episodes of The Blacklist's sixth season air Fridays at 9 p.m. ET on NBC. The crime drama will continue airing new throughout the midseason.
Your Daily Blend of Entertainment News
Like a contented Hallmark movie character, Britt happily lives in the same city she grew up in. Along with movies and television, she is passionate about competitive figure skating. She has been writing about entertainment for 5 years, and as you may suspect, still finds it as entertaining to do as when she began.