Netflix's The Umbrella Academy Vs. Amazon's The Boys: Which Superhero Trailer Is More Badass?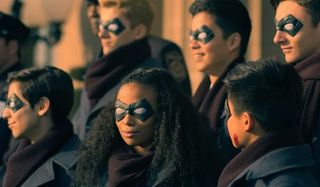 Two new trailers for off-beat superhero shows have hit the web, and they both look fantastic. That said, society thrives on superiority and competition, and since Netflix dropped its new trailer for its superhero series The Umbrella Academy the same day as Amazon's latest trailer for The Boys, each trailer must be dissected to determine which is the more badass of the two. Let's dive in, shall we?
The Umbrella Academy
First up is Netflix's adaptation of The Umbrella Academy, which was originally penned by former My Chemical Romance front man Gerard Way. The series follows non-biological siblings who were adopted in their infancy by Sir Reginald Hargreeves and groomed to be future heroes. Things went wrong along the way, and now they've all reconvened in the wake of Hargreeves' death to uncover the mystery of his passing and try to save the world in eight days.
The unique style of this series really shines through in the latest look, as well as the special effects which appear to show Netflix spared no expense in creating it. Pogo the chimp looks incredible, as does some of the superhero moments we see in passing. That, paired with the fashion and off-beat humor definitely make it feel like this one will offer something that isn't the cookie-cutter Marvel formula of superhero romps on Netflix.
That's even more evident when looking at the skillset of the Hargreeves, who boast some unique and rather odd powers. Luther is likened to a "Martian Ape," Klaus has telekenesis and can talk to the dead, Allison warps reality through lying, Diego throws knifes and can hold his breath for a long time, "Number 5" can time travel at the cost of advancing his age but not physically, and Vanya who is great at the violin. This ain't The Avengers.
The cast is pretty solid, with Ellen Page probably the face most viewers recognize immediately. Mindhunter's Cameron Britton is also in the mix, as is Grammy award-winner Mary J. Blige. There's also Robert Sheehan, who's well familiar with irreverent superhero shows due to his time on Misfits. This isn't necessarily an all-star cast, but there are some interesting faces in here that will probably make for an entertaining series.
The Umbrella Academy looks far from the traditional superhero romp, which is absolutely fine given the immense number of superhero shows and movies that already exist. Other superhero shows somewhat like this are out there, but it seems as though few will match the visual quality of this Netflix original. Hopefully this one is a hit for the streaming giant, and has audiences clamoring for more seasons and other crazy superhero shows.
The Boys
Amazon's The Boys hails from a group that knows a thing or two about television, as Evan Goldberg, Seth Rogen, and Supernatural and Timeless creator Eric Kripke have joined forces for this adaptation. The show is based on the comic by author Garth Ennis, who many may know for his work on Preacher and his long run writing The Punisher. If the trailer wasn't enough evidence this series may get dark, Ennis' involvement should certainly be a clue.
Sure enough, The Boys is a tale that shows what happens when superheroes get drunk on power and exploit their powers and celebrity to an evil end. This inspires the creation of a group of vigilantes known as "The Boys" to embark on a mission to take down these "heroes" and expose the corruption of famous hero groups and the organization that manages them.
The look of The Boys makes it feel as though it was inspired by Watchmen, which isn't necessarily a bad thing. With that said, there definitely looks to be quite a bit more grit and polish in this trailer compared to the recent look fans have seen of HBO's upcoming television series. The visual effects are on point, and I'm intrigued and concerned with what's about to happen with that dolphin.
The Boys certainly looks as though it's capable of spilling more blood and guts than The Umbrella Academy, and if it's anywhere close to the level of violence on Preacher, this one won't be for the squeamish. It also won't be for the easily offended either, as some of the things that happen in the comics will almost certainly offend unsuspecting viewers should they make their way into the show.
The cast for this one is top notch, with Karl Urban taking another gig on television to play Billy Butcher. Other familiar faces include Elisabeth Shue, Simon Pegg, former Gossip Girl star Chance Crawford, and Suicide Squad's Karen Fukuhara. Those names alone make this a more star-studded cast than The Umbrella Academy, which may sway some to think it's the superior trailer of the two.
While it may be profane and super violent, The Boys is another example of a superhero series that diverges from the typical formula of stuff rolling out today. Should this one become a hit at Amazon, there's a deep library for the show to reference that could ensure this one sticks around for a while. It probably won't be the mega awards contender series the streaming service seems to love, but not every show needs to be an Emmy winner.
In many ways, The Umbrella Academy and The Boys are similar, but at the same time they're both entirely different with how they tackle the superhero genre. While only time will tell which is the superior show, both appear to be evidence that Hollywood is looking to satiate viewers' appetite for hero shows with a bit more edge and grit than the standard affair. For those looking for that specifically, both of these shows are sure-fire winners.
Alas, there can be only one superior show. Those who have a preference can share their favorite of the two trailers in the poll below, and catch The Umbrella Academy (opens in new tab) on Netflix Friday, February, 15 at 12:01 PT. The Boys will arrive on Amazon Prime Video (opens in new tab) summer 2019, so be sure to head on over to our midseason premiere guide and see what new shows are arriving before then!
This poll is no longer available.
Your Daily Blend of Entertainment News
Mick likes good television, but also reality television. He grew up on Star Wars, DC, Marvel, and pro wrestling and loves to discuss and dissect most of it. He's been writing online for over a decade and never dreamed he'd be in the position he is today.