All The Marvel Shows Announced For 2019 And Beyond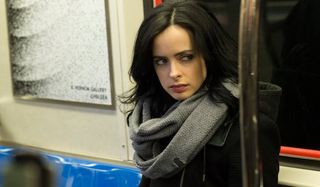 Thanks to Netflix, 2018 was a bit of a bloodbath for Marvel television shows. With that said, there are still plenty of superhero shows to enjoy in 2019, and quite a few of them are coming from the Disney-owned comic book company. Here's a look at what to expect from Marvel in the coming year, and an idea of when to expect it.
Jessica Jones - April 2019
Jessica Jones will return to Netflix for Season 3, in a batch of episodes may be the hero's final outing on the platform. This is due to Netflix's cancellation of Iron Fist, Luke Cage, and Daredevil. Jessica Jones was part of the same original 4-show agreement between Marvel and Netflix, so their cancellations do not bode well for Jess. What's worse is that there's a two-year hold on Marvel using her after a Netflix cancellation, meaning this could be Jessica's last television adventure, at least for a while.
If there is a silver lining, it's that the Jessica Jones team has had enough of a heads up that it could wrap the series with a conclusive ending if Netflix doesn't intend to revisit Jessica in the future. If nothing else, hopefully the season resolves the beef between Jessica and Trish, and goes further into Trish's transformation into Hellcat. Also, one last appearance from David Tennant as Kilgrave?
Cloak & Dagger - Spring 2019
Freeform's Marvel series is coming back for Season 2, as one of the lesser celebrated superhero shows of 2018 is hoping to make a splash in 2019. Some promising twists and turns in the first season and less Marvel competition may allow Cloak & Dagger to do just that in Season 2. The Season 1 finale laid the groundwork for both Tandy and Tyrone's stories to develop quite a bit in the coming year.
As for what to expect in the upcoming season, Cloak & Dagger teased the emergence of the villain Mayhem, which could certainly be a problem for Tyrone and Tandy as they continue to work out their powers. It's also been teased Tyrone will learn to send people into his cloak, and that some of the mystique behind that will be examined as well.
Agents Of S.H.I.E.L.D. - July 2019
Marvel's Agents Of S.H.I.E.L.D. ended Season 5 with a pretty wild twist, but it looks likes Season 6 may be even crazier. Phil Coulson was believed to be dead, so why is he puttering around with possible amnesia in the latest trailer? Is that even the same version of Phil? How will the rest of the team react to this information?
We can't be sure, but there's a good chance that whatever is going on with Coulson could tie in with the Marvel films that precede it. Agents Of S.H.I.E.L.D. will premiere after Captain Marvel and Avengers: Endgame, Perhaps Coulson really is dead, and this new guy is just a Skrull in disguise? Maybe he's a clone, or an evil variant of Coulson from another dimension? The possibilities are truly endless.
Legion - June 2019
Marvel's trippiest superhero show was greenlit for Season 3, and the world will get one final wild season of Legion. Those who watched Season 2 will confirm that's a very good thing, as the Shadow King went free in order to help the good guys take on a greater threat: David. Obviously, David was rattled by the betrayal of Syd and the rest of colleagues, and split the scene in a quick burst before anyone could stop him.
As for what's next, that's anyone's guess. Accurately guessing what's coming in Legion is just about impossible. With this being the final season, it wouldn't be surprising to learn Noah Hawley's taking the time to get it right. The show's earned high praise from critics and viewers for its first two seasons, so anything under par would be a disappointment.
Loki - ???
It's the show announcement that's started a flurry of speculation ahead of Avengers: Endgame. If Loki really died in Avengers: Infinity War, why did Disney announce he's getting a series on Disney+? It didn't make sense, unless of course, it's a prequel series and we're seeing an adventure for what's going on with the God of Mischief prior to the present MCU timeline? Maybe, or it could be a tale that follows a reincarnated Loki.
Either scenario is possible, and there's even a chance this upcoming Loki adventure won't feature Tom Hiddleston. Reports have alleged another younger actor will portray the character, with Hiddleston playing the character part of the time, or narrating the adventure. One would imagine more answers on the series will roll out after Avengers: Endgame, so interested parties only need to wait a couple more months.
Vision And Scarlet Witch -???
Vision and Scarlet Witch has not been explicitly confirmed by Disney, but reports of its existence circulated the web around the same time as reports of the Loki show. Disney confirming this show would potentially confirm the two characters survived Avengers: Infinity War, which may be why Disney didn't mention it when so many other outlets had rumors of its existence.
As for what this rumored show is about, word is Scarlet Witch will attempt to restore some of Vision's personality through the use of magic. This will apparently lead to some paranormal activity, and through some sequence events end up with Grim Reaper being introduced. The show will also focus on the human/robot relationship of the super couple, which is rumored to be an underlying theme of the upcoming show.
Winter Soldier and Falcon - ???
This is another rumored Disney+ series on the way sometime in the future. As is the case with the Vision and Scarlet Witch, Winter Soldier and Bucky's series probably plays off the events of Avengers: Endgame, which may be why Disney didn't confirm its existence at the same time as the Loki show. With Chris Evans potentially making an exit in Avengers: Endgame, could one of these two pick up the shield in his place?
If rumors on what the show is about are to be believed, the two will be working with the folks at S.H.I.E.L.D., who found the successor to Captain America. Unfortunately, it's neither of them, and the two will help bring the new Cap up to speed, and then possibly take him down when he goes over the line. With that said, this is all rumor territory for now, and we can't say anything for sure until Disney rolls out some details.
Big Hero 6: The Series - ???
Big Hero 6: The Series was given a Season 2 renewal quite a while back, but when it will return is still up in the air. The last episode of Season 1 concluded back in October, which was quite a stretch for a 20-episode season that began in November 2017. Plus, animated shows tend to have a different timetable than live-action in general, so there's no guarantee the new season arrives before the end of 2019.
With that said, the early renewal might ensure that there isn't a considerable delay between seasons, as the staff had the go ahead to get started ahead of the Season 1 premiere. That means the kids (and adults) who love Baymax so much may not have too long of a wait before he's back on television, but we can only speculate. In the meantime, we can all only wait and wonder what's next for Hiro and the gang.
2019 and beyond is looking bright for Marvel, so be sure to stick with CinemaBlend for all the latest updates on each of these upcoming shows. For more on upcoming shows in 2019, visit our midseason premiere guide.
Mick likes good television, but also reality television. He grew up on Star Wars, DC, Marvel, and pro wrestling and loves to discuss and dissect most of it. He's been writing online for over a decade and never dreamed he'd be in the position he is today.
Your Daily Blend of Entertainment News
Thank you for signing up to CinemaBlend. You will receive a verification email shortly.
There was a problem. Please refresh the page and try again.