Why Star Trek: Discovery's Latest Episode Could Mean Great Things For Season 3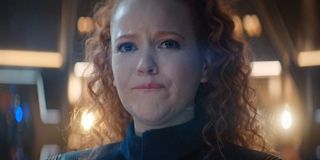 Warning! The following contains spoilers for the Star Trek: Discovery episode called "Project Daedalus." Read at your own risk!
The March 14 episode of Star Trek: Discovery was a special episode, as it marked the first to be written by new co-showrunner Michelle Paradise. Paradise took viewers on an emotional thrill ride with a lesser known character, and it resulted in a heart-wrenching ending that pulled at the heartstrings of many who watched. If this was a show of what Season 3 could be under her leadership, then it could mean great things for the future of the streaming series.
Although Star Trek: Discovery has had some pretty solid episodes, few if any have touched the quality of "Project Daedalus." This was mainly due to the arc centered around frequently seen but rarely featured character Airiam. In Season 1, while Airiam was frequently seen on the Discovery's bridge, her purpose was mainly to look futuristic while more important characters read their lines.
This episode, we learned that Airiam was once human, and was turned primarily cyborg following an accident her husband didn't survive. Those memories flashed between fond memories of her fellow crew members, as a virus that crept in a couple episodes ago slowly changed her brain. Airiam's strange behavior was only slightly noticeable to the crew, but largely brushed off as there were bigger fish to fry.
Admiral Cornwell was on board, and determined to clear the rest of the Discovery's crew who became fugitives in harboring Spock. Cornwell's questioning of Spock confirmed he did not kill the medical staff in the institution he was committed to, and yet, she had video evidence he did just that. Michael was determined to defend her brother, while Spock remained equally resistant in receiving anything from her.
This eventually led to a blow up between the two siblings over chess, in which Spock finally broke his calm demeanor and acted angry. He fired back at his sister with some scathing logic calling out her refusal to rationalize she couldn't have prevented her parent's death, and admitted he thrived on his failure to understand his current predicament because it felt liberating. Essentially, he was happy to feel something human, even if it wasn't something positive.
Some credit is owed to Ethan Peck for the great performance, but Michelle Paradise really struck something big with Spock's struggle with his humanity. He's Vulcan and fully committed, though that's only because he's denied his humanity for so long. He's denied it so long he struggles to reconcile human emotions, so he relishes the opportunity to fail during the chess match as opposed to playing the game logically. And that angry board flip at the end? Perfection.
All that is suddenly all out the window as Discovery is forced to fight for its life when Sector 31 space mines begin targeting the ship. Captain Pike hailed the base's Admiral, but was informed they'd been given order by Starfleet's elite to take Discovery out. Suddenly everyone's problems feel a lot smaller, and it's looking like the walls are closing in on everyone.
Those who watched, of course, know they weren't, and it all turned out to be that virus inside of Airiam. Airiam doctored Spock's security footage, and created a hologram from Sector 31 and concocted a whole story that Starfleet demanded the Discovery be brought down. It was all so she could be put on board the Sector 31 base, and attempt to upload the hacked A.I. to the system in order to help the future cyber organic war happen.
Of course, Airiam was able to regain control of her mind, and asked Burnham to eject her from the airlock to prevent the destruction of everybody. Burnham eventually obliged, and I'd be lying if I said I didn't shed a tear. Hopefully that's just a taste of what Michelle Paradise will bring to the table in Season 2, as she's also written the penultimate and season finale. If those are equally as good, Season 3 should be a great time.
New episodes of Star Trek: Discovery (opens in new tab) are uploaded to CBS All Access Thursdays at 8:30 p.m. ET. Those curious about other things on television in the coming months can find what they need at our midseason premiere guide.
Your Daily Blend of Entertainment News
Mick likes good television, but also reality television. He grew up on Star Wars, DC, Marvel, and pro wrestling and loves to discuss and dissect most of it. He's been writing online for over a decade and never dreamed he'd be in the position he is today.