Can One Day At A Time Be Rescued After Netflix Cancellation?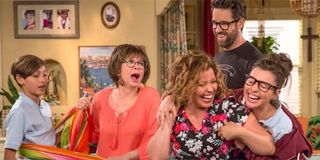 The cast of One Day at a Time has been taking things, well, one day at a time since Netflix announced the sitcom was cancelled. However, the show was reportedly being shopped around after its cancellation, at least until recently. So, could One Day at a Time get another season? The answer is more complicated than it seems.
I can't tell you how many times recently cancelled shows have headed to Netflix, but it turns out the subscription streaming service has made it difficult for shows the other way around. A new report mentions that Sony TV has been shopping One Day at a Time since Netflix ultimately cancelled the comedy, citing low viewership as the cause. (Despite the fact it seemed fairly popular.)
Sounds great for fans, right? Especially given the viral campaign to keep the diverse comedy on the air.
However, Deadline is now saying that it might not be possible to bring One Day at a Time back, even if there is interest. The reason has to do with the way Netflix's contracts are written up. Apparently, there's a rule written in that if you sign on with Netflix, you can't create new content featuring the characters, shows or storylines for at least 2-3 years on another network or streaming service.
That's rough for fans and even apparently for Sony TV, which doesn't seem to have been aware of the clause.
However, if you are familiar with Netflix cancellations, this actually came up previously. Just a short while ago, Netflix began cancelling its Marvel series, effectively putting a rift between its own product and Disney's at a time when Disney is about to launch its own streaming service.
There was some talk that shows like Daredevil, Jessica Jones and Luke Cage might just hop over to Disney+; however, then we learned there was a deal in place that the projects and characters could not move forward for a period of time.
This whole One Day at a Time subplot is really interesting to me as someone who has written on the TV industry for a long time. For years, Netflix has kind of been the patron saint of picking up cancelled programs with avid fanbases, but now it's coming out that the subscription streaming service isn't giving its own programs the same ability to continue on and be successful elsewhere after cancellation.
Netflix is really into having original content that is housed on and stays housed on its streaming platform, so none of this is a big surprise. However, a lot of big names have headed to the streaming service in recent years, wooed by creative freedom, solid budgets and for a long time, an expectation that a project might be housed for years without cancellation.
The latter is changing as Netflix says goodbye to more and more originals, and we'll have to wait and see what that means for original content on the service in the coming years.
Reality TV fan with a pinch of Disney fairy dust thrown in. Theme park junkie. If you've created a rom-com I've probably watched it.
Your Daily Blend of Entertainment News
Thank you for signing up to CinemaBlend. You will receive a verification email shortly.
There was a problem. Please refresh the page and try again.