All The Big Netflix Shows That Recently Got Cancelled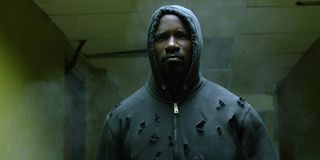 Netflix went a very long time without canceling very many of its original offerings, and almost seemed adamant about avoiding such decisions. It doesn't feel that way anymore, though. The streaming service has dropped quite a few shows in 2018, with several big announcements coming just in October that have shocked and saddened some shows' dedicated fanbases. Here's the latest look at everything recently lost in Netflix's purge.
Luke Cage
Luke Cage's Season 3 renewal felt all but certain following Season 2's premiere, but Netflix blindsided fans by making it the second Netflix Marvel series to be cancelled. It's been reported that Season 3 fell through after creative differences between the staff and the streaming giant couldn't be resolved. Other reports have alleged other reasons may be the cause, particularly a large decrease in viewership between season. But we may never know the true reason the seemingly indestructible Luke Cage got dropped.
Regardless of the causes, the show's main star Mike Colter took the cancellation with grace. After an initial span of silence, he hopped on Twitter to thank fans and both Netflix and Marvel for their support.
Harlem's Hero may not see a Season 3 on Netflix, but the verdict is still out as to whether or not he'll return for another villain-busting outing. Fans still have hope for a Heroes For Hire series, or that he and Misty Knight will resurface in one of the surviving Marvel shows. Some are even wondering if the series could continue on another platform, although the details regarding rights to the hero are still unclear at this time, with Disney's streaming service still on the way.
Iron Fist
Iron Fist's cancellation was somewhat less surprising than Luke Cage, but was still almost equal in viewer shock value. The series was initially renewed after a harshly critiqued Season 1, and Season 2 was an improvement for the series by many accounts. The second season finale also introduced a plot twist that guaranteed to shake things up in the Fist-iverse going forward. So it feels as though the cast and crew were not expecting to be cancelled.
Finn Jones was happy about the time he got to spend as Danny Rand nonetheless, and while his statement featured no shoutouts to Netflix or Marvel, he showed plenty of love elsewhere.
The situation with Iron Fist's future is fairly similar to what's going on with Luke Cage. The only real difference between the two is that Iron Fist's continuation was teased in a joint statement by Marvel and Netflix, which may make the odds greater that audiences will see Danny Rand again. It's still not known, however, whether that would be as a quick cameo in an upcoming Jessica Jones season, for instance, or in an entirely new series.
American Vandal
American Vandal took the popular true-crime genre and blended it in an absurd way with the modern high school experience. In its two seasons, the series featured two separate situations that hooked viewers in with over-the-top and completely fake mysteries that won points for uniqueness. It was a cool twist on Making a Murderer and The Jinx's format, but apparently not successful enough for Netflix to justify bringing it back for Season 3.
Though American Vandal is no more, one wouldn't know it looking at Tyler Sage Alvarez's social media. The Peter Maldanado portrayer was hanging out recently with Season 1 actress Genevieve Hannelius, around the same time the cancellation news broke. In the vid below, he referenced her character being the true culprit behind the freshman season's dick-drawing crimes.
American Vandal may be done at Netflix but could appear elsewhere. It's being reported that CBS TV Studios is looking to shop the series elsewhere and that Peter Maldanado and Sam Ecklund may one day return to solve another high school incident. If that doesn't happen, the silver lining is its anthology format ensured no story was left open-ended at the end of Season 2 so the series can be enjoyed as is without lingering questions.
All About The Washingtons
All About The Washingtons premiered, and was thereby cancelled, in the span of two months. So it wouldn't be entirely surprising if non-fans had completely missed it. That said, the comedy starred hip-hop legend Joseph "Rev-Run" Simmons and his wife Veronica, and one might've assumed it would have brought in more eyes than it did. Alas, that wasn't the case, and the series is now done on the streaming service.
Much like the situation with American Vandal, though, the cast and crew didn't spend time lamenting the loss of the series on social media. Rev Run tweeted about an upcoming event he was going to be a part of on the day the cancellation came out, but had nothing to say about All About The Washingtons ending. His post did get a reply from a fan apologizing for the cancellation, however, and well wishes towards his future.
All About The Washingtons, which was originally pitched to air on ABC, received some harsh criticism from critics upon release. That may not have completely factored into the show's cancellation, since Netflix isn't always influenced by opinions over viewership. Still, it couldn't have helped when some complained the comedy series was unfunny, and others said being on reality television -- Run's House, in this case -- does not give one the ability to act. That's rough, but it's sometimes like that, and that's the way it is. (Long live Run DMC.)
Orange Is The New Black
Orange Is The New Black fans received quite the shock recently when the cast shared a touching video that revealed 2019 would host the final season of the long-running prison dramedy. Technically, the series has yet to receive an official cancellation by Netflix, and the full details behind how this came to be haven't been revealed. It does feel as though, however, it wasn't necessarily the OITNB cast and crew's decision to end things.
Many in the cast had nice things to say in the announcement video about their experiences, although few did so as eloquently as Crazy Eyes actress Uzo Aduba. The Emmy-winning star talked about what she was grateful for, and teased a bit of what's to come in the final episodes.
In the scheme of things, Orange Is The New Black getting "cancelled" after Season 7 isn't a bad run at all. The writers and cast still get a chance to bring the show's long-running story to an end so that it can be enjoyed by future generations of Netflix viewers. If there is a good way for a television series to get cancelled, this is probably one of the better options.
Netflix (opens in new tab) is always renewing and canceling its shows, so be sure to stick with CinemaBlend for the updates regarding the streaming giant's biggest moves. For a look at what else is coming to television in the near future, visit our fall premiere guide.
Your Daily Blend of Entertainment News
Mick likes good television, but also reality television. He grew up on Star Wars, DC, Marvel, and pro wrestling and loves to discuss and dissect most of it. He's been writing online for over a decade and never dreamed he'd be in the position he is today.