Why Star Trek: Discovery's Latest Episode May Confirm The Crew's Future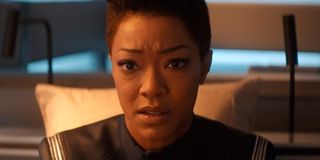 Warning! The following contains spoilers for Star Trek: Discovery**'s "Perpetual Infinity". Read at your own risk!**
A week after Star Trek: Discovery fans saw Michael Burnham's mother fall out of the Red Angel suit, the show wasted no time in explaining how this big moment was possible. It also addressed one other big part of the Red Angel mystery that, apparently, has nothing to do with Michael's mom. Those beacons Discovery has been following aren't being placed by the Red Angel, and may have confirmed the future fate of the ship's crew.
To begin, we have to first acknowledge that whoever has placed these beacons is in some way connected to the current situation happening. Whoever placed these beacons is presumably familiar with the Discovery, the situation with Control, and potentially the Red Angel. That narrows the list of suspects to someone else hanging out in the lifeless future Control has created, or possibly someone currently involved in the adventure like the Discovery crew.
Why it has to be the Star Trek: Discovery crew to go into the future and place the beacons isn't clear, but there's no denying there haven't been massive clues it's where things are headed next season. There's the Short Treks episode "Calypso," which shows a man exploring an abandoned Discovery 1000 years after the events of the current season. That story paired with the current state of the show makes it appear the crew is headed to the future.
Putting Star Trek: Discovery in the future helps settle a lot of problems, mainly ones that deal with the ship's advanced tech being far beyond things that were on the Enterprise in the original Star Trek. Some of those differences have been explained away, but there's no denying it would be easier for writer's to simply warp out of the current timeline and well into the future to forge its own path going forward.
For the moment, Control gives Star Trek: Discovery that perfect opportunity, and presents a new foe for the show to ship off away from its start to begin a new adventure with few limitations. Let's also remember that Anson Mount's Pike is presumably headed to the Enterprise at the season's end, presumably because him coming along for Discovery's next step would interfere with canon. That's probably also true for Spock, although we haven't heard anything on Ethan Peck's character yet.
Finally, there's a recent interview that Anthony Rapp did with Trekmovie.com that more or less confirms Star Trek: Discovery is making a big jump of some sort in Season 3. Rapp discussed the final episodes of the season, and how they'll wrap up the plot lines of the first two seasons for something "really cool." Here's how he put it:
If Star Trek: Discovery is headed into the deep future that's bad news for that captain left waiting on Vulcan, but could be great news for fans. Discovery has done a solid job blending classic Trek stories and characters into its new world, although branching out into new territory could be just what the CBS All Access show needs to branch out. Plus, if the crew is able to time travel, maybe this means they'll get a chance to collaborate with Picard?
Star Trek: Discovery airs new episodes on CBS All Access Thursdays at 8:30 p.m. ET. CinemaBlend is the home for Trek news be it movies or television, as well as other exciting shows that are just around the corner. For more on what's happening on CBS All Access, check out the amazing trailer for Jordan Peele's reboot of The Twilight Zone.
Mick likes good television, but also reality television. He grew up on Star Wars, DC, Marvel, and pro wrestling and loves to discuss and dissect most of it. He's been writing online for over a decade and never dreamed he'd be in the position he is today.
Your Daily Blend of Entertainment News
Thank you for signing up to CinemaBlend. You will receive a verification email shortly.
There was a problem. Please refresh the page and try again.