The 7 American Idol Contestants Most Likely To Win Season 17, Ranked By Talent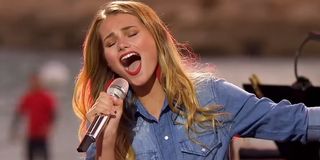 After some soul searching and tough eliminations, American Idol's judges have finally whittled its performers from 40 to 20. The contestants who remains are quite the talented bunch, but which of them really have a shot at winning Season 17. I've wrangled a list of choices for the top seven competitors based on talent, and ranked them in order of which stand the greatest chance of winning. Let's stop wasting time and jump right in.
7. Uche
Uche comes in at number seven, and while that places him at the bottom of this list, it still puts him well ahead of the other competitors on the show. Though he's been somewhat inconsistent in his singing in the initial audition rounds, Uche's really come alive in recent performances and has given an energy on stage that hasn't been shown by anyone else thus far.
Take that stage presence and mix it with his best performance, and Uche can topple even the most talented performers if put to the test. His inconsistent singing makes picking him a bit of a gamble, but if he's batting 1000 the rest of this competition, it's not at all crazy to think he'll win American Idol.
6. Jeremiah Lloyd Harmon
Jeremiah Lloyd Harmon may not be the most dazzling performer of the bunch, although he is one of the most consistent. His voice isn't exactly one America hasn't heard before, which isn't necessarily a bad thing as audiences have been known to gravitate more towards what they know then something brand new. After all, if folks didn't like what they're familiar with, we wouldn't have so many reboots and sequels.
Jeremiah Lloyd Harmon unquestionably has the skill and story to win American Idol, but sometimes the consistent competitor can be the one overlooked in the late rounds. Whether it's people assuming others will vote for that person or folks lose interest in the competitor they know will give the same performance we may never know, but it's happened before, and it will happen again. Harmon's textbook consistency and singing may be his weakness down the stretch.
5. Alyssa Raghu
Alyssa Raghu has one major advantage over all others in American Idol's top 20 right now: she's been here before. For those that don't know, Raghu made Season 16's top 24 last season, but was eliminated. Now she's back, and in the opinion of many, she's improved quite a bit in Season 17. Is it her raw talent or is it the comfort in competing in a situation she's familiar with?
Time will tell, of course, as Raghu's advantage will soon fade should she proceed further. Once that's gone, she'll be forced to rely on her singing, which has been on point since her return to American Idol. She's unquestionably one of the show's top talents and could win this thing if she gets viewers in her camp.
4. Wade Cota
Katy Perry's said it again and again on American Idol, but her repetition doesn't make it any less true. Wade Cota has an instantly recognizable voice, akin to that of a raspy old soul in the body of a young man. It's similar to Hozier, which may be why he's picked the artist's music for songs, although there's an additional twang to his singing that makes him one of the most unique singing talents this program has.
Wade Cota can win it all provided his nerves don't get in the way of his performances. We've already seen tense situations get the better of him in the early rounds, and when he's rattled his performances aren't always the best. If Cota can overcome that and start to believe the hype and praise the judges have showered on him so far, there's a good chance he'll be in the final episodes and make a run to win this thing.
3. Ryan Hammond
As talented as this American Idol Season 17 bunch has been, it's hard to describe any of them as the "full package." Ryan Hammond may be the exception to that as nearly everything about this guy screams contemporary pop superstar. He's got a voice like Sam Smith, and that face would look good on any billboard, magazine, or album cover. Hammond's one of those talents who may not win, yet can definitely still get a record deal anyway.
Ryan Hammond's chances of winning American Idol are about as strong as his jawline, which is pretty well chiseled. He has the swagger, the voice, and the story to make this happen, though it's worth asking if all that will it be enough for America to rally behind him. The world already has one Sam Smith, and while another wouldn't hurt, his similar and still spectacular voice may be his disadvantage as the competition rolls along.
2. Riley Thompson
One of American Idol Season 17's most talented competitors is also one of its youngest. Riley Thompson may still be a teenager, though she has the voice of a seasoned superstar country singer trapped within her. Seriously, it's kind of wild to watch her sing and hear that type of voice erupt.
Thompson's biggest advantage in this competition thus far is that American Idol drastically reduced its country singers in the top 20. That means country-loving viewers will rally behind whichever competitor who sings the songs they love make it to the live shows. Right now Thompson feels like the shoe-in competitor to make it to that spot, and potentially win this thing outright.
1. Alejandro Aranda
From his very first audition, it's been clear Alejandro Aranda is one of American Idol's future stars. His voice is unique to the music industry in general, and his technical and proficient guitar playing elevates each amazing performance that much more. Katy Perry claimed Alejandro may win this thing the first time she saw him, and we're thinking she's right.
Of course, the judge has somewhat backpedaled on those comments in a recent episode, with her criticism being that Alejandro's style may not be for everyone. For what it's worth, his performances rank among the most-viewed performances of the season for YouTube, so maybe Katy Perry isn't giving the general public enough credit for taste. Aranda feels like one of those contestants who will get a record deal regardless of what happens, but winning American Idol would still be nice.
American Idol fans, is there someone who isn't on this list that should be? Feel free to sound off in the comments below and let us know your thoughts. For more on the show, be sure to check out or re-live Katy Perry's emotional freak out over a surprise wedding proposal that happened following a performance.
Mick likes good television, but also reality television. He grew up on Star Wars, DC, Marvel, and pro wrestling and loves to discuss and dissect most of it. He's been writing online for over a decade and never dreamed he'd be in the position he is today.
Your Daily Blend of Entertainment News