Modern Family's Big Wedding Episode Could Have Gone Very Differently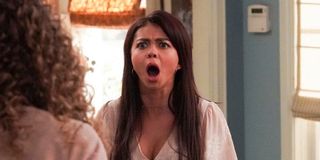 Spoilers lie ahead for Episode 18 of Modern Family Season 10, called "Can't Elope."
Season 10 of Modern Family dropped a bombshell on viewers when it revealed that Haley Dunphy is pregnant, and the season since has shown Haley and Dylan's exploits as parenthood approaches. "Can't Elope" saw the two finally tie the knot despite Haley shooting down his earlier proposals, and it was an episode filled with as many hijinks and shenanigans as fans have come to expect of Modern Family by this point.
As it turns out, the wedding could have gone a lot differently, as Dylan was not always imagined as Haley's future husband and the father of her child. Modern Family co-creator Steve Levitan explained, saying this:
Haley has had no shortage of boyfriends over the years, and some of them have been played by fairly big names. Seriously, who can forget the bizarre and yet also oddly perfect casting of Nathan Fillion as her weatherman love interest? According to Steve Levitan, Haley could have wound up tying the knot in different ways to past love interests, but none of them had the same appeal as Dylan, and for some hilarious reasons.
Would Haley's story really be as funny if she married and had a baby with a guy that didn't annoy Claire? Now that Dylan is Haley's husband and the father of Claire's grandchildren, she's never going to be able to get rid of him. Hey, at least she'll have grandkids to distract her!
There is also a sweet kind of symmetry to Haley marrying Dylan. Their love story has hit a lot of bumps over the years, but the show started with two teenagers on a date. Now those crazy kids are adults, married and expecting babies.
Are they the most mature and responsible adults ever to get married and expect babies? Certainly not. But that's what family is for, right? And the family came out in droves to support them in the episode, which saw them get married after Haley wound up in the hospital due to contractions. It was a false alarm, and there's still a wait before the babies come. That said, it made Haley realize that she wants to be Dylan's wife, and they decided to throw together a wedding.
In classic Modern Family fashion, the quick courthouse wedding became a messy and overwhelming family affair as soon as the family found out about it, and Haley got some cold feet. Claire gave them her blessing to run off and elope, and that seemed to be how they would tie the knot... until they returned home to wake Phil and Claire, telling them that their wedding wouldn't be right without the parents. Phil, Claire, and Farrah were on hand to watch their kids get married.
Steve Levitan went on in his chat with EW to explain the inspiration behind Haley's decision that she was ready for marriage:
Who says that Modern Family-style shenanigans can't go down in real life? The episode could go down as one of the most pivotal in Modern Family's long run, as it changes the dynamic of the entire family. Admittedly, the show will end next season, so fans won't get to see Haley and Dylan's twins grow up the way they've gotten to see Lily grow up, but really, Modern Family is probably about ready to end.
Haley's marriage and the upcoming birth of the twins should fuel at least some of the story into the eleventh and final season, and it is the first sign of the next generation. Could this kick off a Haley-centric spinoff? It's not as a wild an idea as it seems.
The next new episode of Modern Family airs Wednesday, May 1 at 9 p.m. ET on ABC.
Resident of One Chicago, Bachelor Nation, and Cleveland. Has opinions about crossovers, Star Wars, and superheroes. Will not time travel.
Your Daily Blend of Entertainment News
Thank you for signing up to CinemaBlend. You will receive a verification email shortly.
There was a problem. Please refresh the page and try again.