Legacies Is Actually Bringing Vampire Diaries And The Originals New Fans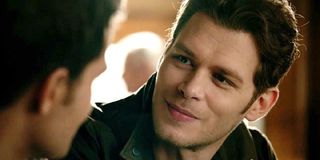 The student is becoming the teacher of The Vampire Diaries Universe. When Legacies was announced, it was certainly hoped that fans of The Vampire Diaries and The Originals would tune in to watch the spinoff. But now that Legacies has completed its first season, and all 16 episodes are on Netflix, some fans are starting with Legacies and then catching up on all of the reference in the previous shows.
Julie Plec, who created this universe, noted that Legacies is now on Netflix, and asked fans if they found any natural binge-break points. One fan responded with a binge "problem" that sent him and his wife back to watch The Vampire Diaries episodes to catch up on all of the references:
That is pretty amazing, but it also makes sense. If you're familiar with The Vampire Diaries and The Originals, you may take for granted the references to many past locations and characters -- like Damon, Stefan and now Elena Salvatore.
If you aren't already a fan of the first two shows, you may have no clue who Caroline is or why it's so strange that she hasn't been seen on Legacies. You're not going to appreciate that Klaus Mikaelson guy whose name sometimes comes up, beyond casual awareness that he's Hope's father.
It won't mean anything to you to see that dress Klaus gave Caroline re-appear, or understand why it's problematic that Roman came back. You won't know the Aunt Freya who explained The Merge to Hope over the phone. The Merge itself -- and the Gemini Coven in general -- will be entirely new words to your ears. The idea of hybrids and Hope as the only tribrid will be fresh to you.
And when Lizzie and Josie's biological mother Jo comes back from the dead, you may not feel the impact of Salvatore school headmaster Alaric not having seen her since she died at their Vampire Diaries wedding -- when she was killed by her twin brother Kai, the same Kai that was just referenced again in the Legacies Season 1 finale.
Phew!
There's so much you miss if you aren't fully caught up on The Vampire Diaries and its first spinoff, The Originals. The Vampire Diaries ran for eight seasons from 2009 to 2017, and The Originals ran for five seasons from 2013 to 2018. So there's a lot to catch up on even if you did watch those shows in their original runs. If we all re-watch now, I bet we pick up dozens of little tie-ins that connect to Legacies, or will connect in future seasons.
On that note, some fans are now re-watching the original series after finishing the first season of Legacies:
It is good to get a refresher, and to get a feel for everything in The Vampire Diaries Universe as one continuing storyline.
The CW has already renewed Legacies for Season 2, so we know it's coming. Julie Plec previously revealed that they'd get into the writing of it in June and start filming in late July, with the 2019-2020 season to premiere in the fall.
What's especially exciting about Legacies is how many young viewers seem drawn to the young Salvatore school students. Those young fans may not have even been old enough to watch The Vampire Diaries when it premiered 10 years ago. Or if they re-watch now, they may have a different perspective after some time and maturity. It just shows how Legacies has created characters and storylines that stand alone and attract their own followers, even apart from The Vampire Diaries and The Originals.
You may have noticed the outcry after the character of Penelope Park left Legacies, in just one example of original Legacies characters making their own marks. (Pedro is my personal favorite.) There is natural crossover, though, and fans are also vocal about wanting to see Caroline in particular on Legacies, since -- as the twins' mother, and co-head of the Salvatore school -- she has been referenced more than any other Vampire Diaries or Originals character.
Julie Plec recently said it was too soon to say what characters might be returning or appearing for the first time in Legacies Season 2, but she's definitely aware of the interest out there. And she has made it quite clear herself that she's dying to have evil Uncle Kai in the mix for Season 2.
You can now binge The Vampire Diaries Universe shows yourself on Netflix, provided those titles are available in your country. If they aren't, tweet your displeasure to Netflix so The Powers That Be know you'd be watching Legacies, The Vampire Diaries, and The Originals if you could.
This poll is no longer available.
Gina grew up in Massachusetts and California in her own version of The Parent Trap. She went to three different middle schools, four high schools, and three universities -- including half a year in Perth, Western Australia. She currently lives in a small town in Maine, the kind Stephen King regularly sets terrible things in, so this may be the last you hear from her.
Your Daily Blend of Entertainment News
Thank you for signing up to CinemaBlend. You will receive a verification email shortly.
There was a problem. Please refresh the page and try again.