Why Legacies' Latest Klaroline Nod Was A Total Tear-Jerker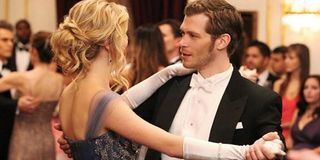 (Image credit: The CW)
Spoilers ahead for Episode 14 of Legacies Season 1, called "Let's Just Finish the Dance."
Legacies has included a fair amount of nods to The Vampire Diaries and The Originals, as you would expect of a spinoff series starring characters who debuted on those other series. The death of Klaus at the end of The Originals (which was not received well by all fans) has meant that Hope won't reunite with her dad on Legacies, and Caroline's secret mission to find a way to prevent The Merge from destroying Josie and Lizzie has kept her away from the Salvatore School.
Despite neither Caroline nor Klaus appearing on Legacies so far, the show has managed to include a nod to the popular (if somewhat dysfunctional) relationship between them that began on The Vampire Diaries. Even though Klaroline fans never got a happy ending for Caroline and Klaus together, what with Caroline marrying Stefan and Klaus dying, Legacies has honored that they were important in each other's lives.
In "Let's Just Finish the Dance," Legacies delivered the most explicit nod to Klaroline so far, but it was one that nobody except for Josie picked up on at the beginning. The Miss Mystic Falls pageant rolled around, and Hope wore a gown that Vampire Diaries fans recognized as the one that Klaus originally gave to Caroline back in Season 3.
When she was given the dress, Hope actually had no idea that her father had given it to Caroline. Instead, Lizzie handed it over after she decided she didn't have a shot at winning the pageant and didn't take into account that Josie might want to wear her mother's dress. As far as Lizzie knew, it was just a beautiful dress that had been Caroline's, and Hope had no reason to suspect that there was more to it. Josie knew, however.
Hope finally learned that Klaus had given Caroline the dress when Lizzie did. She was dancing with Roman, who used his abilities to listen in on the twins fighting about the pageant. Josie dropped the bombshell that the dress was from Klaus, and Roman dropped the news on Hope. Unsurprisingly, the mention of her dad's gesture to Caroline resulted in an emotional response from Hope, and she ultimately broke down in tears.
Despite winning the title of Miss Mystic Falls, she ended the pageant crying in Lizzie's arms on the dance floor. Danielle Rose Russell, who plays Hope on Legacies, weighed in to ET on why Hope broke down when she learned the truth about the dress:
Hope wasn't upset that her dad had given a beautiful dress to a woman who wasn't her mom, and she wasn't crying because she'd just won Miss Mystic Falls. The dress was the factor that finally pushed her into facing everything she's gone through lately, not the least of which was the recent death and resurrection of her boyfriend.
So, Hope broke down in a beautiful ballgown. All things considered, fans of Klaroline may have been a bit teary as well. Even Vampire Diaries fans who may not have been Team Klaroline might have appreciated the nod. Would it really have felt right for a Miss Mystic Falls episode not to mention Caroline? It was only fair that one of her most iconic dresses from The Vampire Diaries appeared.
The dress certainly looked different on Hope than it did on Caroline, but no less beautiful. As it turns out, however, wearing the beautiful gown wasn't the easiest thing for Danielle Rose Russell, who revealed that Legacies did not recreate Caroline's look with a brand new dress. Speaking with TVLine, Russell said this:
Hope and Caroline may both be major characters from shows set in the same universe, but that doesn't mean they can wear all the same clothes! Candice King, who played Caroline in all eight seasons of The Vampire Diaries, is significantly taller than Danielle Rose Russell, so some alterations needed to be made.
Considering how much work apparently went into perfecting the dress for Danielle Rose Russell, it would have been much easier to just give Hope an original dress! Josie certainly wouldn't have minded if she got to wear her mom's gown rather than Hope receiving it from Lizzie. Still, the return of the blue dress undoubtedly made a lot of Vampire Diaries and Klaroline fans very happy, so all of Russell and the costume team's efforts were undoubtedly appreciated!
Apparently, there's a reason why Legacies didn't feature any long sweeping shots of Hope in the dress, but I at least couldn't tell that there was an abundance of toile after the alterations. The gown looked lovely on Hope, as it looked lovely on Caroline. Can we all agree that Danielle Rose Russell did not look like the blueberried Violet from Willy Wonka?
At this point, I'm half hoping that Legacies continues to trot out pieces of Caroline's Vampire Diaries wardrobe. She had some gorgeous dresses in her time, and her daughters clearly held on to some of her belongings. Besides, this is a show set in the Vampire Diaries universe. Of course there are going to be future formal affairs that could require a classic Caroline dress!
An appearance from Caroline herself would certainly be welcome, especially as the twins get closer and closer to finding out about The Merge. Unfortunately, there aren't too many episodes left before the end of the first season. Only two installments remain in Legacies Season 1, but the show has already been renewed for Season 2.
Even if Caroline doesn't get a surprise appearance before the end of Season 1, perhaps she'll turn up in Season 2! However the first season ends, at least we can be confident of having plenty to speculate as midseason continues.
Laura turned a lifelong love of television into a valid reason to write and think about TV on a daily basis. She's not a doctor, lawyer, or detective, but watches a lot of them in primetime. Resident of One Chicago, the galaxy far, far away, and Northeast Ohio. Will not time travel, but will sneak references to The X-Files into daily conversation.
Your Daily Blend of Entertainment News
Thank you for signing up to CinemaBlend. You will receive a verification email shortly.
There was a problem. Please refresh the page and try again.