What Is New Amsterdam Going To Do About Max And Helen?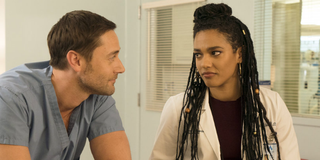 (Image credit: Barbara Nitke / NBC)
Ever since the pilot of New Amsterdam, there has been one notable, if unspoken, dynamic ever-present. The sparkling chemistry between Ryan Eggold's Max and Freema Agyeman's Helen has been off the charts. While any show would want to go full steam ahead with acting on the chemistry of its leads, New Amsterdam has had a story-related reason not to. And it is an all but insurmountable one.
Max started the show off married and expecting a baby with his wife. Making a romance between Helen and Max impossible, if he wanted to respect his marriage. What is New Amsterdam going to do? It is hard not to feel like the show has written itself into a corner.
The medical drama has all of this chemistry at its fingertips between Max and Helen and no avenue to use it. This leads to a lot of questions about why the show did not just change directions and make Max single in the pilot stages. That way it could readily embrace what they have head-on.
As friends, they continue to jointly drive a riveting story that has gotten a new twist. In the latest episode, Helen told Max that she would no longer be his doctor. The announcement startled him. Max has relied on Helen since the show started. When New Amsterdam began, it was Helen who had to break the news about his cancer diagnosis.
For a while, Max mainly had Helen to confide in following his diagnosis. He had to keep it a secret from his wife to prevent any further complications with her pregnancy. The friendship that ensued between Helen and Max has only strengthened with time.
They each provide the balance the other needs. Helen as the realist, who gives Max much-needed reality checks. Whereas Max is an idealist, whose hopeful ways have made an impact. New Amsterdam's most recent episodes highlighted that in a lovely way. Read on for how:
Clues From A Clairvoyant
New Amsterdam recently dove headfirst into the somewhat nebulous dynamic between Max and Helen. In the two episodes that involved a blizzard hitting New York, their relationship was remarked upon twice. Helen's boyfriend, Akash, noted their "vibe" to Helen. He was not the only one either. A patient named Marlene noticed too. She was also a clairvoyant.
Whether you believe in real-life psychics or not, those on a television show tend to be pretty accurate and insightful. They follow the writers' whims, after all. What the clairvoyant said first seemed to come true.
She predicted that Max that he would lose a "her," who was not his wife. Viewers seemed to see that come true when he lost Helen as his doctor. Upon hearing Marlene's prediction, Max was skeptical yet affected. Will he see a connection?
As for Helen, Marlene told her that it would never work out between her and Max. Was that New Amsterdam's way of referring to romance? Or was it their way of addressing Helen and Max's doctor/patient relationship? Helen has since dissolved it.
If it was a foreshadowing of the story to come, New Amsterdam made it tricky to make assumptions. Marlene recovered after predicting she was going to die. As Helen and Max left her, Marlene started to doubt her earlier predictions too. As they parted, she told them she might have been wrong about the forecasts she gave them. The implication? As Marlene said, "time will tell."
Helen and Max's Dynamic, According To The Showrunner
The showrunner has not missed the actors' chemistry and fans' reaction to it. Before the latest episode, New Amsterdam showrunner David Schulner teased a "talk" that would occur between Max and Helen, presumably clearing up the situation on where things are going between them. That talk took place in this week's episode. Before the episode aired, Shulner told TVLine:
The showrunner's comments reveal they are aware of the audience's feelings about Helen and Max. He also thinks the actors are great together, and added that fans perceive their dynamic through many different lenses.
Their chemistry means different things to different viewers. They have a strong friendship and a perfect work husband/wife relationship. The indication is the episode is a tribute to their multidimensional bond, which it was.
New Amsterdam's showrunner also acknowledged the various type of audience "ships" that exist around Max and Helen. He likes that viewers are invested in the characters and those varying dynamics. The sense is that the drama will continue to explore their relationship.
The significant change after the episode is that Helen is no longer Max's doctor. Will, that change? Or is it permanent? It will be interesting to see if her decision stands.
How Helen Changed Their Dynamic
At the end of the episode, Helen changed a part of what the relationship with Max had been from the beginning. She dropped Max as her patient. She made the announcement at the same place New Amsterdam saw them more or less begin their doctor/patient relationship. Whether intentional or not, it was a notable full circle touch.
Helen's reason for forwarding Max to another doctor is pivotal, sound, and seemingly unrelated to the clairvoyant's prophecy. She pointed out why it just cannot work going forward, and her points made sense. Whether Max will listen to what Helen was trying to point out is unclear.
Future episodes will reveal whether Max will accept Helen's decision to stop treating him. He never gives up, so him accepting her choice does not seem all that likely. Whether Helen will have second thoughts about stepping away as Max's doctor will be interesting to watch as well.
Where Helen And Max May Be Going From Here
After watching the latest two episodes, it is next to impossible to figure out where New Amsterdam is going with them. The show acknowledged the spark between them, which is significant. If they are endgame and ultimately get together, an affair will hopefully not be the way New Amsterdam goes about making that happen. Cheating is never the answer.
The best case scenario would have been for New Amsterdam to have altered the pilot to make Max single, which is unfortunately no longer possible. Why the show chose to complicate what could have been a straight-shot romance is tough to understand. Genuine chemistry is rare, and Freema Agyeman and Ryan Eggold have it.
Max is married and about to become a parent. Helen has a boyfriend. Their romantic lives are spoken for. Even without romance between them, Helen and Max share a beautiful connection. One of the things that make New Amsterdam so unique is that it features so many believable relationships among its ensemble. Whatever Helen and Max currently are to one another is lovely to watch.
Hopefully, Freema Agyeman and Ryan Eggold co-star in another project together. Specifically, a love story where their characters are single, and they can explore their screen chemistry full-tilt. Many New Amsterdam fans, including this one, would undoubtedly like to watch them be able to get the chance to do that.
New episodes of New Amsterdam air Tuesdays at 10 p.m. ET on NBC.
Like a contented Hallmark movie character, Britt happily lives in the same city she grew up in. Along with movies and television, she is passionate about competitive figure skating. She has been writing about entertainment for 5 years, and as you may suspect, still finds it as entertaining to do as when she began.
Your Daily Blend of Entertainment News
Thank you for signing up to CinemaBlend. You will receive a verification email shortly.
There was a problem. Please refresh the page and try again.