Game Of Thrones' Night King Vs. Thanos? The Russo Brothers 'Wanna See This Fight'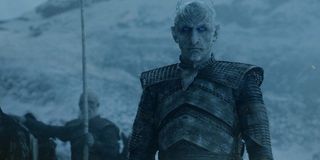 Now that Avengers: Endgame is in theaters, it was only a matter of time before the internet started making memes featuring it and the final season of Game of Thrones. Some are mashing the two worlds together to celebrate this magical time in pop culture, and the Russo brothers are loving it. The duo -- who directed Avengers: Infinity War and Avengers: Endgame -- shared a picture of Thanos staring down The Night King in some fan art, and admitted it's a fight they'd like to see.
The Russo brothers are down for seeing the Titan go toe to toe with the king of wights and White Walkers, despite the fact it looks as though it'd be a pretty quick fight. Thanos appears to have all of the Infinity Stones, and no amount of raising the dead is going to protect the Night King from that. It may be cool to watch The Night King attempt to do something, but him actually winning is somewhat laughable.
Of course, we can't really call it for Thanos until the Game of Thrones showrunners or George R.R. Martin have a chance to weigh in. Perhaps the Infinity Stones don't work in Westeros, or at least not in the same way they do in other places? Plus, if Thanos is making a play for world domination, he's not only going to be competing with The Night King. Can Thanos navigate the cutthroat politics of Westeros, or withstand dragon fire?
Perhaps he wouldn't have to, as one would think the Night King and Thanos would have more in common than not. Thanos is big on genocide and not wasting resources, so it's possible he would see The Night King as more of an ally than enemy. It's also worth noting he can't "snap" the Night King or his army away because they're not classified as living things. On paper, Thanos has no reason to hate these guys!
Villain showdown speculation aside, it really is great to see the Russo Brothers respecting Game of Thrones as Avengers: Endgame is smashing box office records left and right. Especially since they're posting this on Instagram hours ahead of the Battle of Winterfell episode, which may show that even in the midst of all this Endgame hype they're excited to see who all will die in the upcoming episode.
Any excitement anyone has for the Game of Thrones episode is justified, as the HBO drama has set the stage for a battle that could be more emotionally devastating than the Red Wedding. It also has massive implications for how the rest of the series will play out, so maybe even MCU fans who haven't watched Game of Thrones may be compelled to tune in.
Game of Thrones airs on HBO Sundays at 9:00 p.m. ET. Stick with CinemaBlend for analysis on the upcoming episodes, and the latest and greatest news on television, movies, and pop culture.
Mick likes good television, but also reality television. He grew up on Star Wars, DC, Marvel, and pro wrestling and loves to discuss and dissect most of it. He's been writing online for over a decade and never dreamed he'd be in the position he is today.
Your Daily Blend of Entertainment News
Thank you for signing up to CinemaBlend. You will receive a verification email shortly.
There was a problem. Please refresh the page and try again.