We Are Here For These Game Of Thrones And Avengers Crossover Ideas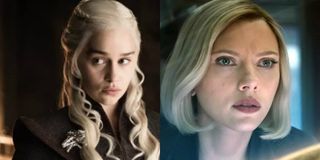 Unless you've been hiding in a bomb shelter for the past year, you'll know that two major franchises are ending this year. Game of Thrones will wrap up eight seasons of murder and madness, while The Avengers (as we've known them, at least) will never be the same once Avengers: Endgame comes out. Now, folks are taking to Twitter to champion their dream GOT and Avengers team-ups, and the results are pretty perfect.
This whole wonderful idea began when the Storm of Spoilers podcast did some dream casting for Game of Thrones and Avengers characters the hosts would like to see team up. Podcast co-host Joanna Robinson then took to Twitter to see what else fans could come up with, and the results have been pretty amazing. Let's investigate, shall we? We'll start by looking at Robinson's idea for a mashup:
It's hard not to love this idea already, am I right? Joanna Robinson chose to put a spotlight on two of the best fighting women in Game of Thrones and Avengers lore: Brienne of Tarth and Valkyrie. Brienne, of course, has long dreamed of being a knight, and while she hasn't hit that goal yet, she tries to live her life by those principles, which has put her on the good side of every leader that she's pledged her service to. Valkyrie is a highly trained, elite Asgardian warrior turned booze hound turned hero and Decimation survivor. The two of these ladies together would be nearly unstoppable.
Man, I love this combo so much. We haven't seen much of young Lady Lyanna Mormont on GOT, but she's already proven herself to be someone it's best not to trifle with. In fact, if she ends up on the Iron Throne at the end of Season 8, I'll be totally fine with it. And, even though Groot had already passed his adorable, tough baby stage by the time he turned to ash in Infinity War, I think we'd all enjoy watching these two tiny powerhouses join forces. Though, it would probably take Lyanna a while to figure out what Groot's actually saying.
I'm all for #TeamBlackGuys! We know that M'Baku is a great leader and fierce warrior, but I'm not sure what Xaro Xhoan Daxos can add to the party except for cunning and lots of lies and machinations, especially since the last time we saw him, Dany had locked him inside his empty vault of riches to die with her traitorous maid Doreah. He must be awfully thin and weak by now, but M'Baku is smart enough to know to keep one eye on this dude at all times.
I'm going to put aside the fact that I'm still mad at Prince Oberyn for taking a fight break to brag during his battle with The Mountain, which led to his pretty, pretty skull getting crushed, and admit that pairing him and Okoye would make for the most stylish fighting team ever. Plus, we all know that she would be impervious to his...passions, and be able to keep his ego well in check.
Ooooh, oooh, ooooh! Jon Snow and Steve Rogers were both dead or thought dead and then brought back! And it was cold! And we love them! Perfect!
While many of the responses to this Avengers / Game of Thrones mashup have led us to draw our own conclusions on just why the pictured duo would work well together, @epic_skyline decided to spell it out for us, and I really like both options. I mean, Tony and Bronn would probably end up on a bender and Cersei and Hela would both not-so-secretly be trying to kill each other, but hey, what are friends for?
Feel free to continue the Game of Thrones and Avengers mashups as we near the end of each epic franchise. Avengers: Endgame debuts on April 26, while GOT will begin its final run of episodes this Sunday, April 14, at 9 p.m. EST on HBO.
Yennefer's apprentice, Gilmore Girl; will Vulcan nerve pinch pretty much anyone if prompted with cheese...Yes, even Jamie Fraser.
Your Daily Blend of Entertainment News
Thank you for signing up to CinemaBlend. You will receive a verification email shortly.
There was a problem. Please refresh the page and try again.