S.W.A.T., SEAL Team And Six Other Shows Renewed By CBS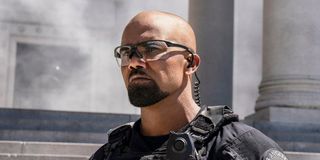 (Image credit: CBS)
CBS has taken its time in rolling out the renewal news, and some of its biggest dramas still had their futures up in the air shortly before their season finales and -- in one case -- following the season finale of its 2018-2019 TV season. Fortunately, the Eye Network revealed a big batch of renewals for the 2019-2020 TV season, and both S.W.A.T. and SEAL Team are among them. Take a look at the full list:
Yes, viewers can count on seeing more of some of the most intense shows in the CBS roster. The classic crime procedurals in the NCIS franchise and Criminal Minds scored renewals a while ago (although not all the news was good on the Criminal Minds front), so there was no danger that there would be no more good guys vs. bad guys if the likes of SEAL Team, S.W.A.T., and Hawaii Five-0 were cancelled, but it's now clear that CBS has enough room in its lineup for plenty of crime-fighting.
Those three shows were some that had viewers particularly worried. Both SEAL Team and S.W.A.T. had already been renewed for new seasons by this point last year, and the ratings weren't quite as stellar as they had been in Live + Same day calculations. With both of their season finales coming up, the renewals undoubtedly come as a relief.
When The Big 2018-2019 TV Season Finales Are Airing
MacGyver and Hawaii Five-0 were a bit harder to predict. Neither show especially kills in the ratings, but Friday night is a notoriously low ratings night across the board, so shows in Friday night slots generally aren't expected to perform as well as Monday-Thursday series. Michael Weatherly is a CBS mainstay despite the allegations of harassment leveled against him late last year. (His former NCIS costars defended Weatherly after the allegations broke.)
The renewal that comes as the biggest relief for fans might well be Madam Secretary. The Season 5 finale aired way back on April 21, so viewers have been waiting a couple of weeks to find out if the stories will ever continue. They can now rest easy!
The least surprising renewals are definitely 60 Minutes and 48 Hours. 60 Minutes has been running for a whopping 51 years on CBS already, and it currently averages 10.9 million viewers in its Sunday night time slot. 48 Hours is in its 29th season, and it attracts an average audience of 4.4 million on Saturdays. While that 4.4 million is obviously less impressive than 10.9, Saturday is no better than Friday when it comes to ratings. 4.4 million is quite respectable for a Saturday.
There are still plenty of network TV shows with undecided fates, so be sure to stay tuned to CinemaBlend for the latest in TV renewals and cancellations.
Resident of One Chicago, Bachelor Nation, and Cleveland. Has opinions about crossovers, Star Wars, and superheroes. Will not time travel.
Your Daily Blend of Entertainment News
Thank you for signing up to CinemaBlend. You will receive a verification email shortly.
There was a problem. Please refresh the page and try again.