Why Game Of Thrones' Lena Headey Had 'Mixed' Feelings About Cersei's Season 8 Storyline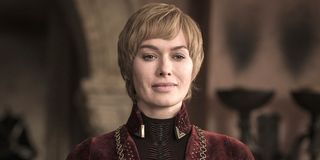 SPOILERS ahead from Game of Thrones Season 8 up to and including Episode 5, "The Bells."
Game of Thrones fans, raise your wine glasses to Cersei Lannister. The queen has left the building. Or the building left her underneath it. May she finally rest in peace. And may Lena Headey be forever hailed for her phenomenal performance.
Cersei was one of the many characters to die in a surprising way in Game of Thrones Season 8. The final season has not been a fan favorite as we approach the series finale next week. Cersei was kept mostly on the sidelines for the first five episodes, just watching the action play out -- or off screen while the action focused on Winterfell.
Cersei spent most of her final episode just watching Daenerys Targaryen and Drogon destroy King's Landing. She only took action when she was finally convinced the city had fallen. Ultimately, it looked like she would die alone, but then Jaime Lannister reunited with her under the Red Keep, which collapsed on them -- but not before they hugged and he held her, saying no one else mattered but the two of them.
Lena Headey shared her initial reaction to Cersei's final scene:
Yeah, there was so much speculation about how Cersei would die -- whether tied to the valonqar prophecy from George R.R. Martin's book or whether Arya Stark would kill the green-eyed lass or what. It would've been cool to see Cersei have some kind of fight showdown with Dany or Arya, or anyone. She's not a swordsman or anything, but she usually has another trick up her sleeve. She knows how to fight back, and fight dirty. Not this time.
Lena Headey told EW she came around to appreciating Cersei and Jaime's joint endgame after talking it out with Nikolaj Coster-Waldau:
Throughout Game of Thrones, Jaime and Cersei had a codependent relationship. Cersei had said in the past that they came into the world together and would leave together. They belong together. They were a toxic couple right from the first episode. The things I do for love. So as frustrating as it was for fans to see Jaime slide back into his old ways after finding such a good match with Ser Brienne, it was pretty on-brand.
Some fans were frustrated with Episode 5 humanizing Cersei -- right after she gave Missandei the Ned Stark treatment -- while Dany was shown killing innocent people. That was not exactly on-brand for the Breaker of Chains. You could argue both queens were shown to be acting out of character.
Lena Headey previously told EW she didn't agree with the decision in the Season 8 premiere for Cersei to have sex with Euron. The actress didn't think it was in Cersei's character to give in so quickly.
I will attempt to refrain from commenting on the showrunners knowing what they're doing, beyond what I've already said.
Cersei's fate was prophesied in George R. R. Martin's A Song of Ice and Fire book series, but the HBO show left out the part about the "valonqar." That's the part of Maggy the Frog's prophecy that said, "When your tears have drowned you, the valonqar shall wrap his hands about your pale white throat and choke the life from you." Valonqar is the High Valyrian word for "little brother," and Jaime was the twin born after Cersei. Even though that never made it to the TV show, some fans think Jaime being there holding Cersei's face in comfort was a take on the valonqar prophecy:
Eh, I suppose. That could be considered a subtle twist. He's not the one choking the life from her, but OK. Book Cersei always assumed Tyrion would be the valonqar. Fans suspected Jaime. I was wondering if the show might even twist it to be Euron, another little brother. Or Arya using the face of Jaime.
Game of Thrones does like to give us double bluffs and subvert expectations. They may even have Arya kill Dany as the "green eyed" person in Melisandre's prophecy even though Dany does not really have green eyes. In the books, they are purple, and Cersei is the one with green eyes. On screen, Emilia Clarke has grey/hazel eyes and it was previously mentioned that Dany had blue eyes. But this show does not care. Or if they do care, they'll have Arya listen to The Hound and stop trying to get revenge for everything.
Now that Game of Thrones is over for the actors, Lena Headey is hoping fans remember she's not just Cersei Lannister. She had a career before GoT and she hopes to continue showing her range afterward.
There's only one episode left for the rest of us, and Game of Thrones Season 8, Episode 6 airs Sunday, May 19 at 9 p.m. ET on HBO. There are still plenty of plot points the show has to wrap up in some way before the end. The Night King and Cersei are both dead, but it feels like Dany will be next. And then what? Will anyone sit on the Iron Throne or will Dany at least have been able to successfully "break the wheel"? Jon Snow has made it painfully clear he does not want to rule. Maybe Tyrion could take over? There's only one more week to guess, and a lifetime of second-guessing whatever choices are made.
Your Daily Blend of Entertainment News
Gina grew up in Massachusetts and California in her own version of The Parent Trap. She went to three different middle schools, four high schools, and three universities -- including half a year in Perth, Western Australia. She currently lives in a small town in Maine, the kind Stephen King regularly sets terrible things in, so this may be the last you hear from her.