Jason Momoa Remembers Being 'Too Broke To Fly Home' On Set Of Game Of Thrones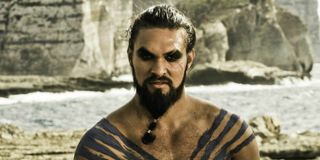 Jason Momoa is Aquaman. He's currently a very well-known actor in the DCEU and he's filming for the Dune movie right now. He's a known name in Hollywood, but it's easy to forget that sometimes major acting names were broke just a few short years ago.
In a touching post, Jason Momoa recently shared a story about not being able to fly home from the Game of Thrones set while he was filming. Per the actor, he instead opted to rent a van and drive around Ireland, cherishing the memories of tracking down Guinness—his famous beverage of choice—as he went.
By the time Jason Momoa was cast as Khal Drogo in HBO's epic fantasy series Game of Thrones, the actor had taken on a few gigs of note. He 'd kicked off his career on Baywatch, and was one of the stars of the science fiction series Stargate: Atlantis during the show's run from 2005-2009.
However, despite notable gigs, he wasn't making enough moolah to be able to fly home from Belfast where Game of Thrones was filming, at least not for a hiatus when he'd need to return to set.
The actor instead took it in stride and took some time to tour the country, or at least a bunch of pubs within the country, with one of his pals, Brian Andrew Mendoza.
This is in keeping with what we know about Game of Thrones salaries, as the cast renegotiated their pay on the HBO drama as the show got older and older, while each cast member made less early on.
A lot of people don't like to look back at their early struggles to make ends meet, but it's clear Jason Momoa looks back fondly on his early career and all of the roles that led to him signing on for Justice League and the DCEU life.
With Aquaman 2 on the way, he's also probably due for a pay bump.
Previously, the actor has spoken out about taking "shit roles" to make ends meet, noting,
Now, he doesn't have to worry about being able to fly home between shoots, but that doesn't mean those days are super far behind or that the actor ever wants to forget them either.
Related: We Recorded A Newbie Watching Every Game Of Thrones Episode For The First Time
As for Game of Thrones, the career-making gig will definitely be immortalized forever in pop culture. At least, for sure they won't be forgetting about Khal Drogo and Dany, because Jason Momoa himself makes sure of it.
Amazing Race & Top Chef superfan with a pinch of Disney fairy dust thrown in. Theme park junkie. If you've created a rom-com I've probably watched it.
Your Daily Blend of Entertainment News
Thank you for signing up to CinemaBlend. You will receive a verification email shortly.
There was a problem. Please refresh the page and try again.