The Internet Is In A Tizzy Over Jordyn Woods And Tristan Thompson After Recent KUWTK Episode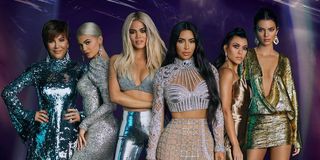 For the millions of people who are fully tuned into the ups and downs in the lives of the various Kardashian family members, Sunday night's episode was a hotly anticipated installment to say the least. This was the episode that finally addressed the latest update in the Tristan Thompson cheating scandal that rocked Khloe Kardashian's life, and it offered up a far different set of assumed answers than those that were voiced by Jordyn Woods after the incident occurred.
Thus, there are many people across the Internet who are now calling Jordyn Woods a liar for allegedly misreporting what actually happened between her and Tristan Thompson earlier this year. And then there are others who think Tristan's actions overshadow anything Woods lied about. Let's take a closer look at exactly what all the "he said / she said / other she said" hubbub is about.
What Did Jordyn Woods Say Happened With Tristan Thompson?
Back in March, Jordyn Woods popped by Jada Pinkett-Smith's Facebook talk show Red Table Talk to dig into the headline-making evening that reportedly caused Thompson to consider suicidal thoughts, according to what Khole said during Sunday night's Keeping Up with the Kardashians. At the time, Woods told Pinkett-Smith that she and Thompson did kiss, but that they did not actually make out. Plus, she claimed he was the one who initiated everything.
Here's Jordyn Woods' more detailed explanation about what allegedly did not occur between her and Tristan Thompson:
At the time when this Red Table Talk aired, a lot of people took Jordyn Woods at her word and considered Tristan Thompson to be the more overtly guilty party in the situation. Not that Woods came off as an innocent angel or anything, but other rumors and allegations of Thompson's infidelity cast a highly negative light on the NBA star in the weeks that followed Woods' interview.
While opinions about Tristan Thompson won't be completely turned around anytime soon, the latest episode of Keeping Up with the Kardashians offered up counter-claims to those that Jordyn Woods went public with.
What Does Khloe Kardashian Say Happened Between Tristan Thompson And Jordyn Woods?
For the first time since the cheating incident started making headlines, Khloe Kardashian and her family finally addressed all of the details that came out at the time. Those details, unsurprisingly, include the version of the story that Tristan Thompson told Khloe at the time.
Here's what Khloe said Thompson told her:
In that instance, one can assume that Tristan Thompson had ample motivation to lie to Khloe Kardashian about what transpired in that night with Jordyn Woods, who was famously Kylie Jenner's BFF. And fans technically don't know exactly what he said, since it was relayed secondhand by Khloe, but it would appear that the episode "proves" that Jordyn Woods was lying to Jada Pinket-Smith on Red Table Talk.
What's more, Khloe Kardashian claimed that Jordyn Woods confessed to different versions what happened with Tristan Thompson. In her words:
The Keeping Up with the Kardashians episode obviously made Khloe Kardashian out to be the biggest victim in the situation, with Jordyn Woods getting even more onscreen flak than Tristan Thompson for how that whole ordeal shook out. Which brings us to the plentiful reactions popping up out there.
How Did The Internet React To The Jordyn Woods And Tristan Thompson Update?
Understandably, many people on social media started going off about Jordyn Woods' seemingly dishonest confession on Red Table Talk, so let's focus on that first thing. Here's a cleaned up version of one viewer's tweet.
Quite a few people would like to see Jordyn Woods get some kind of a shot at redemption in a future episode.
This next post also sums up how a lot of people were feeling about having potentially been bamboozled by Jordyn Woods' appearance on Red Table Talk. (Points to the author for nailing that third hashtag.)
Many viewers may have been focused on blaming Woods for her questionable behavior with Tristan Thompson, but it seems like an even bigger host of others took aim at Khloe Kardashian herself (and the E! reality show) for being hypocritical when taking shots at Jordyn Woods.
Khloe Kardashian Gets Awkward With Jimmy Kimmel Over Dating Basketball Players
Considering the Internet is not a place where past transgressions get to die peaceful deaths, a lot of people on Twitter recalled the many different relationship scandals that have already plagued the Kardashian and Jenner families. As it went with this post:
While this whole ordeal has its largest ties to Khloe and Kylie, the Keeping Up with the Kardashians episode featured Kim Kardashian blasting Jordyn Woods with some choice words about how much the family helped her over the years. Many were quick to point out that Woods wasn't exactly an unfortunate street urchin benefactor before befriending Kylie, and that Kim wasn't the best judge for how others built up their bank accounts.
Check out one of many messages that invoked the name Ray J.
There were also a ton of posts and comments from viewers who called out Keeping Up with the Kardashians' production crew for the negative ways in which Jordyn Woods was visually portrayed in the episode during the points when the cheating scandal was being addressed. Such as this tweet:
I wonder what Kanye West is thinking about all this attention going to other people and not him. (Not that he didn't get his own fair share of attention elsewhere in the episode.) Be sure to keep tuning into Keeping Up with the Kardashians every Sunday night at 9:00 p.m. ET. Next week is the big season finale, too, so grab your popcorn and spill-proof tea in bulk.
Your Daily Blend of Entertainment News
Assistant Managing Editor
Nick is a Cajun Country native, and is often asked why he doesn't sound like that's the case. His love for his wife and daughters is almost equaled by his love of gasp-for-breath laughter and gasp-for-breath horror. A lifetime spent in the vicinity of a television screen led to his current dream job, as well as his knowledge of too many TV themes and ad jingles.
Your Daily Blend of Entertainment News
Thank you for signing up to CinemaBlend. You will receive a verification email shortly.
There was a problem. Please refresh the page and try again.