Kevin Costner's John Dutton Made A Game-Changing Move For The Ranch On Yellowstone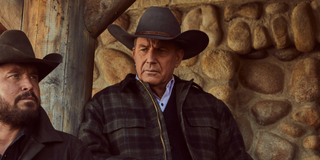 Spoilers for the latest episode of Yellowstone Season 2, called "New Beginnings."
The cable series to beat in the ratings returned with another stellar installment. In Yellowstone's latest episode, the day that Kevin Costner's John Dutton has been waiting for arrived. Following his jaw-dropping near-death experience, John came roaring back and made sweeping changes to the hierarchy of the ranch. In the end, he settled on a game-changing move.
He had Rip (Cole Hauser, The Lizzie Borden Chronicles) step down from his post as the ranch foreman so that his son Kayce (Luke Grimes, the Fifty Shades franchise) could take over. Rip respectfully did as John asked, replete with the ceremonial fistfight. It will not be the last one Yellowstone viewers see in Season 2. Resignations on the ranch do not go down like they usually happen elsewhere.
It was clear that Rip was taking more than a physical blow in stepping down. The worst injury he received was not from Kayce's fists. Instead, the emotional brutality of the situation is what hit him the hardest.
For Rip, John Dutton is a lot more to him than an employer. He is the man who gave him a place to stay when he had nowhere to go. An adoptive father figure that has taken the place of an awful one. It was hard to watch as Rip realized all of the things that he had built at the ranch were getting taken away from him.
He has been incredibly loyal to John for decades, and John did not even seem conflicted over giving Kayce the post. It was something that meant everything to Rip and pretty much nothing to Kayce. He has been back on the ranch for roughly five seconds.
Kayce is still struggling to reconcile his identity as a Dutton. As much as John wants him to be one, it is still far from a sure thing. Rip tried to gently remind John of this before mentioning the one Dutton that Yellowstone viewers did not see in the episode: Jamie.
Will John's hastily-made decision backfire? Could Kayce's reunion with Monica and Tate at the end of the episode cause him to rethink everything? Did John just hand over the reins for nothing? I am curious to find out and grateful there is already a third season commitment to Yellowstone to continue doing so.
Kayce is not sure he wants to be a part of the family, and yet Rip wants nothing more than to be a Dutton. It is a tragic twist of fates. Rip has built his whole life around the Duttons and the ranch, only to have it swept away by a day he knew was always looming.
John Dutton's daughter, Beth, was not pleased by the news of Rip's demotion for a multitude of reasons. Thankfully, it gave Yellowstone viewers a very moving Beth/Rip scene, as she tried to comfort him the best she could. That's one step closer to crossing another wish off my list thanks to the on-again/off-again couple. This scene offered another window into the past.
Beth admitted that growing up she was worried her dad would love Rip more than her. It was a hint of jealousy among the Dutton siblings directed at Rip and each other. It is one that has undermined their progress as a family, at every turn. Regardless, Beth (Kelly Reilly, Britannia) has moved past her jealousy towards Rip. I think? She did want him to stay at the ranch. To which, he responded:
Whoa. All Rip wants is to be a part of the family, and after decades, he feels no closer to being one. All of the affection is one way. With that, Rip went home. To the bunkhouse, not the home he has had all this time. Beth went and talked to Kayce about the situation without confronting her father. He is the one who made the decision.
Did it bother Kayce to take everything away from Rip? No. As an outsider with an inside glimpse, Rip is doubtful John made the right move for the ranch. Guess who will have to clean up the mess if he turns out to be right? Exactly.
Yellowstone has shown John be ruthless towards those who have challenged him. He has never been super cold to those he cared about. I thought he cared about Rip a lot more than he showed in this episode.
If John was struggling with the decision, why could he not say it was tearing him apart? "Thanks for all of the years of great service?" "It's not you, it's my duty as Kayce's father?" Something. Anything to try to take the sting out of it. Was John even aware of how much he was hurting Rip with his decision?
I am kind of concerned that things are going to change between John and Rip going forward. They were such an entertaining force together. Will that shift as much as this move hints it will? John will still need Rip, probably to keep Kayce's hands clean in some of the ranch's other needs.
Will Rip continue to act as the ranch's enforcer? Or is that all Kayce now? Will tension continue to build between Rip and Kayce? Kayce could have stayed in the main house. He went out of his way to make sure that Rip lost his. Having Kayce back is changing everything that Yellowstone showed viewers in Season 1 and it is creating great drama!
I still have a deep-seated theory that Kayce is working undercover to expose the ranch in some way. Why? Because it does not fit. His change of heart still feels sudden and him getting to be foreman puts him closer to the heart of things. This Yellowstone episode made me feel less sure about it than the Season 2 premiere did.
John Dutton is clearly the center of the Dutton siblings' and Rip's universe. Some of them willingly, others not so much. If they could all agree and work together to keep the ranch functioning, they would have fewer issues. That is unlikely to happen any time soon.
Find out what happens when the Kevin Costner starrer continues. New episodes of Yellowstone Season 2 air Wednesdays at 10 p.m. ET on the Paramount Network. The exhilarating Western is part of summer's dazzling showcase of television premieres.
Your Daily Blend of Entertainment News
Like a contented Hallmark movie character, Britt happily lives in the same city she grew up in. Along with movies and television, she is passionate about competitive figure skating. She has been writing about entertainment for 5 years, and as you may suspect, still finds it as entertaining to do as when she began.