Bob Barker: From Fighter Pilot, To The Price Is Right, To Animal Rights Advocate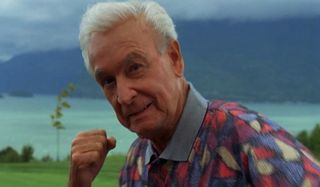 Bob Barker has lived an incredible life and at age 95, he's still going strong. In 2015, at age 91, he even made a surprise appearance on the show he hosted for 35 years, the legendary The Price Is Right. The Price Is Right is what Barker is most famous for, but his life outside of the game show is just as interesting and is as diverse as the number of pricing games they play on the show he hosted for years.
Bob Barker was born on December 12th, 1923 in a tiny town in southeast of Seattle in Washington state called Darrington, but he spent much of his early life living on the Rosebud Indian Reservation in South Dakota where his mother was a school teacher. When Barker was nine, his mother remarried after his father was killed in a work-related accident and the family moved to Springfield, Missouri, where he attended high school and later college at Drury College. After university, he joined the military as a pilot.
Military Career
Bob Barker enlisted in the Navy as a commissioned officer in 1942, but remained at Drury College (at the Navy's request) to finish his education. He reported for active duty in June of 1943 after finishing school and he immediately began training to be a Naval aviator. He would spend the next 18 months flying a variety of aircrafts all over the country.
After months of training, Bob Barker was ready to deploy in the summer of 1945, just in time for the Japanese to surrender and the war to come to an end without Barker ever seeing action. He was a star on the basketball team at his flight school in Georgia during his training though!
Early Career
After the war, Bob Barker and his wife Dorothy Jo Gideon were living in Florida and Barker was working as a newsreader on the radio when he decided that if he was going to make a career in broadcasting, he needed to do what so many other Americans were doing in those post-war years, move west to California.
Barker and Gideon left Florida in 1950 for the Golden State and he quickly landed a job hosting a radio show in Los Angeles, The Bob Barker Show, which he hosted for six years. It was while he was hosting this show that he came to the attention of legendary game show producer Ralph Edwards, who loved the way Barker interacted with guests on the show.
Edwards was the producer of Truth Or Consequences and was looking for a new host. He thought Bob Barker would be the perfect for the job because of his quick wit and ability to think fast on his feet. Ralph Edwards' instincts were dead-on and Bob Barker became a huge hit.
Throughout the late '50s and '60s, Barker would also host a number a short-lived game shows while hosting Truth Or Consequences. Those shows included End Of The Rainbow and The Family Game, which was a family-oriented spin on The Newlywed Game, but none of those shows lasted more than a few episodes.
Truth or Consequences was a huge hit, however, and Bob Barker ended up hosting it for almost 20 years, until 1975, when he left to concentrate full time on his other big hit that had started in 1973, The Price Is Right.
The Price Is Right
In 1973, Goodson-Todman Productions, led my Mark Goodson and Bill Todman, were looking to relaunch a game show they had formerly had some success with in the '50s and early '60s called The Price Is Right. Their first move was to hire Bob Barker as the host. The show debuted on CBS on September 4th, 1972 as a half-hour morning game show and it was immediately a hit with viewers. In 1975, the show expanded to an hour. After having bounced around time slots for a couple years, it finally landed on what would become its regular slot from then on, 11 a.m. ET.
Bob Barker would host the show for 35 years and in the process become a huge part of television history. Those who grew up in the '70s, '80s, '90s or '00s all have fond memories of mornings at home with their faces in a big bowl of Frosted Flakes or Cinnamon Toast Crunch watching crazy people with big yellow name tags trying to guess the price of toasters, grandfather clocks, dish detergents, and of course… A NEW CAR!
Bob Barker, with his long, thin microphone was at the center of all, getting hugged and kissed by every overly-excited member of the audience who went on down and ended up onstage after guessing the closest bid to the retail price of an item without going over.
For Gen Xers, his hair started out as brown, but then, seemingly overnight, Bob Barker's hair turned the most elegant shade of silver they'd ever seen and that full head of silver hair became one of his trademarks, along with that thin microphone and the endless stash of $100 bills he had in his suit pocket for contestants who bid the exact price of an item in the pricing game.
His most famous trademark, however, was how he signed off every show, starting in 1982: "Help control the pet population: have your pets spayed or neutered." This was also the most important part of the show for Bob Barker. He did it every show because he was and still is an adamant advocate for animal rights. When he left the show, he asked his replacement Drew Carey to continue the tradition and Carey has honored Barker's request, ending each show with the same line.
Animal Rights Activism
When Bob Barker's wife died in 1981, he turned to animal rights activism to help him through the grief. He had always been an advocate, but it was in 1982 that he really ratcheted up his work and he became one of the preeminent activists in Hollywood, where it's not exactly rare to advocate for animal rights.
In addition to his trademark sign-off, Barker has done a tremendous amount for animal rights, including resigning as the host of the Miss U.S.A. Pageant in 1988, a pageant he had hosted more than 20 years, because they refused to tell the pageant contestants to stop wearing fur.
He has also put his money where his mouth is, founding the DJ&T Foundation, named for his late wife and his late mother, to help pay for pets to be spayed and neutered. He's also given millions to organizations like PAWS Animal Sanctuary and most famously to the controversial Sea Shepherd Organization, infamous for its aggressive approach toward environmental issues, especially that group's tactics against Japanese whaling ships, as documented by the show Whale Wars. The lead ship in the Sea Shepherd fleet is even named for Bob Barker.
Barker retired from The Price Is Right in 2006 to coincide with his 50th year as a television host. After the show made him wildly rich, he has spent the last 13 years using the money he made to help with awareness for the issue that is most important to him. At 95, he's still going strong in the community and we look forward to any more contributions he may make.
Hugh Scott doesn't believe aliens are hidden at Area 51 or that Elvis is alive, but he does believe birds are real and Meghan Markle isn't treated fairly by the tabloids. He's been writing about music, movies, and celebrities for most of his adult life after realizing stocking shelves in a paper warehouse in college wasn't all it was cracked up to be.
Your Daily Blend of Entertainment News
Thank you for signing up to CinemaBlend. You will receive a verification email shortly.
There was a problem. Please refresh the page and try again.