Game Of Thrones Star Talks Fewer Nude Moments In Later Seasons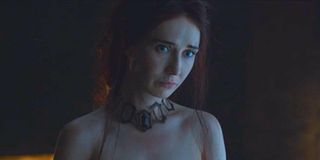 Early in its run, HBO's Game of Thrones was big on nudity, showing plenty of characters in various states of undress for various reasons. Carice Van Houten, who played Melisandre on the recently wrapped series, admitted in an interview that the nudity on the show "wasn't my favorite thing in the world at all," before revealing she believes #metoo may have impacted the amount of nudity Game of Thrones chose to show.
In a wide-ranging interview with Deadline, Clarice van Houten says she agrees Game of Thrones opted to stray further from nude scenes later in its run, also noting,
Although #MeToo was a big idea in Hollywood around the time the final seasons of Game of Thrones were coming together, Carice van Houten also points out that once the show cut back on nudity seemingly due to the movement, the story didn't suffer at all. (Or at least you could argue the story didn't suffer because there were fewer boobs onscreen; let's not get into pacing issues.)
It's interesting hearing this viewpoint from van Houten. Back in 2017, Carice van Houten opened up about how she wanted nudity to be normalized on television, and that it makes sense her character would have gone naked in the scenes where her body was shown.
Although Melisandre may be best known for an epic nude scene revealing she was, in fact, an old woman, it can be a fine line between exploitive nudity and normalized nudity. Game of Thrones did a lot of erm, straddling, but I'm not sure the show always achieved that balance with its nude scenes. Other series actress Emilia Clarke famously made headlines for asking the show to "free the penis," for example.
In Carice van Houten's case, the actress went on to tell Deadline she was more comfortable with doing nude scenes prior to becoming a mom, but that she "would be more uncomfortable now," although she's also quick to point out no one on any set ever forced her to be naked while acting. All in all, this is a good example of a show and an actress changing its mind as time passes.
When Melisandre finally took the necklace off of her neck for good in Season 8 – and spoilers – she walked out into the snow in a cloak, where her actual aged body turned to dust. In another season, she might have walked out naked, but #metoo and momhood seemingly led her to cloak up. It really doesn't change the scene much if at all, and actually may make it a little more poignant than creepy, given Ser Davos stared at her the whole time.
What did you think of the final two seasons of Game of Thrones? Could they have used more nude scenes with the main characters?
This poll is no longer available.
Amazing Race & Top Chef superfan with a pinch of Disney fairy dust thrown in. If you've created a rom-com I've probably watched it.
Your Daily Blend of Entertainment News
Thank you for signing up to CinemaBlend. You will receive a verification email shortly.
There was a problem. Please refresh the page and try again.