Netflix Vows To Cut Back On Smoking Scenes, But Adds Several Caveats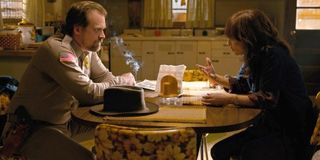 The depiction of tobacco usage in media has been a flashpoint issue for parents and special interest groups for some time, as the movie industry has been under fire for the handling of that very subject for a while.
Seeing as Netflix is a growing media giant that looks to compete with theatrical releases and other burgeoning streaming services, it's only fair that they too come into the spotlight when it comes to such matters. Which has led to the big red envelope factory to pull back from depicting characters who just have to light up, with some interesting exceptions.
For future Netflix shows and films aimed at adults, like the kick-ass action drama Point Blank, the smoking depicted will be limited. In particular, tobacco and/or e-cigarette usage will be contained to moments that the creative, historical, or cultural context of the film or show demands they be present.
However, that restriction becomes tighter once a certain rating comes into question. Any Netflix project rated TV-14/PG-13 or below is going to ditch cigarettes, organic or of the e-cigarette variety, totally. The only exception being the previously mentioned caveats of historical or factual accuracy.
Which means if you happen to be attached to Sheriff Hopper's smoking habit, you may have to drop that cold turkey. And if the Duffer Brothers are listening, that might make for a good Stranger Things Season 4 plotline to support the cause. (Then again, they could cite "historical accuracy" in depicting life in the 1980s.)
The final important announcement that Deadline included in its coverage was the fact that Netflix will also be providing information as to when tobacco usage appears in a particular program, providing one more criteria for the discerning viewer to keep in mind when selecting a program.
Those guidelines, while somewhat vague, do seem to set a good standard for those who are truly concerned with media's supposed glorification of cigarettes and various tobacco related products. With parents undoubtedly enjoying the latest season of Stranger Things with their children, there's more than likely already a concern for just how much violence or profanity is present in the show.
Limiting the tobacco depictions will be one less worry off of the concerned viewer's plate. Now all fans will have to worry about is avoiding spoilers and whether or not they can still grab some of that New Coke that was revived for the recent season.
In order to play with the big studio forces it competes against in both TV and Movies, Netflix is smart to make this pledge, as to level the playing field for itself to play ball. Though it'll be most interesting to see how and if this promise to reduce smoking is noticeable by the company's audience, as well as if any further comment will reveal if it was a going concern in the first place. Either way, it may be a good time for some Netflix characters to start taking their Nicorette, just to be safe.
Stranger Things 3 is currently available on Netflix. If you've already binged that whole run, not only are we jealous, but we're also hesitant to suggest our 2019 Summer TV and Streaming schedule listing. However, we totally will, because that's what friends do.
CinemaBlend's James Bond (expert). Also versed in Large Scale Aggressors, time travel, and Guillermo del Toro. He fights for The User.
Your Daily Blend of Entertainment News
Thank you for signing up to CinemaBlend. You will receive a verification email shortly.
There was a problem. Please refresh the page and try again.