11 Hot Takes On Game Of Thrones' Record-Breaking Emmy Nominations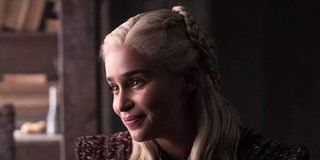 The Emmy nominations are in, and of course, Game of Thrones' final season got some recognition. That's actually a bit of an understatement, as the HBO drama ended up setting a record with the most recognition for any program in a single year with a whopping 32 nominations.
Game of Thrones has so many nominations that it's competing with itself for a lot of these awards, with up to four in a single category. (You can find the full list of nominations below.) It's certainly impressive, especially considering the response for Season 8 has been polarizing at best. In short, this is the perfect time for hot takes, so here's some opinions on the recent news and nominations that should promote some discussion amongst fans.
Game Of Thrones' 32 Nominations Are Deserved, But Also Not
Based on its legacy and the fact that it is one of the biggest shows of this decade, it makes sense the Academy would award Game of Thrones 32 nominations. That said, this was done on what was arguably the worst season of the series, and makes the decision of the Academy feel like more of a stunt to promote the Emmys. Again, the recognition is understandable, but feels gratuitous.
Game Of Thrones Will Likely Win Outstanding Drama Series
Once a hot show wins the Emmy for Outstanding Drama Series, it tends to win it a handful of times. Especially in this past decade where Mad Men reigned supreme until it was dethroned by Breaking Bad, which then ended and gave way to Game of Thrones. GoT hasn't lost any year its been in the category since, so it feels fated to take one of the night's biggest awards yet again.
Lena Headey Shouldn't Have Gotten A Nomination For Supporting Actress
This year marks the fifth time Lena Headey snagged a Best Supporting Actress nomination for Game of Thrones, but may be the first year she probably should've been left off the list. While Headey was incredible as Cersei, the character was criminally underutilized in Season 8 and given an underwhelming exit on top of little screentime. Headey certainly deserved an Emmy during the show's run, but in no way does Season 8 show that.
"The Long Night" Seriously Got An Outstanding Directing Nomination?
HBO shouldn't have put "The Long Night" up for nomination on principle alone. I can respect the immense amount of work and long shoots it took to accomplish the episode, but one really can't dismiss the lighting issues that plagued the final cut. The directing may have been great, but if half the audience couldn't see it to appreciate it, should it really be in the running?
"The Bells" Didn't Get An Outstanding Directing Nomination?
Of the three episodes that Game of Thrones got nominated in the category of Outstanding Directing, it's astonishing "The Bells" is not one of them. It's arguably the most action-packed episode of the series, featured pivotal character changes, and boasted a lot of dynamic camera work. It's basically "The Long Night" done during the day, which is an obvious plus because everyone saw what was happening. It being left out of consideration is baffling.
Let's All Be Happy For Carice van Houten's First Emmy Nomination
As far as Guest Actresses go, there have been few as great as Carice van Houten's Melisandre. She didn't have a ton of screen time in Season 8, but one wouldn't know it given the gravitas and work she put into each scene she was a part of. I'm rooting for her to win, especially if it might influence HBO to work Melisandre into the prequel in some way.
Rory McCann Was Snubbed
The Hound has been one of the best minor characters of Game of Thrones, but one wouldn't know it looking at the Emmys. Rory McCann has never gotten a nomination for his portrayal as The Hound, and not even CleganeBowl was enough to get the Academy to give him so much as a "yarp" (to quote his Hot Fuzz character) in acknowledging his work in the series. It's disappointing, especially when one thinks about how great he's been the entire way through.
I'm Happy Kit Harington And Emilia Clarke Finally Got "Lead Actor/Actress" Nominations
2019 isn't the first time Kit Harington and Emilia Clarke have gotten nominations for Game of Thrones, but it is the first time they'll have gotten them under the label of lead actors. Let's be honest: they've been in that role on Game of Thrones for a while, so good for the Emmys for finally deciding to acknowledge that.
4 Nominations In The Supporting Actress Category Is Awesome
While I may not necessarily agree with Lena Headey's place in the category, I can't deny it's awesome she, Maisie Williams, Sophie Turner, and Gwendolyn Christie are all up for Outstanding Supporting Actress. Game of Thrones actresses make up two-thirds of the nominees in this category, which is a testament to the fact that the series had a legacy of hiring and establishing strong female actresses. Let's see more shows doing that!
D.B. Weiss And David Benioff Shouldn't Win The Award For Outstanding Writing
Every year the Emmys has at least one controversial award pick that causes viewers to scratch their heads, or even declare the whole award show as a farce. Game of Thrones' showrunners winning an Emmy for their writing of Season 8 would likely bring a lot of those takes, and almost assuredly re-ignite the smoldering debate surrounding Game of Thrones Season 8. Please Academy voters, don't fan the flames.
Regardless Of Our Thoughts On Season 8, We Should Be Happy For The Actors
While Season 8 may not have been the best season of Game of Thrones for many, fans should still be happy so many of the show's actors are getting Emmy recognition. Many of them spent the better part of a decade on this show, and have a right to feel proud and passionate in defending it. That's worth celebrating, even if the season may not have been.
Now, take a look at the full list of nominations nabbed by Game of Thrones Season 8:
Outstanding Drama Series
Outstanding Lead Actress in a Drama Series - Emilia Clarke
Outstanding Lead Actor in a Drama Series - Kit Harington
Outstanding Supporting Actress in a Drama Series - Gwendoline Christie, Lena Headey, Sophie Turner, Maisie Williams
Outstanding Supporting Actor in a Drama Series - Peter DInklage,Alfie Allen, Nikolaj Coster-Waldau
Outstanding Guest Actress in a Drama Series - Carice van Houten
Outstanding Directing for a Drama Series - "The Last of the Starks," "The Long Night," "The Iron Throne"
Outstanding Writing for a Drama Series - "The Iron Throne"
Outstanding Production Design for a Narrative Period or Fantasy Program (One Hour or More)
Outstanding Casting for a Drama Series
Outstanding Cinematography for a Single-Camera Series (One Hour)
Outstanding Fantasy/Sci-Fi Costumes
Outstanding Single-Camera Picture Editing for a Drama Series
Outstanding Single-Camera Picture Editing for a Drama Series
Outstanding Single-Camera Picture Editing for a Drama Series
Outstanding Hairstyling for a Single-Camera Series
Outstanding Creative Achievement in Interactive Media Within a Scripted Program
Outstanding Main Title Design
Outstanding Makeup for a Single-Camera Series (Non-Prosthetic)
Outstanding Prosthetic Makeup for a Series, Limited Series, Movie or Special
Outstanding Music Composition for a Series (Original Dramatic Score)
Outstanding Sound Editing for a Comedy or Drama Series (One Hour)
Outstanding Sound Mixing for a Comedy or Drama Series (One Hour)
Outstanding Special Visual Effects
Outstanding Stunt Coordination for a Drama Series, Limited Series or Movie
Got a hot take about Game of Thrones' Emmy nominations that wasn't mentioned above? Throw it down in the comments and continue to stick with CinemaBlend for all Emmy related opinions ahead of the big night Sunday, September 22.
Your Daily Blend of Entertainment News
Mick likes good television, but also reality television. He grew up on Star Wars, DC, Marvel, and pro wrestling and loves to discuss and dissect most of it. He's been writing online for over a decade and never dreamed he'd be in the position he is today.