Why Conan O'Brien Doesn't Think Late Night Talk Show Wars Exist Now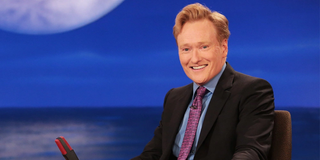 It may be hard to believe, but Conan O'Brien has been in the late night talk show business for almost 25 years. When he started with Late Night with Conan O'Brien in 1993, he came fresh off of writing for The Simpsons, and having very little on-screen experience. He also came in at a time with the battle royale and bitterness between late night titans David Letterman and Jay Leno was just getting started.
While those were tensions that lasted for many years, Conan O'Brien also had his own entry in the late-night wars in 2010, but now he believes that all the really intense competition between late night hosts is a thing of the past. Why, you ask? Well, let's let O'Brien explain it.
The infamous late-night wars of the 1990s (which briefly resurfaced in 2010 when Conan O'Brien was given The Tonight Show, only to have it basically taken away from him a few months later) absolutely captured America's attention. As Conan O'Brien noted during his talk with Variety, the subject of who was on top (or just plain the best) between David Letterman and Jay Leno was often the topic du jour. For the uninitiated, or, you know, those who are simply too young to remember what the big deal was or possibly weren't even born yet, let's back up a bit and set the scene.
In 1992, Johnny Carson, host of The Tonight Show on NBC and ostensibly the king of late night, decided to retire from the show he had hosted to great acclaim since 1962. David Letterman, who hosted Late Night in the time slot after Carson for 11 years, was thought by many fans (and Letterman himself) to be the heir apparent to the Tonight Show throne. But, when it came time to appoint a new host, NBC went with Jay Leno, who'd been the show's permanent guest host for many years.
This pissed Letterman off to no end, and he left NBC for CBS and Late Night with David Letterman, which aired opposite The Tonight Show with Jay Leno. And...the competition that Conan O'Brien spoke about was off the the extremely tense and resentful races.
While others certainly entered the network late night fray during that time, no one could really compete with Letterman and Leno, and the main conversation was always about which of the two were on top. Now, though, as O'Brien said, there are a lot more people in the late night talk show game, even on network television. And, while they all still want their show to be the top dog in its time slot, the current crop of of hosts doesn't lend itself to any speculation about behind the scenes bickering, mostly because no one working in the field today feels slighted by any other show or host.
Even from an outsider's perspective, the old days of late night talk shows did, indeed, seem like a battle to the death. But now, blissfully, the situation has relaxed to the point that O'Brien at least feels like he can experiment a bit with work, try some new things and not just focus all of his attention on hosting Conan on TBS.
In just a little over a year, Conan O'Brien has trimmed Conan to a half hour format, started a podcast, done a travel show for Netflix and gone on a comedy tour, so it's very clear that he's enjoying the more relaxed late night atmosphere. Obviously, a lot of this experimentation is due to O'Brien feeling free enough to explore other creative avenues, but, as he explained, it's also due to how long he's been in the industry:
Well, let's all hope that Conan O'Brien doesn't metaphorically get bitten in half any time soon. He's doing too much cool stuff!
You can still watch Conan weeknights on TBS at 11 p.m. EST, and if you're looking for info on all the shows coming to primetime this fall, check out our 2019 fall TV premiere schedule.
Yennefer's apprentice, Gilmore Girl; will Vulcan nerve pinch pretty much anyone if prompted with cheese...Yes, even Jamie Fraser.
Your Daily Blend of Entertainment News
Thank you for signing up to CinemaBlend. You will receive a verification email shortly.
There was a problem. Please refresh the page and try again.