Toy Story 4's Tony Hale Praises Forky's Disney+ Show As 'Beautiful, Simple, Funny'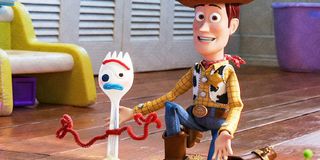 The breakout star of Pixar's Toy Story 4 was definitely Forky. Voiced by Tony Hale, the character became Woody's comedic side-kick and proved he loved trash above all else. We've known for a while Forky would live on through Disney+, and at Disney's D23 Expo we got to hear a little more about what the lovable spork will be up to. In fact, Forky Asks a Question will be presented as a series of shorts and Hale had nothing but praise for the upcoming show.
If you recall, Forky has had quite the life so far. Anxious about starting her first day of school, young Bonnie created the spork from strewn pieces of trash Woody made available, leading the trash to come to life not long after. After several attempts at escaping, Woody was finally able to make Forky understand that he was more than just trash. He had a purpose, too.
While attending D23, Hale discussed the new series with EW and teased what fans can expect from the show. Chief among them will be the exploration of Forky's simplified point of view and how, with the help of other beloved Toy Story characters, Forky will learn about himself and the world he lives in. According to Tony Hale,
Tony Hale, best known for his role on Veep alongside Julia Louis-Dreyfus, appreciates Forky as a character because he has no "preconceived notions" about the ways of the world. It certainly makes it easier for Forky Asks a Question's premise to play out organically. After all, characters like Mr. Potato Head would never feel the need to learn about money or love.
Forky needing the world to be explained to him hilariously parallels Tony Hale's initial experience with understanding his character. Prior to the release of Toy Story 4, the actor revealed to CinemaBlend that Pixar explained Forky to him by using clips from his show, Arrested Development. Hale, like Forky, was "overwhelmed" at first, but eventually found his way. It turns out, Hale was just as excited to be a part of the Pixar family as Forky.
Opening in theaters in June, Toy Story 4 was another successful installment of the beloved franchise and recently surpassed $1 billion at the international box office. It's no wonder Disney wants to ensure that the movie and its characters get new content on the upcoming streaming service Disney+.
Forky Asks a Question currently has no release date scheduled, but it's probably best to rewatch Toy Story 4, which will be on Disney+ in November, before diving into the new series. In the meantime, take a look at what Disney already has in the works for its new service.
Your Daily Blend of Entertainment News