Marvel's Moon Knight: 9 Actors Perfect For The Role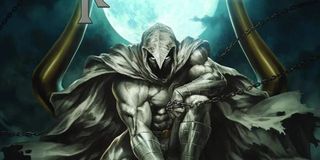 It's official: Moon Knight is joining the Marvel Cinematic Universe. The crime-fighting character, created by Doug Moench and Don Perlin, is certainly a fan favorite for many comic book lovers. While he has been shallowly compared to Batman over the years, Moon Knight is ultimately a more disturbed and distinguished character than that loose description suggests. He's by no means a mere Marvel knock-off of Batman, and hopefully this new streaming series will provide audiences with a glimpse at what fans love about this character.
It'll be intriguing to see how Marc Spector fits into the MCU mold when Moon Knight premieres on Disney+. Before we can get our first glimpse at the comic character in live-action form, however, there's obviously a very important casting decision to be made here. After all, this won't be an easy casting, as there are several actors who could do a tremendous job.
Indeed, it's hard to know if Marvel will cast someone well-known or someone new and upcoming in the role of Moon Knight. It's easy to see both of these possibilities in play, though the greater likelihood is that Disney wants to give a fresh and/or undervalued actor their chance to shine in the part. The character wields a lot of manic energy, and it would provide any actor with a compelling, brooding and ultimately engrossing and prominent role to play. The question is, who might be available to take the call? It's hard to know for certain at this moment, but we know that there are certainly a lot of promising candidates out there, and we're here to list just a handful of proven and promising actors who could hopefully do wonders if given this part.
It should be noted that according to We Got This Covered, Marvel reportedly wants to honor the origins of the character by casting a Jewish actor to play Moon Knight. That's something we reflected upon for a number of our choices here. We believe Marvel will continue their established tradition of casting the right actors in the right role. We only offer a few humble selections for who could be a good fit for Moon Knight in this series.
Shia LaBeouf
There are few actors working today who carry the same magnetism and chaotic energy that Shia LaBeouf holds. Say what you will about the guy, his methods or his bizarre, surrealist art projects, but he commits wholeheartedly to his work. This results in a number of splendidly naturalistic, intuitive performances that always feel lived-in and authentic to the character and their environment, allowing us to seeing the humanity even in the more sci-fi and fantastical projects. like the first three Transformers movies, for instance.
The troubled actor has understandably moved away from the blockbuster scene, crafting some of the best performances of his career in American Honey, The Peanut Butter Falcon, and, according to reviews from the festival circuits, the autobiographical Honey Boy. But if he were to get under Marvel's good graces, there's no denying that he could bring his naturally manic energy to Moon Knight and craft one of the best, most visceral performances we've seen from the MCU to date. It's a bit of a long shot, but he could do it.
Logan Marshall-Green
While he often is under-appreciated by being dismissively and undesirably labeled "Tom Hardly," based on his similar looks and appearance to Tom Hardy, Logan Marshall-Green has continued to rise as a promising actor, particularly as someone who can lend his skills to a number of projects, which includes the dramatic thriller The Invitation and the war drama Sand Castle, as well as genre films like Spider-Man: Homecoming and Prometheus.
The actor really proved himself, however, with Upgrade, which was an inventive, engaging sci-fi body horror film that pushed Marshall-Green to his limits and propelled him into an actor with serious star potential. Unfortunately, the relatively under-seen movie didn't make him an A-list actor, but he has a chance to prove himself under Marvel and this new streaming series. His brooding energy and versatility in Upgrade would be great for Moon Knight.
Michiel Huisman
Introduced to the general public in the fourth season of Game of Thrones as a replacement for Ed Skrein's character, Daario Naharis, Michiel Huisman certainly made an impression, quickly becoming a character followed with great interest by loyal fans of the show. He has proven himself as an action and dramatic actor through this show, as well as his work in movies like The Age of Adaline and The Young Victoria and television programs like Treme, Nashville and Orphan Black.
Huisman has often played supporting roles, but it would be great if he had a chance to stand out in a leading role. The part of Moon Knight, therefore, would allow Huisman to flex his action and dramatic talents and let viewers see how he would fare in a main part, especially in a role that would allow the actor to put his wit and rugged physique to good use, allowing us to see how he could expand himself further.
Rodrigo Santoro
A tremendous Brazilian actor who has only periodically found the same heights in the United States, Rodrigo Santoro is a ruggedly handsome and often versatile actor who has been waiting for his big break in Hollywood.
After some strong roles in various films, including his memorable turn in 300 and 300: Rise of an Empire, not to mention Love Actually, I Love You Phillip Morris, The Last Stand, Ben-Hur and, most recently, a recurring role in HBO's Westworld, among others, Santoro is a dependable, exceptional talent, and another actor who'd benefit from playing the lead in a Marvel production.
Jensen Ackles
Jensen Ackles has done over 300 episodes of Supernatural over the past 15+ years. But the television actor's tenure on the exceptionally long-running CW series is drawing to a close with its latest season. That means that Ackles will likely have a lot more time on his hands, and he's probably looking for his next big role. Therefore, it's not out of the realm of possibility for him to look to Marvel when it comes to his next big gig.
Ackles has earned a loving fanbase through his work on Supernatural, but it would be intriguing to see the actor hone in on his dark side and unleash a character who is a little more manic and menacing than what we usually saw on his previous show. But not by a whole lot, because Ackles has tapped into his crazier side in Supernatural, while also balancing it out with action, comedy and drama to boot. He needs to prove he can do and hopefully expand himself some more, so it'd be good to see how he could push himself in this new role. No doubt there will be a lot of people watching this new show.
Brett Dalton
Admittedly, this casting choice might be a little tricky. Brett Dalton is likely best know for his work on another Marvel series, Agents Of S.H.I.E.L.D., where he logged in about three and a half seasons playing the role of Agent Grant Ward. Having left the show around 2017, the television actor has been making some minor appearances, but it would be a great opportunity for him to score another role with Marvel through Agents of S.H.I.E.L.D.
Admittedly, the connection between Agents of S.H.I.E.L.D. and the rest of the MCU is a bit loose, so I don't know if it's feasible, but I don't think it's impossible either. He has the look down pat, and it would be an ample opportunity for him to expand himself, particularly as an TV actor, through this dynamic lead role.
Alfonso Herrera
As an actor and singer, Alfonso Herrera has found more international success than national acclaim. But that's not for a lack of trying. Herrera has stood out in television roles in Netflix's Sense8 and Fox's The Exorcist, and it's clear that he's ready for a bigger break in Hollywood.
Therefore, getting to portray Moon Knight on Disney+ would allow the actor to expand in a major way, playing up his dramatic strengths while also having a chance to prove himself as an action star as well. Herrera has given a number of sensitive, introspective performances, and he can really shine here.
Rami Malek
Once again, we're looking at a casting choice that might not be entirely feasible, but one that is not entirely out of the question either. Rami Malek has been a hard-working actor on the stage and screen, both big and small, for several years now. But it was through his work on Mr. Robot, where Malek plays the troubled genius Elliot Alderson, that the actor grew to great acclaim and notoriety.
The Egyptian actor has gone on to win an Emmy for his work on this USA Network drama series, and he won the Oscar for Best Actor at this year's Academy Awards for his portrayal of Freddie Mercury in Bohemian Rhapsody. He's clearly a talented performer on the rise, and he'll continue to play another intriguing character in No Time To Die, the latest James Bond flick. If the problem-filled production for that blockbuster doesn't cause delays in shooting, the actor will likely be looking for his next big television role after Mr. Robot concludes, assuming he wants to stay in television. If he does, then he'd be a strong fit for the role of Moon Knight.
Oscar Isaac
Similar to Rami Malek, Oscar Isaac is another fan favorite choice for Moon Knight/Marc Spector, and the likelihood of the actor playing the part seems a bit slim based on how busy he has been the last few years, especially outside of television. Nevertheless, it's easy to see why so many people would want Oscar Isaac in the role.
In addition to being a dynamite actor with a great sense of range, proven in a number of films including Ex Machina, Star Wars: The Force Awakens, Drive, A Most Violent Year, Annihilation, and, my personal favorite, Inside Llewyn Davis, the actor has been exceptional even in less-than-exceptional movies, and it would be intriguing (to say the least) to see what he could do inside the MCU. Yes, Isaac's foray into the superhero realm wasn't great with X-Men: Apocalypse, but there's a nice chance to exceed in the genre with Moon Knight.
There are some actors who were discussed but didn't make the cut, either because it was highly improbable that they'd either be available or even consider doing it (for instance, Ryan Gosling will probably not do it, even though he very much looks the part), or because it was unlikely to happen due to their busy schedules (one example being Oliver Jackson-Cohen, who is a very fine actor who will probably be tied up with The Haunting of Bly Manor).
There are also several fans who want Keanu Reeves to play the part, though the likelihood of Mr. Reeves finding the time to film a show in the MCU is, quite frankly, slim. Ultimately, there are a bunch of actors who could do the job and do it well. But let us know you what you think of these picks and who you'd consider casting as Moon Knight if you were over at Marvel, making these big, lofty casting decisions.
Your Daily Blend of Entertainment News
Will is an entertainment writer based in Pittsburgh, PA. His writing can also be found in The Playlist, Cut Print Film, We Got This Covered, The Young Folks, Slate and other outlets. He also co-hosts the weekly film/TV podcast Cinemaholics with Jon Negroni and he likes to think he's a professional Garfield enthusiast.