Big Brother Fan Has Polarizing Idea For How Season 22 Should Choose Houseguests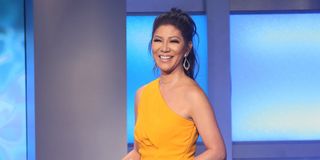 Big Brother is a game of twists, and the general rule of thumb is to expect the unexpected. Over the years that has meant double evictions, evicted contestants getting a chance to re-enter the house, and unique powers that drastically change the game in various ways. The CBS series has done just about every twist in the book, minus a particularly interesting one a fan is suggesting on Twitter.
Amidst the news that Big Brother has been renewed for Season 22 with longtime host Julie Chen still on board, Daniel J Miraski has a suggestion for CBS via Twitter. What if HouseGuests didn't just expect the unexpected, but also had no idea what to expect?
Daniel J Miraski is suggesting that everyone who enters the Big Brother house in Season 22 be people unfamiliar with the show, and it's a wild idea. So wild in fact, that it may just be the type of twist that gets even those that have been lukewarm on Season 21 back on board the hype train for the next season.
In all honesty, there are some pros and cons to the suggestion. CBS should definitely consider it, but also keep in mind the good and bad that would come with making the decision.
Why A Full Season Of HouseGuests Who Don't Know How To Play Big Brother Is A Great Idea
While Big Brother superfans may be some of the better players in the game, there are times where their knowledge can get in the way of exciting gameplay. For example, a HouseGuest may always vote with the HoH to avoid making waves, just knowing that historically it's a good gameplay strategy. It does limit drama for players on a personal level, but can certainly make for a boring season.
Taking in people who don't have a favorite player they want to emulate, or have seen past scenarios play out due to certain things and try to ignore them, would be more entertaining. Obviously, some HouseGuests would eventually figure out how to play, but that would be fine. It's much better than having 4-5 super fans in on a season who instantly crush or manipulate entering HouseGuests only vaguely aware of how the game works.
Also, this would be a fantastic opportunity for Big Brother to rope in a new fan base, and help explain the show to newcomers learning alongside HouseGuests. Although some fans may be too deep in to realize it, Big Brother can be a very confusing and intimidating show to a casual viewer. If one hunkers down and powers through enough episodes they'll eventually understand it, but that implies they'd get through one episode and still want to.
Oblivious HouseGuests would give newcomers an introduction to Big Brother, while veteran fans could experience a season that's something of a social experiment. Does a house full of people who never watched Big Brother operate the same as one with several that do watch the show? Will the HouseGuests repeat the major mistakes of contestants from days gone by, or perhaps find a new strategy no previous experienced player has ever thought to take?
Part of the fun is having no idea what would happen if Big Brother did this twist, which is truly in the spirit of the game. It's a much better twist than randomly putting in HouseGuests who knew each other prior to entering the house, which has just felt more like an unfair advantage at this point more than anything. These aren't the only reasons CBS should consider the twist, but they are some of the best.
Why A Full Season Of HouseGuests Who Don't Know How To Play Big Brother Is A Bad Idea
Putting in a bunch of clueless HouseGuests in Big Brother has potential, but there's really no guarantee it would be all that interesting. if everyone is only vaguely aware of how to play, then there's a potential that everyone will just proceed to play the game very poorly. The only thing worse than bad game play is no game play, which could certainly happen.
Another downside of bringing in people largely ignorant of Big Brother is that they may have absolutely no idea what they're getting into. Even HouseGuests that watch the show don't seem to always understand that 24/7 surveillance means there's always someone on the other end watching and evaluating every move. Something can be said or done that the world picks up on, and really makes an impact on that person's life going forward.
Perhaps the worst part about that is that most HouseGuests are completely oblivious to how the fans (or other HouseGuests) perceive them until after they're evicted which could be weeks or even months removed from the incident. It's something I believe someone new to Big Brother could hear, but not properly understand just how many people watch the show and will remember the things they did or didn't do for a long time.
Beyond that, trying to find people who have never watched Big Brother who want to be on the show may not be the easiest thing to accomplish. With that said, the show has scouted HouseGuests to appear who were only vaguely aware of the game prior to joining, so it's not impossible. With that said, how would CBS even verify they're interviewing someone who has never watched Big Brother, and that they're not being lied to by a secret super fan ready to jump into the game with a big advantage?
It's a twist that just begs skeptics to put on a tin foil hat and work out elaborate conspiracies. That's not to say they'll be widely believed, but there does rise the question of whether or not this twist would actually be worth the amount of trouble CBS would have to go through to make it happen. Some people may think it's really cool; there's a decent chance many others just wouldn't give a shit.
5 Ways CBS Can Fix Big Brother After 2019 Mess
Have an opinion on whether or not Big Brother Season 22 should consist of people who don't know how to play the game? Throw it down in the comments below and be sure to stick with CinemaBlend as Big Brother 21 rolls on CBS Sundays and Wednesdays at 8:00 p.m. ET and Thursdays at 9:00 p.m. ET.
Your Daily Blend of Entertainment News
Mick likes good television, but also reality television. He grew up on Star Wars, DC, Marvel, and pro wrestling and loves to discuss and dissect most of it. He's been writing online for over a decade and never dreamed he'd be in the position he is today.
Your Daily Blend of Entertainment News
Thank you for signing up to CinemaBlend. You will receive a verification email shortly.
There was a problem. Please refresh the page and try again.