The 4 Times Big Brother U.S. Expelled Houseguests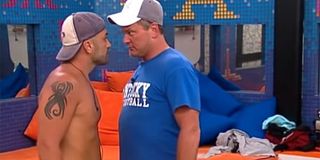 It takes a lot to get thrown out of the Big Brother house. You can bang pots and pans, you can say horrible things, you act inappropriately in all kinds of ways -- verbal and otherwise -- and producers will let it go. But there are some things you can't do. There have only been four times in U.S. Big Brother's history when CBS and The Powers That Be stepped in to expel houseguests from the game. Here are those four times.
Justin Sebik, Big Brother 2
The second season of Big Brother set a precedent for what was not OK in the house. Justin Sebik was expelled on Day 10 of the 2001 season due to violent behavior -- including smashing glass bottles and a chess set, urinating on a window, and threatening to punch another houseguest. But the final straw was an incident with fellow houseguest Krista Stegall. They were both under the influence of alcohol, and had just been kissing, when he put a knife to her throat and said, "Hang on, I'm going to slash your throat. Would you get mad if I just killed you?" Justin later said he was just "joking," but it was enough to get him kicked off the show.
CBS spokesman Gil Schwartz told the Washington Post that Justin had engaged in "violent talk" with other contestants and had previously been warned about his conduct. "He was evicted because the producers felt ... he was engaging in activity that could be interpreted as threatening. The producers wanted to err on the side of safety." Here's how the expulsion played out:
Krista later sued CBS over the incident, claiming the network should've done a better job screening Justin before casting him and also should've ejected him sooner. That was a pretty obvious instance of going too far, but ever since then there's been debate on where the line is.
For example, in Big Brother 8, Evel Dick Donato poured iced tea on Jen Johnson's head, and they also had a struggle with a cigarette he was using to blow smoke in her direction. When she tried to get the cigarette away from him, she was burned and accused him of doing it on purpose. Evel Dick was not expelled for any of his behavior and actually went on to win the season. Jen later said she definitely felt he should've been kicked out but he was entertainment for the show so they let him stay.
Scott Weintraub, Big Brother 4
Big Brother's 2003 season included the X-Factor twist, with the surprise addition of houseguests' exes in the game. Scott Weintraub was not happy to see his ex-girlfriend Amanda Craig enter the house. He went off about it. He was also intimidating to other houseguests, and threw chairs around the house.
CBS chairman and CEO Les Moonves weighed in on Scott's expulsion, saying it was because he was violent and throwing chairs, and "people were afraid for their safety." The only reason Moonves -- host Julie Chen's husband -- weighed in (via Reality TV World) was to deny rumors that Scott was removed from Big Brother because he had a previously undisclosed STD and that was what houseguests were more upset about.
Chima Simone, Big Brother 11
The expulsion of Chima shows that you don't have to get physically violent to be expelled from Big Brother. Chima habitually blew off instructions from Big Brother on the speaker, among other things. She was especially upset after Jessie's eviction. She felt the producers were manipulating the game (side note: always a fair assumption) and started blowing off rules.
Things came to a head when Chima joined the other HGs in the backyard for a practice comp run. Big Brother came over the speakers to ask Chima to please put on her microphone. She ignored that and said she didn't give a bleep. Her fellow HGs went and got her mic for her and handed it to her. She took it, then flew it across the backyard into the pool. Chima's friends in the house still tried to get her to just put on a mic. She eventually did it, then took it off again. Later she refused to go to the Diary Room, and EP Allison Grodner herself got involved to kick Chima out. Here's how the expulsion played out:
Chima clearly disrespected the rules of Big Brother, but it's still interesting to see what's considered OK. Several houseguests have broken rules since that point, and they have not been expelled. And several houseguests have acted inappropriately with touching and threats and not been expelled.
Willie Hantz, Big Brother 14
We knew Willie was trouble when he walked in. He's the brother of Survivor villain Russell Hantz and uncle of Survivor's just as controversial Brandon Hantz. Willie was the first Head of Household winner in the 2012 Big Brother Season 14. However, he was expelled on Day 14, right after his HoH tenure ended. Willie threw pork rinds at Janelle Pierzina, and called people nasty names, but what got him thrown out was his physical fight with Joe Arvin.
The fight started with Willie muttering, to no one in particular, "Bunch of pussies in this bitch." Joe, who had just walked by, casually replied, "You're the only pussy I see, bro." Willie jumped up to follow him and confront him, yelling, "What's that? What'd you say? Hit me! Hit me!" But Willie was the one to charge Joe and push him.
Joe called it a headbutt, but you can see in the video that Willie basically chest-charged him. Here's how Willie's expulsion played out -- including a message from executive producer Allison Grodner to the rest of the HGs, announcing that violence is not tolerated in the Big Brother house and Willie had been removed from the game:
Those are the four expulsions the U.S. version of Big Brother has seen in 21 seasons so far. There have been more ejection/expulsion/forced evictions in Big Brother seasons around the world. That's on top of houseguests just plain quitting, whether Big Brother calls it quitting or not. (Mooch, you totally quit, just own it.)
Big Brother 21 just started in 2019, and hopefully no one quits or gets expelled. If you want them, here are the latest spoilers on what's happening in BB21 Week 1 under Christie's HoH. Big Brother 21 airs three nights a week. The next episode at this point airs Sunday, June 30 at 8 p.m. on CBS.
Your Daily Blend of Entertainment News
Gina grew up in Massachusetts and California in her own version of The Parent Trap. She went to three different middle schools, four high schools, and three universities -- including half a year in Perth, Western Australia. She currently lives in a small town in Maine, the kind Stephen King regularly sets terrible things in, so this may be the last you hear from her.