What Have The Friends Cast Been Up To Since The Show Ended?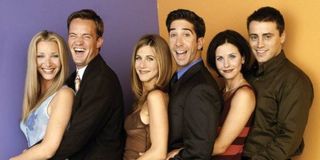 (Image credit: NBC)
NBC was on top of the network television world in the 1990s up to the early 2000s, thanks in part to a little show called Friends. The sitcom ran for 10 seasons until its highly-rated finale in 2004 saw Rachel, Monica, Phoebe, Joey, Chandler and Ross moving on to new chapters in their lives, as did the cast that portrayed them.
Friends launched the careers of award-winning actors, ambitious filmmakers and even reality show hosts at some point. Some mini reunions have been made along the way too, such as Matthew Perry popping up on Cougar Town with Courteney Cox or David Schwimmer playing himself alongside Matt LeBlanc playing himself on an episode of Episodes.
Perhaps you were too busy on your most recent binge of Friends to notice that the cast has done other things since, but they have been part of some very notable projects on film and television for the past 15 years. Without further ado, let's go over what else the Friends cast has been up to since the series ended.
Jennifer Aniston (Rachel Green)
Rachel Green had the most complex story arc of anyone in the Friends cast, as viewers feverishly tuned in each week to see what new hairstyle she would adopt next. Of course, Jennifer Aniston would go on to prove that there is more to her than setting hair trends.
Following her Golden Globe-winning time as Rachel Green, Jennifer Aniston took on film roles of various tones, the first being the romantic crime thriller Derailed alongside Clive Owen in 2005. She co-starred with Owen Wilson in the 2008 tearjerker box office smash, Marley & Me and later played memorable parts in less family-oriented films such as We're the Millers and Horrible Bosses.
Jennifer Aniston has continued to prove her exemplary talents by taking on several ambitious projects from in front of and behind the camera. She served as one of the five female directors of Five, an anthology film that explored the topic of breast cancer which aired on Lifetime, and she executive produced and starred in the tragic 2014 drama Cake, for which she received her third Golden Globe nomination.
Jennifer Aniston has recently gotten comfortable with the streaming service trend, starring in two Netflix original films concurrently: the 2018 beauty pageant dramedy Dumplin' and the upcoming comedy crime caper Murder Mystery with Adam Sandler. She is also serving as executive producer and star of The Morning Show, a behind-the-scenes look at a fictional morning news program, which will stream on Apple TV+ in the fall of 2019.
If anyone from the Friends cast can most readily support the claim that they have outgrown their image from that sitcom, it might be Jennifer Aniston.
Courteney Cox (Monica Geller)
Even fifteen years after the Friends cast said farewell, single men all over America claim to be looking for the "Monica" to their "Chandler." Courteney Cox made it easy for audiences to fall in love with Monica Geller, whom you could always trust to be a good host, but has never played a role even remotely similar since then.
As a seemingly extreme effort of departure from her clean freak Friends persona, Dirt was the title of Courteney Cox's first television role following the sitcom's end. The FX drama starred Cox, who also executive produced with then-husband David Arquette, as the editor of a celebrity gossip tabloid, and it lasted just a season and a half until 2008.
Courteney Cox's most successful post-Friends TV role to date still faced a bit of a rocky moment halfway through its six-season run. The sitcom Cougar Town, which focused on overprotective single mother Jules (Cox) and her funny, wine-slurping nextdoor neighbors, premiered in 2009 on ABC, which cancelled the show in 2012 before TBS picked it up in 2013 to run three more years.
Outside of reprising her role as nosy reporter Gale Weathers in the 2011 slasher sequel Scream 4, Courtney Cox has rarely done much substantial work in films, in front of the camera at least. She released her feature-length directorial debut, Just Before I Go in 2014.
In January 2019, Facebook Watch premiered 9 Months, a docuseries hosted by Courteney Cox in which families share their experiences with pregnancy. Otherwise, there is not much to report on her in regards to upcoming acting roles, but that will not keep fan of the Friends cast from remembering her as one of the 1990s' favorite sitcom darlings.
Lisa Kudrow
Lisa Kudrow made Phoebe Buffay an iconic character of comedy with musical epics like "Smelly Cat" and frequently assuming the alias of Regina Phalange. Like her onscreen gal pals in the Friends cast, however, Kudrow made sure to never to repeat herself in her career following the sitcom's end.
She struck gold in this mission by creating two characters who have since made a splash in the comedy lexicon on television programs that oddly shared a somewhat similar fate. In her first role after Friends, Lisa Kudrow played Valerie Cherish, a celebrity struggling to make the A-list again, on the HBO comedy The Comeback, which was cancelled after one season before returning for another nine years later.
In 2008, Lisa Kudrow co-created the online series Web Therapy. Taking place entirely on a computer screen, the comedy starred Kudrow as narcissistic therapist Fiona Wallace, who would rather have her patients talk to her for just three minutes via video chat than for an hour face to face. The show was already quite successful online before acquiring a new home on Showtime in 2011, where it ran for four seasons.
Outside of her success in television comedies, which also includes a recurring role on the animated Netflix original BoJack Horseman, Lisa Kudrow has delighted audiences with small parts in feature film comedies over the years, not to mention a few serious roles. She starred as Dean Carol Gladstone in 2014's Neighbors and its 2017 sequel, had a brief role in the 2016 thriller The Girl on the Train, and most recently made an appearance in the 2019 high school comedy Booksmart.
Phoebe Buffay may be one of the most iconic characters in the Friends cast, but Lisa Kudrow has made herself more than that. She is a living comedy legend.
Matt LeBlanc (Joey Tribbiani)
Joey Tribbiani was one of the most perplexing characters on Friends for a couple of confusing reasons: what is a soap opera star doing to keep himself so broke all the time and how can a person be that dumb? Yet, Matt LeBlanc made Joey the lovably dimwitted actor a welcome member of our TV families throughout the sitcom's run.
While most of his Friends co-stars found success by eagerly reinventing themselves, Matt LeBlanc has seemed most comfortable sticking to a very familiar routine. His first role after Friends ended was as Joey Tribbiani in the spin-off Joey, which saw the character moving to Hollywood to further pursue his acting career. It was cancelled after two seasons.
In 2012, Matt LeBlanc won a Golden Globe for the Showtime series Episodes, in which he played himself for five seasons. That same year, he took a position as a presenter for the popular British docuseries Top Gear, which puts the spotlight on the world's most popular innovations in motor vehicles.
In addition to hosting on Top Gear, Matt LeBlanc leads the family sitcom Man with a Plan, which was recently renewed for a fourth season. The CBS series may be his biggest departure yet, in terms of acting, by starring as a father tasked with taking care of the children when his wife goes back to work.
It seems that Matt LeBlanc enjoys being himself, which shows in his more recent career choices since the Friends cast disbanded. Of course, it is hard for fans to not see him as Joey, and he seems okay with that too.
Matthew Perry (Chandler Bing)
It is a bit difficult to find Matthew Perry nowadays. Following his wild success as the hilariously awkward Chandler Bing on Friends and a so-so film career, Perry continued acting, as well as writing and producing, seeing a few ups, downs and projects that went down before they could go up any further.
In his first big TV project after Friends, Matthew Perry starred as a real-life Harlem elementary school teacher in the made-for-TV biopic The Ron Clark Story in 2006. The performance earned him a primetime Emmy nomination and his first Golden Globe nomination ever, following a hot-streak of zero Golden Globe nominations while on Friends; a record he shared solely with David Schwimmer.
That same year, Matthew Perry teamed up with The West Wing creator Aaron Sorkin for NBC's Studio 60 on the Sunset Strip a comedy-drama about what goes on behind the scenes at a fictional sketch comedy show. However, Tina Fey's 30 Rock, also a humorous behind-the-scenes look at a fictional sketch comedy show on NBC, happened to premiere around the same time and ended up drawing the most popularity and Studio 60 was cancelled after one season.
This seemed to start a pattern in Matthew Perry's television career, as the next two sitcoms he starred in (Mr. Sunshine for ABC, which he co-created, and Go On, a support group dramedy that saw his return to NBC) both lasted only one season. He broke that curse in 2015 with his revamp of The Odd Couple, starring him and his 17 Again co-star Thomas Lennon as the iconic mismatched roommates, but not by much as it ended after just three seasons.
Matthew Perry's most recent acting credit is playing Ted Kennedy in the 2017 political miniseries The Kennedys After Camelot. He has not been seen acting since, but it seems he is putting his energy into seeking therapy, sobriety, and taking the time to help those with the same problem. In 2013, the actor, who suffered from frequent alcohol and drug abuse during his run on Friends, refurbished his home as a halfway house for recovering addicts.
David Schwimmer (Ross Geller)
It is impossible to look at David Schwimmer and not see Ross Geller, the neurotic paleontologist and lobster to Jennifer Aniston's Rachel Green on Friends. Thus, it is surprising to learn that comedy is not the only genre the actor has dabbled in before, during and after the sitcom's 10-season run.
His biggest success after Friends would have to be Madagascar. The 2005 animated animal adventure from Dreamworks starred David Schwimmer as Melman, a hypochondriac giraffe who, along with his other animal friends, is accidentally transported from his comfortable existence in a New York Zoo to the wild setting of the titular island.
Madagascar spawned two sequels and a TV Christmas special, all of which David Schwimmer returned as the voice of Melman for. Little do many Friends fans know that Schwimmer has also lent his talents behind the camera.
Having directed 10 episodes of Friends, David Schwimmer went on to direct many television projects and two major motion pictures. In 2008, Schwimmer helmed Run, Fat Boy, Run, a comedy co-written by and starring Simon Pegg as an out of shape loser who enters a marathon in hopes to win back his ex-fiancée (Thandie Newton).
In 2010, David Schwimmer took on his most ambitious effort as a director thus far with the award-winning Trust. The dark drama, starring Clive Owen and Catherine Keener, focuses on a family's struggle to stay together after their 14-year-old daughter Annie (Liana Liberato) falls prey to an online predator.
In 2016, audiences saw David Schwimmer return to TV in his biggest departure yet starring as Robert Kardashian in FX's American Crime Story: The People vs. O.J. Simpson and as the lead in AMC's Feed the Beast. The latter drama, about a widower who opens up a restaurant with his troubled friend, Dion (Jim Sturgess), not realizing Dion needs the restaurant to pay off a gangster's debt, lasted 10 episodes.
Most recently, David Schwimmer did a seven-episode stint on the newly revamped Will & Grace as a love interest to Grace (Debra Messing). He is also preparing to play an NSA agent in the 6-part British series Intelligence, and stars in The Laundromat, a political drama from Steven Soderbergh set for release in 2019.
For Friends obsessives, it is nice to live in a world in which you can still your favorite sitcom family on screen years later. Whether you see them in new projects, mini reunions in each other's projects, or on your 75th binge of the sitcom that brought them stardom, the Friends cast will always be there for you because you're there for them too.
Jason has been writing since he was able to pick up a washable marker, with which he wrote his debut illustrated children's story, later transitioning to a short-lived comic book series and (very) amateur filmmaking before finally settling on pursuing a career in writing about movies in lieu of making them. Look for his name in just about any article related to Batman.
Your Daily Blend of Entertainment News
Thank you for signing up to CinemaBlend. You will receive a verification email shortly.
There was a problem. Please refresh the page and try again.