How The 2019 Emmys Went Without A Host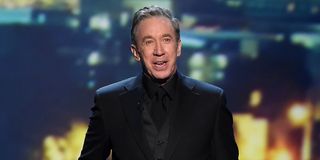 (Image credit: fox press)
Due to an uncomfortable fracas involving Kevin Hart and his social media past, the most recent Academy Awards went completely host-free for the first time in a while, and the 2019 Emmys chose to do the same. The Oscars went pretty decently without an anchor, and the Emmys followed suit in a mostly enjoyable way.
Fox definitely loosened things up for the 71st Primetime Emmys, giving everything room to breathe, from the thank-you speeches to the various segments that focused specifically on nominated shows and actors. For the most part, there were no major change-ups, but The Odd Couple vet's Thomas Lennon served as a commentator running throughout the telecast. (Check out all the winners updated live when you're done reading, too.)
The Emmys Opening
In place of an opening montage, musical or otherwise, the Emmy producers and writers put together revolving door of presenters, which humorously and sincerely paid respect to the past year of television. First with a goofy Homer Simpson sight gag, and then with an energetic bit with Anthony Anderson and his Emmy-hungry mother. Bryan Cranston then came out to celebrate some of the night's nominees, which obviously meant it was one of the evening's most captivating moments.
The final stretch of the opening featured Ben Stiller paying respect to the history of TV comedy via wax figures of deceased legends such as George Burns and Lucille Ball, and the very much not deceased Bob Newhart. Perhaps surprisingly, that back-and-forth routine went right into the first award for Best Supporting Actor in a Comedy, which was won by The Marvelous Mrs. Maisel's Tony Shalhoub.
All in all, the free-flowing nature didn't feel as contrived as it could have, and it set up an evening of off-the-cuff and often self-deprecating fun. It wasn't absolutely perfect, but
Host-less Emmys Moments That Worked
As the biggest new addition to the 71st Primetime Emmy Awards, Thomas Lennon was hit or miss, though I always enjoy the Reno 911 actor in any situation. Lennon used his most dulcet tones to pepper in oddball details about the various winners, among other things. (Such as Ben Whishaw's last name coming from the sound a bicycle makes as it goes past you: whish-aw!) I'll admit the bite-sized humor definitely wasn't for everyone, but learning how many Emmy trophies it takes to make a Rita Moreno was better than just hearing audience applause, right?
Stephen Colbert, who was seen several times giving steely glares to other late night hosts, took the stage with Jimmy Kimmel, who hasn't spoken too kindly about having hosting the Oscars in the past. The pair had a fun bit about not being able to do anything very well beyond hosting things. But after they complained about it, Alexa then took over and read out the nominees for Outstanding Comedy Actress. I liked it.
The winners got to go on for longer than usual, even though no one seemed to be trying to take the stage for too very long. Really, though, Alex Borstein and Phoebe Waller-Bridge could have stood up there for another 10 or 15 minutes each.
It was easy to judge the presenters' bits for themselves, rather than making arbitrary comparisons between them and however amusing the host is, which is how I usually think about things. (Maybe I'm alone there.) For instance, if the Emmys had someone absolutely nailing it as host, and then spent 90 seconds on Maya Rudolph and Ike Barinholtz mislabeling all of the nominees (except for Ted Danson) due to sight issues, I might have sighed extremely loudly. But here, I giggled loudly.
It wasn't exactly due to the lack of a host, but I rather like the bits whenever they showed what was happening behind the scenes, showing how chaotic it is in the camera room. (Especially before bringing out the chaos-friendly Kardashian sisters.) I wish TV technology was at a point where viewers had the option to watch the entire broadcast from that point of view, stress-inducing as it might be.
Host-less Emmy Moments That Didn't Work
Perhaps the most shameful (or shameless?) bit of the 2019 Emmys telecast came when The Masked Singer's Ken Jeong and Nick Cannon took the stage. Jeong offered up a watered-down version of Ellen DeGeneres' Oscar tweet moment, but via the TikTok app. It was basically a TikTok ad, and not a very well-developed one at that. Jeong shined pretty hard on Comedy Central's recent Roast of Alec Baldwin, but was a mug for hire here, while Cannon just watched from nearby.
I wasn't particularly fond of the way the voiceover announcer would list nominees for certain categories, with the celebs brought out merely to announce the winner and present the award. Who looks at Bradley Whitford and Jimmy Smits and says, "Let's pare down the amount of time these guys are on stage." Pure maniacs, that's who.
Without anyone to spearhead things, the show came out of commercials rather abruptly and awkwardly, and I wasn't always sure what was happening when I wasn't looking directly at the TV.
Final Thoughts
While it might not have been the smoothest or the most cohesive night of TV awards, the 2019 Emmys were a largely enjoyable affair. A lot of that had to do with the big wins, of course, along with the more emotional speeches. (The In Memoriam segments are always good for a few teary-eyed moments as well.) Was this year's show better than those in the most recent past?
In some ways, yes, but not in every way. Having a host around does help tie everything together, and for all that the giant screen and the set pieces helped to keep the show going forward, this year's Emmys felt arguably more scattershot than it could have been. Still, though, with the Oscars possibly remaining host-free for more than just a single run, the Emmys could continue to go with this format as well. And I'm okay with that. For now, at least. Let us know what you guys thought below!
One thing's for sure, there's a long time to wait until we know anything about next year's Emmy Awards. But a lot of the future nominations will come out of the 2019 fall TV season, which is set to kick off in earnest in the next weeks.
This poll is no longer available.
Your Daily Blend of Entertainment News
Assistant Managing Editor
Nick is a Cajun Country native, and is often asked why he doesn't sound like that's the case. His love for his wife and daughters is almost equaled by his love of gasp-for-breath laughter and gasp-for-breath horror. A lifetime spent in the vicinity of a television screen led to his current dream job, as well as his knowledge of too many TV themes and ad jingles.