Naomi Watts Didn't Know Squat About Game Of Thrones Before Taking Lead Role In HBO Prequel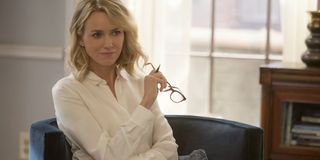 Even before fans said goodbye to Game of Thrones earlier this year, which ended its watch after eight seasons, HBO announced a spinoff prequel to the hit series. However, Naomi Watts, the prequel's star, surprisingly admitted to not knowing anything about Game of Thrones before signing on to the new series.
Though the HBO series ended its long reign as one of the most popular sci-fi/fantasy series of all time, Game of Thrones went out with a bang, winning in the category of Outstanding Drama Series at the Emmy Awards Sunday night (though it lost big in other categories). HBO has since announced a few potential spinoffs of the show, including the one starring Naomi Watts, which will chronicle the transition from "the golden Age of Heroes into its darkest hour."
Naomi Watts (who starred in The Impossible and Netflix's since-canceled Gypsy), was cast in the prequel as a socialite with a huge, dark secret. The actress was on hand at the Emmys, where she shockingly revealed to Entertainment Tonight that she had never actually seen the HBO show prior to her casting.
Of course, watching just one episode of Game of Thrones without becoming addicted to the series is hard. Just ask any fan (I binged seven seasons of the show in a matter of weeks). Suffice it to say that Naomi Watts also became an avid fan of the show fairly quickly, which is good because it's the best homework (aside from reading George R.R. Martin's A Song of Ice and Fire) in preparing to play her character in the prequel.
Here's how Naomi Watts put it:
This Game of Thrones prequel (one of several that HBO is producing), has yet to be given an actual title, but will include a backstory on the White Walkers, as well as introduce new members of House Stark. The series will be set during the Age of Heroes and prior to the Long Night, which was the dreaded winter that first brought the White Walkers to Westeros.
Though Game of Thrones received several Emmy nominations and Peter Dinklage won in the category of Outstanding Supporting Actor in a Drama Series for his portrayal of Tyrion Lannister, many fans weren't thrilled with the way the series ended in Season 8. At least with this prequel series, the world of Game of Thrones gets to start fresh and will hopefully win over the favor of fans.
The Game of Thrones prequel doesn't have a premiere date yet, but there's plenty of other shows premiering this week and in the not-too-distant future, so be sure to check out our Fall TV schedule in the meantime.
Your Daily Blend of Entertainment News