Grey's Anatomy Spoilers: Amelia Has 'Complicated Choices To Make' After Season Premiere Bombshell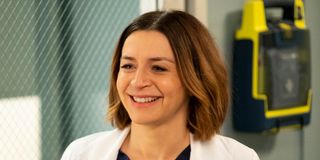 Spoilers ahead for the Season 16 premiere of Grey's Anatomy**.**
Grey's Anatomy dropped a huge bombshell in the Season 16 premiere that left fans reeling: Amelia Shepherd is pregnant. It's no secret that Catarina Scorsone's Amelia has struggled with pregnancies in the past, and most recently, she thought she was pregnant and announced it to everyone before discovering that wasn't the case at all.
Amelia and Link were supposed to take it slow, but a pregnancy could absolutely change their relationship moving forward. Of course, Grey's Anatomy jumped around a lot when it came to the coupling, so there's no telling where this could go. Grey's Anatomy showrunner Krista Vernoff discussed what Amelia's reaction to the news will be.
In the episode, it was Carina who picked up on the fact that Amelia Shepherd was indeed pregnant, and that fact was surprising on its own. The preview for Season 16, Episode 2 tease that Amelia will give in and reveal the news to Link, and it'll be interesting to see whether this pregnancy will make or break them. Judging by what the showrunner told TV Guide, it sounds like the outcome won't be too hyperbolic, but might not be the happiest spin on things.
Remember also that back when Corsone was on Private Practice, Amelia carried a pregnancy to term, but the baby was born without a fully developed brain and died right after birth. So, yeah, it's been rough for Amelia, and there's definitely a chance her past will affect her decisions moving forward.
Elsewhere in the episode, Ellen Pompeo's Meredith Grey is faced with the fact that her medical license could be taken away. In the meantime, Meredith has to do her share of community service. If you recall, at the end of Season 15, Meredith and two other Grey Sloan Memorial doctors (Justin Chambers' Alex and James Pickens Jr.'s Webber) were fired after the board had discovered their involvement in insurance fraud. Despite all her years practicing medicine, Meredith must now face the very real consequences of her actions. It's rough for everyone, no doubt.
With Amelia's pregnancy and Meredith's medical future hanging in the balance, Season 16 of Grey's Anatomy is off to a dramatic and interesting start. And there are still 23 more episodes to go.
Grey's Anatomy airs Thursday nights on ABC at 8 p.m. ET. Fall TV may have officially kicked off, but there are still plenty more new and returning shows that have yet to premiere. Stay up to date and check out our complete list of every show coming to television through the end of 2019.
Your Daily Blend of Entertainment News
Your Daily Blend of Entertainment News
Thank you for signing up to CinemaBlend. You will receive a verification email shortly.
There was a problem. Please refresh the page and try again.